Top 3 Best Used SUVs With Third Row Seats
When looking for a used SUV with third-row seats, there's the best – and then there's the rest. Of course, what constitutes the best is in the mind of the beholder and very much dependent on the buyer's personal wants and needs. Taking everything into consideration, however, there are a few generalities that hold true across a number of car sites, notably Edmunds.com, consumerguide.com, motherproof.com, and safety and crash test data from the Insurance Institute for Highway Safety (IIHS) and the National Highway Traffic Safety Administration (NHTSA).
According to the site carseat.org, recommendations for choosing a used SUV include looking for models with side curtain airbags in all rows, those that deploy when rollover detected, standard electronic stability control, and head restraints and 3-point lap/shoulder restraints for all occupants. Edmunds editors also suggest the SUVs must be IIHS Top Safety Picks and have NHTSA 5-star crash test and 4-star rollover ratings.
Here are the top 3 best used SUVs with third-row seats, including 7 seater SUVs, 7 passenger SUVs, 8 passenger SUVs and 8 seater SUVs that are definitely worth a look:
Buick Enclave (2008-2009) – Consumer Guide gives the Buick Enclave, GM's first 8-passenger crossover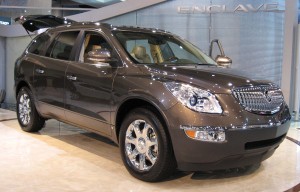 SUV, its Best Buy badge, saying its cargo volume is the largest among premium midsize SUVs (even though it's a fullsize SUV). Enclave's Smart-Slide second row seats have standard flip forward bottom cushions and sliding backrests designed for easier third-row seat access. With the second-row seats slid forward, the third row can accommodate 6-footers, says CG, "though they'll ride knees-up." Also noteworthy are the standard power liftgate and ample interior storage. Edmunds' editors say the third-row seat operation is "well thought-out," seating is "impressive," and the roomy interior "shows up most in the third row." Enclave, and its corporate siblings the GMC Acadia and Saturn Outlook, all receive IIHS Top Safety Pick designations (2008-2009) and NHTSA 5-star crash and 4-star rollover test ratings. Any one of the trio is an excellent choice for a used SUV with third-row seat.
Audi Q7 (2007-2009) – The Q7 is Audi's first SUV loosely based on parent company Volkswagen's Touareg, but larger and seats seven. Edmunds.com applauds the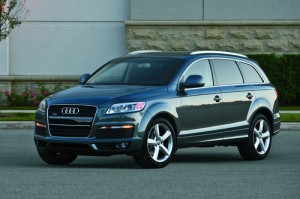 Q7s "high-tech luxury and safety features, superior interior design and craftsmanship," but says it has a "cramped third-row seat." With the second and third rows folded flat, cargo space is 88 cubic feet. The Q7 full-size luxury SUV earns Consumer Guide's Recommended label, with the editors commenting on its "mechanical finesse and terrific all-weather road manners… design and workmanship." But CG bemoans "access to 50/50 split third-row bench is a squuze even for kids, as is the spare tire." The load floor is flat with any seats folded and headrests don't require removing. A review in motherproof.com says Q7 "seats seven and has safety features to rival anything on the road… this car is pure pampering for everyone but the neighbors. They can eat their hearts out." Q7 is an IIHA Top Safety Pick for 2008-2009, and also earns NHTSA 5-star crash and 4-star rollover ratings (2007-2009).
Volvo XC90 (2007-2009) – Edmunds' editors say of the 7-passenger midsize XC90, from the Swedish automaker Volvo, that its "safety and kid-friendliness are just as important as luxury amenities and driving performance." In the rear of the XC90, there's a safe distance of 12 inches of space between the head of the third-row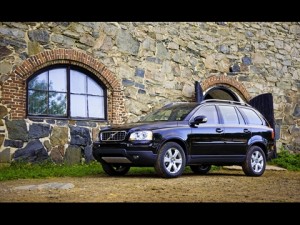 occupant and the back of the vehicle. Motherproof.com's review says of the 13 inches of space between the third row and tailgate that "in the event of an accident, that space becomes a precious cushion between kids' heads and another vehicle." Volvo XC90 pioneered Roll Stability Control, and Edmunds calls XC90 "easily one of the safest SUVs on the market." XC90 is a Consumer Guide Recommended pick for 2008, while Motor Trend's Buyer Guide says XC90 is "distinctively styled with more than adequate power and usable interior." Cargo space is 84.9 to 93.2 cubit feet. Automobile Magazine says XC90 has "utility and user friendliness that its competition can't match at any price." For 2007 to 2009, XC90 is an IIHS Top Safety Pick. The premium SUV also has 5-star crash and 4-star rollover ratings from NHTSA for 2007-2009.
There are other worthy considerations for used SUVs with third-row seats, but keep in mind safety and crash test results along with luxury amenities, cargo space, easy access and performance. Fullsize and midsize models offer the most roominess in third-row seats, as compared to compact SUVs or crossovers. Worth a look are the 2009 Chevrolet Traverse fullsize SUV, IIHS Top Safety Pick and 5-star crash and 4-star rollover rating from NHTSA, the 2002-2007 Chevrolet Tahoe, one of Edmunds 2009 Used Car Best Bets, and the Cadillac Escalade luxury fullsize SUV, also a Consumer Guide best buy pick.
To see a list of other 7 passenger and 3 row SUVs, see 7 passenger vehicles car list. To start your search of cars for sale, visit http://www.iSeeCars.com , a leading search engine for finding over 2 million cars for sale from more than 11,000 websites.  For more car buying tips, go to blog.iseecars.com
Comments