Best Tall People Cars
Tall people drive cars too, right? But shopping for a best car for tall people (when you're a six-footer or taller) involves more than just exterior style and personal preference. You need a car that's comfortable, has enough headroom and legroom, offers seat height adjustment and a range of seat-track travel. Forget the sunroof – nice, but it eats up a couple extra inches of headroom. And make sure you have enough room in the footwell to rest your left foot, and room between the pedals.
Since all cars are not created equal – when it comes to appropriateness for tall people – we've searched out three for your consideration. They appear on the lists of automotive experts as well (recommended by tall editors, no doubt).
Honda Accord EX-L – The midsize Honda Accord, in the EX-L trim, redesigned in 2008, is larger than before, roomier inside, and larger than competitors Nissan Altima and Toyota Camry. New Car Test Drive hails the Accord's tilt-and-telescoping steering column, driver's seat multiple power adjustments and good support, lots of room around front seats, and rear seats "offer space for a six-footer to sit comfortably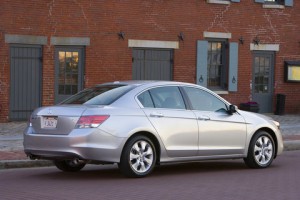 behind another one." Front headroom and legroom are 39.0 and 42.5 inches, respectively, while in the rear the dimensions are 37.2 inches for both. Consumer Guide says Accord's seats are "comfortable and supportive," and there's "ample headroom and legroom, even for taller adults." Consumer Reports lists Accord EX-L in its 10 Best for Tall Drivers.
Subaru Forester 2.5XT – Another on Consumer Reports' list of 10 Best for Tall Drivers, the Subaru Forester 2.5XT, redesigned for 2009, is a compact crossover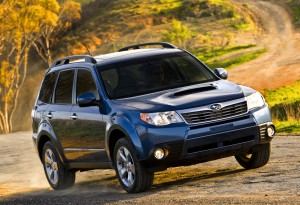 utility vehicle that's longer and wider than before.  New Car Test Drive points out that headroom and legroom are excellent, increasing by four inches over the 2008 model, and "there's headroom even when you jack the height-adjustable driver's seat to the top." Front headroom and legroom are 40.0 and 43.1 inches, respectively, and, in the rear, 37.7 and 38.0 inches of headroom and legroom, respectively. AutoMedia.com says rear leg and foot room "qualify as shockingly spacious, even with front seats pushed fairly far back."
Volvo S80 – In the midsize luxury sedan category, the Volvo S80 again rates as one of Consumer Reports' choices for 10 Best for Tall Drivers. New Car Test Drive calls S80 "big and luxurious…fast, comfortable and roomy" with "generous front and rear legroom." Front headroom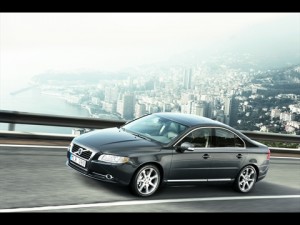 and legroom are 37.8 and 41.9 inches, respectively, while rear corresponding dimensions are 38.3 and 35.0 inches, respectively. Edmunds says S80 has "sublime seat comfort" with 8-way power front seats with driver memory, "supportive enough to impress a chiropractor and comfortable for miles on end."
Hyundai Sonata – Front headroom in the 2010 Hyundai Sonata is 40.1 inches, while front legroom is 43.7 inches. Rear head room and legroom are 38.2 inches and 37.4 inches, respectively. But Sonata is all new for 2011, and reviewers have lots to say about the new model. Front head room and legroom in the 2011 model are 40.0 inches and 37.8 inches, respectively. Leg room in the front is 45.5 inches, and 37.6 inches in the rear. Autoblog comments: "Your writer's six-foot two-inch frame slid into the driver's seat with plenty of room. In fact, the seat had to be moved forward a bit for comfort (later that afternoon, we jumped into the rear seat behind 'ourselves' and discovered that space and legroom was more than adequate)."
Pontiac Vibe – There are some good deals you can make on Pontiac Vibe – if you can still find them on dealer lots. Front head room is a comfortable 40.5 inches, while front legroom is 41.6 inches. In the rear, look for 39.4 and 36.2 inches of head room and legroom, respectively. Kelley Blue Book remarks, "If you're looking for roominess on a budget, you'll like that the [2009] Pontiac Vibe has more interior room, cargo volume and a lower price tag than both the MAZDA3 and Chevy HHR."
Based on reader comments, we've looked into three more cars to consider if you're a tall driver. Granted, they won't appeal to everyone, but they do have some fans.
Volkswagen New Beetle – In the compact class (subcompact by EPA designation), the 2010 Volkswagen New Beetle offers distinctly retro looks with the latest features. Best of all, for tall drivers, it may be a good fit with front head room of 38.2 inches and front legroom of 39.4 inches. The back seat may be tight, however, with headroom and legroom of 36.7 and 33.5 inches.
Honda Fit – The 5-passenger 2010 Honda Fit was named one of Car and Driver's 10Best Cars. Editors comment, "Despite the Fit's microbial footprint, it takes truly Sasquatchian dimensions to be discomforted inside, and all that space is surrounded by quality materials and thoughtful design unmatched in many vehicles costing much more." Front head room and legroom are 40.4 inches and 41.3 inches, respectively. In the rear, head room is 39.0 inches, while legroom is 34.5 inches.
Scion xB – Although the 2010 model has good front legroom at 40.7 inches (rear is 38.0 inches), the real winner is the 2006 model with 45.3 inches of front legroom. Autobytel awarded the wagon its pick for commuters in Best Cars for More Legroom. Head room in the 2010 model is 40.0 inches front/41.2 inches rear.
Other possibilities for Best Cars for Tall People include Chevrolet Malibu, Chrysler PT Cruiser, Ford Escape and Focus, Honda Element, Infiniti M, Mazda Tribute, Mercedes-Benz E-Class, Nissan Altima and Murano, and Volvo V70 and XC70.
[Updated on August 31, 2010 based on reader question about length of seat cushion for thigh support]
Another reader asks about how to find cars with more comfortable front seats for those who are tall or need additional thigh support. While it would be great if automakers would publish seat cushion bottom lengths so that consumers could more easily figure out what they're in store for before they head out to the dealership, unfortunately they don't. What can you do? Look for new models that come with multi-adjustable front seats, and opt for packages that include front (driver's and front-seat passenger's) seat cushion extenders.
Some 2011 models to check out:
Cadillac CTS - New for 2011, the Cadillac CTS offers the optional Recaro seats for $2800 as part of the Performance or Premium packages. What you get: adjustable side bolsters and extendable seat cushions for consumers with long thighs. Also available on CTS coupe and CTS-V (at $3400), but not on the CTS Sportwagon.
Lexus ES 350 - Look for the optional Ultra-Luxury Package to get driver's seat power cushion adjuster.
Toyota Avalon - Limited models feature heated and ventilated front seats, 8-way passenger seat with lumbar support, and driver's seat cushion extender, among other items.
Porsche Cayenne - Not only is this the first full redesign since the luxury SUV's 2003 debut, but consumers can get optional adaptive sport seats (standard on Turbo) that allow adjustment of bottom-cushion length as well as low and high side bolsters. Seat memory buttons are also moved to the door for convenience.
Infiniti G37 - With an increased focus on style, performance, and overall fit and finish, the 2011 Infiniti G37 features new sport seats with thicker bolsters, manual thigh extenders (like BMW), and torso and thigh adjustment.
BMW 7-Series, 550i Gran Turismo - Befitting the benchmark luxury models' reputation for all-encompassing attention to detail, look for leg extension, power bolsters, active headrests and more as either standard equipment or part of a package on many 2011 BMW models, including 7-Series and 550i Gran Turismo.
Note these are, with the exception of the Toyota Avalon, luxury makes and models. You get what you pay for, and consumers who want it all usually get it. For those looking for more affordable wheels with front seat cushion extenders, there's just no quick way to come up with an overall list. Best bet is to contact the automaker's customer assistance or send an email through their website to ask which models have them.
To start your search of cars for sale, visit http://www.iSeeCars.com , a leading search engine for finding over 2 million cars for sale from more than 11,000 websites.  For more car buying tips, go to blog.iseecars.com
Phong Ly is the CEO of iSeeCars.com, a smarter car search engine he co-founded after becoming frustrated with the time-consuming process of searching for cars online. Since buying a new Nissan Sentra for his first car, he's bought only used cars because he believes that's how you get the biggest bang for your buck. Phong is a car expert who's passionate about creating solutions to help consumers find the best cars at the best prices. He has over 15 years of executive experience at companies such as SAP and Deloitte.
Comments