Think you know the most-capable vehicles – SUVs and pickup trucks – to take on rugged terrain? You might be surprised. Here we list the 10 best 2012 vehicles for off-road use, courtesy of the latest ranking from Total Car Score.
All of these models offer a two-speed transfer case and advanced suspension design.
1. 2012 Jeep Grand Cherokee – Way out front in the best off-road contenders, according to Total Car Score, the 2012 Jeep Grand Cherokee achieves its first-place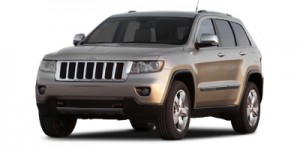 ranking due to "superb off-road capabilities," "driver-selectable settings based on surface conditions, whether traveling over snow, rocks or mud." The Jeep Grand Cherokee available V8 engine and "excellent on-road driving dynamics" also helped secure the win.
2. 2012 Land Rover Range Rover – A luxury, five-passenger SUV, the 2012 Land Rover Range Rover, which was last fully redesigned more than a decade ago, still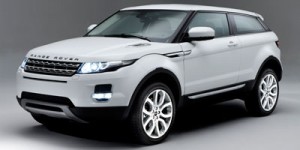 has outstanding off-road chops to its credit. But, beyond its "superb off-road performance," Total Car Score credits the Range Rover for its "car-like driving character and quiet, supple ride." Full-time four-wheel drive and 5.0-liter V8 engine are standard. The base HSE gets 375 horsepower while the Supercharged model generates 510 horsepower.
3. 2012 Ford F-150 SVT Raptor – A full-size pickup truck, the 2012 Ford F-150 SVT Raptor is unique from the standpoint that it is the only vehicle from Ford that's modified for high-speed off-roading straight from the factory. The SVT Raptor is wider than the standard F-150 to accommodate long travel, boasts a race-bred suspension, and rides on aggressive 35-inch all-terrain tires. The SVT Raptor has part-time 4WD and is powered by a 411-horsepower 6.2-liter V8 engine mated to a six-speed automatic transmission.
4. 2012 Nissan Frontier – The off-road version of the 2012 Nissan Frontier is the Pro-4X, fitted with a beefier suspension, Bilstein shocks, skid plate and a locking rear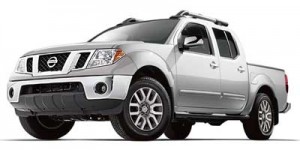 differential. The "stout off-roader" is perfect for hardcore off-road enthusiasts.
5. 2012 Toyota Tacoma – Although the current generation is now seven years old, there's no getting around the high praise from the automotive press for the 2012 Toyota Tacoma compact pickup's off-road prowess – particularly with T|X and T|X pro packages, including "burly shocks, all-terrain tires and a locking differential."
6. 2012 Toyota 4Runner – It's the Trail model that's the real outdoorsman version of the 2012 Toyota 4Runner. Featuring water-resistant seat fabric, all-terrain tires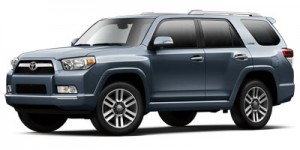 , roof rack, a sliding cargo deck (capable of toting 440 pounds), a sunroof, rearview camera and two 120-volt power outlets, the 2012 Toyota 4Runner Trail will take seven passengers pretty much anywhere they want to go off-road.
7. 2012 Land Rover LR4 – With its sophisticated 4WD system, long-travel suspension and tall ride height, the 2012 Land Rover LR4 is readily acknowledged as powerfully proficient off-road. As Total Car Score notes, "if your travels include slickrock, sand dunes and muddy two-tracks, few vehicles will handle that terrain as well as the LR4."
8. 2012 Toyota FJ Cruiser – Retro looks notwithstanding, the 2012 Toyota FJ Cruiser, equipped with full-time 4WD that uses a Torsen center differential, can tackle much the same terrain as any other production off-roader.
9. 2012 Nissan Xterra – The Pro-4X is the most dedicated off-roading version of the five-passenger 2012 Nissan Xterra, featuring hill start and hill descent controls, an electronic locking rear differential, skid plates, a digital compass, and Bluetooth. Off-road enthusiasts hankering for the Xterra should hurry, as Nissan is expected to discontinue the line in a year or two.
10. 2012 Jeep Wrangler – With its legendary off-road capability going back decades, it's no surprise that the 2012 Jeep Wrangler is on the list of 10 best 2012 vehicles for off-road use. Go for the Rubicon trim on the 2012 Jeep Wrangler and get an upgraded transfer case with lower gearing (than the Sahara trim), a front anti-roll bar that can disconnect when axle articulation is required, special tires on 17-inch alloy wheels, heavy-duty axles and satellite radio.
Search used cars for sale and find the best deals near you at iSeeCars.com.
To get a FREE iSeeCars VIN Report for a car, click here.