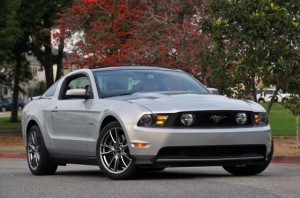 When it comes to red, white and blue, consumers on the lookout for a great deal on American used cars have a lot of compelling choices from which to select. Considering the value for the money, the number and breadth of standard and available features, the high safety scores, good to excellent fuel economy ratings and the subjective quality of desirability, some American used cars are more attractive than others.
With a top price target of $25,000 for our shopping, we've put together the following list of 10 best used American cars under $25K.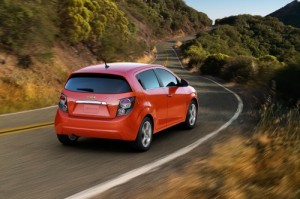 2012-2013 Chevrolet Sonic – Sharp styling, nimble handling, a composed ride, quick acceleration, good interior space and good feature content are highlights of the 2012 (all-new that year and replacing the outgoing Chevy Aveo)-2013 Chevrolet Sonic subcompact car. Available as a four-door hatchback or sedan, the Sonic offers a spacious interior providing ample head- and shoulder room even for tall adults. In addition, the backs are quite spacious. Pricing used ranges from around $10,800 to $15,000.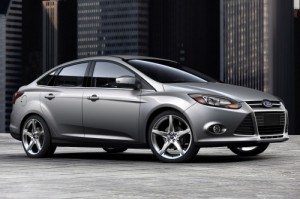 2012-2013 Ford Focus – Its appealing characteristics include that the Ford Focus, redesigned for 2012, is a well-rounded, well-built American economy car that's efficient, pleasing to look at, and available in many trims and with numerous options. There's even a Ford Focus Electric that debuted in 2012 for those consumers looking for a green domestic car. Check out pricing ranging from $10,995 to around $21,039.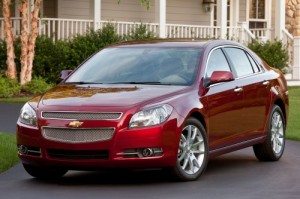 2008-2012 Chevrolet Malibu – The previous generation Chevrolet Malibu offered crisp styling lines, a handsome cabin with a stylish design, a choice of four trims and two engines. Consumers looking for a good used American sedan would do well to consider the 2008-2012 Chevrolet Malibu midsize sedans. Check out pricing that ranges from $7,128 to $18,982.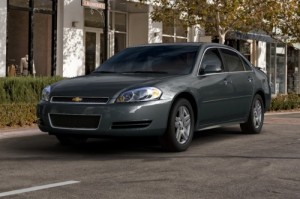 2006-2013 Chevrolet Impala – The Chevrolet Impala was most recently redesigned for the 2014 model year. Check out the previous ninth-generation Impala from the 2006-2013 model years for a good used American sedan. Compared to the eighth-generation Impala, the 2006-2013 sedans featured new engines, a higher-quality interior, more composed handling and updated styling. The Impala was, however, considered a little outclassed by competitors. In the used market, Impalas from the 2006-2013 model years range in price from about $5,750 to $21,900.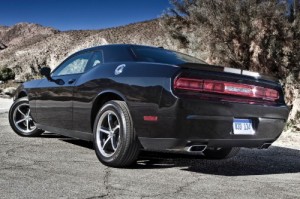 2012 Dodge Challenger – Pure American muscle, the redesigned 2012 Dodge Challenger offers consumers driving excitement in an affordable car. Comfortable cabin that's roomy, a complaint ride, distinctive (to say the least) exterior styling and strong V6 and V8 engines are other compelling attributes. It's a bit hard to see out the rear, however, and some critics complain the Challenger's handling isn't as crisp as some rivals (Mustang, Camaro). Pricing ranges from $20,984 to $24,819 and higher (Note: Challenger SRT8 is lots higher.)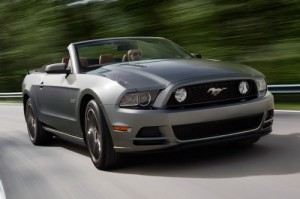 2011-2013 Ford Mustang – With its decades-long reputation as a true American muscle car, the Ford Mustang, in either V6 or V8 powertrain, is as much value-for-the-money as you can get in a sporty daily driver. Granted, the Mustang isn't everyone's cup of tea, but for those who enjoy spirited driving in an affordable domestic car, there's a Mustang that's designed to suit. Check out pricing ranging from around $14,000 to $24,993 (and higher, for the 2013 Mustang GT).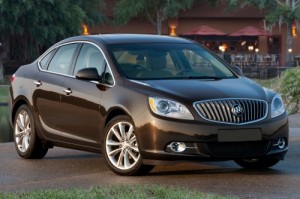 2012-2013 Buick Verano – A compact luxury sedan, the Buick Verano debuted as an all-new vehicle in 2012. Its greatest selling point is its compliant and quiet ride quality, whether on city streets or out on the open highway. Buick's attention to detail is evident in the handsomely-styled cabin that, for the most part, is roomy and comfortable. Backseat legroom for taller adults is a bit compromised. Pricing ranges from $21,900 to $25,000 (and higher for upper trims).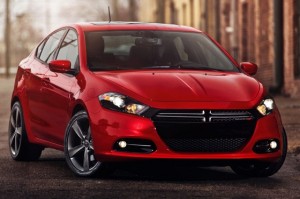 2013 Dodge Dart – Spacious cabin with great rear legroom, loads of features and aggressive styling are appealing traits of the all-new 2013 Dodge Dart. The turbocharged engine offers more zip and acceleration. Check out used prices ranging from $12,988 to around $17,995.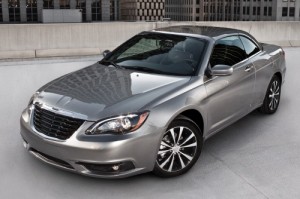 2011-2013 Chrysler 200 – New for 2011, the Chrysler 200 is a midsize car available as a sedan and convertible. The 200 has a comfortable and quiet interior with an upscale look and high-quality soft-touch materials. The sedan has a relatively small back seat and trunk, but the convertible's back seat is actually quite roomy. Look for used 200 sedans priced from $10,777 to $15,973 and 200 convertible from around $11,900 to $16,993.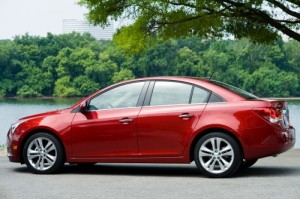 2011-2013 Chevrolet Cruze – A five-passenger compact sedan available in LS, LT, LTZ, Eco and for 2014, diesel, the Chevrolet Cruze offers consumers sharp and precise handling, a well-equipped and comfortable interior (if a few plastic pieces still reside), all at a reasonable price, especially used. Pricing ranges from $10,995 to around $16,750.
Search used cars for sale and find the best deals near you at iSeeCars.com.
To get a FREE iSeeCars VIN Report for a car, click here.