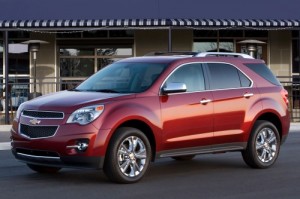 With a new baby on the way or already in the household, there are many things on new parents' minds besides an automobile. But perhaps the purchase of a different vehicle should be on your radar. After all, you are now going to be transporting "precious cargo" and you definitely want to ensure your family car is as safe and easy to use as possible.
With this in mind, we've looked at the wealth of excellent family-type vehicles available in the used car market today and arrived at this list of 10 we consider the best used cars for new parents. Keep in mind that safety is paramount, so we've chosen vehicles that have excellent safety scores. Utility and ease of use are other important considerations, as are gas mileage, technology and other features.
2011-2013 Chevrolet Equinox – A compact crossover SUV, the Chevrolet Equinox for the 2011 and 2012 model years may just prove the right choice for carrying around a new infant or two (or more). This is particularly true if you have other children in tow as well. The Chevy Equinox seats four adults easily and a fifth spot for baby (or the aforementioned other child seats taking the place of an adult or two). Rear seats slide back and forth and fold flat to make for greater cargo space or passenger room. Rear-door child locks are standard, and they are electronically activated by a switch on the dashboard. On the most expensive upper trim level, lane departure and front collision warning systems are available for even more safety. Front-wheel drive is standard, while all-wheel drive is optional. Pricing used ranges from $15,892 to $22,900 (and higher).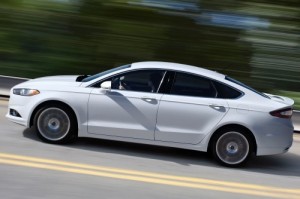 2013 Ford Fusion – Sporty looks and three car-seat capacity are just two of the many attributes new parents may like about the 2013 Ford Fusion. The roomy sedan is well-appointed inside and has a handy storage tray sufficiently sized to hold a purse. The trunk accommodates luggage or grocery bags/boxes after a stock-up run. Fuel economy is excellent with three different engines (including hybrid), and all-wheel drive is available. Pricing ranges from around $17,900 (S, SE) to $25,957 and higher (Titanium).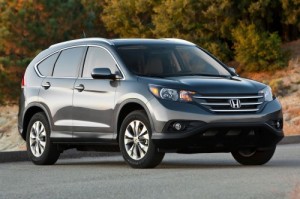 2012-2013 Honda CR-V – Redesigned for 2012, the Honda CR-V is a compact crossover SUV that serves new parents well. The CR-V is roomy, comfortable, fuel efficient (23 mpg city/31 mpg highway), has an available rear-seat entertainment system to keep little ones engaged during long family rides, and all-wheel drive is available for sure-footed traction in nasty weather. Parents have the added satisfaction of the solid Honda brand reputation for quality, reliability and warranty. As for price, the range is from $17,991 to $24,489 (and higher).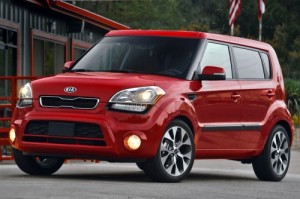 2012 Kia Soul – The tall wagon or tall hatchback 2012 Kia Soul was singled out by Forbes as one of the best cars for new parents. Rear-seat room and cargo space are singular attributes that attract new parents, as are the long list of accessories that can help customize the vehicle. The 10-year powertrain warranty is an incredibly compelling consideration as well. Fuel economy is 27 mpg city/35 mpg highway, making filling up less pricey and distance between fuel stops on trips with baby on board a bit longer. Pricing on the used car market ranges from $11,909 to $14,988.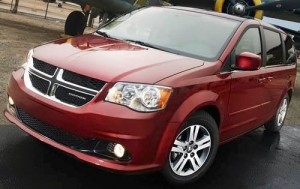 2012 Dodge Grand Caravan – Thinking ahead – or taking advantage of the newest arrival to upsize the family car – the 2012 Dodge Grand Caravan offers new parents the flexibility of seven-passenger seating and maximum cargo space. Second and third row seats can be stored individually in the floor and when upright provide large and convenient storage bins. Standard upholstery in the Grand Caravan is conducive to baby formula, food and other spills as it is anti-stain and anti-odor. The Grand Caravan also offers entertainment features galore, including an optional DVD system with separate monitors for the second and third rows. Check out the family-friendly 2012 Dodge Grand Caravan with prices ranging from $14,998 for a Grand Caravan SXT to $24,995 for Grand Caravan R/T.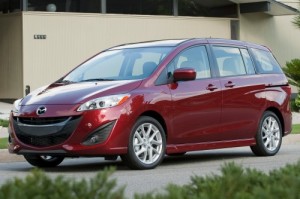 2012 Mazda Mazda5 – Are you not quite ready for a full-fledged or full-size minivan? How about the smaller but equally accommodating 2012 Mazda Mazda5? The cabin offers lots of usable space and flexible seating for up to six passengers. Just fold down one seat and there's plenty of room for baby stroller, baby bag and other paraphernalia. Sliding rear doors are much appreciated in crowded parking lots or when loading and unloading your precious baby. Check out used 2012 Mazda Mazda5 minivans from $13,900 to $19,045.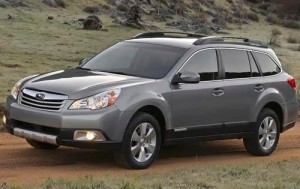 2012 Subaru Outback – With its tall station-wagon body, the 2012 Subaru Outback has plenty of room for your new baby and all the assorted infant paraphernalia: diaper bags, strollers and more. The Outback's sophisticated full-time all-wheel drive system is better in foul weather for traction than many full-size SUVs. On the other hand, it drives just like a car, making it easier to maneuver with baby and other family members on-board. The Outback is roomy, has excellent visibility, smooth and composed ride, simple controls and strong safety scores. What's not to like? Pricing is within the $19,000 to $26,800 range.
2012 Toyota Prius, Prius V, Prius C – The triumvirate of vehicles in the Toyota Prius family make shopping for a used car that fits both baby and budget a lot easier. Whether it's the original Toyota Prius liftback with plenty of room for baby, storing a stroller in the generously-sized trunk, or the larger Toyota Prius V that has cargo room on par with a number of small SUVs, or the compact and fuel-efficient Toyota Prius C that easily gets 50= mpg in the city – there's something to like about each of them. Pricing for the 2012 Toyota Prius ranges from $17,800 (Prius One) to around $22,775 (Prius Five). Prius V, meanwhile, ranges from around $18,942 to the vicinity of $23,500. Prius C is the least expensive, ranging from $14,998 to somewhere around $17,995.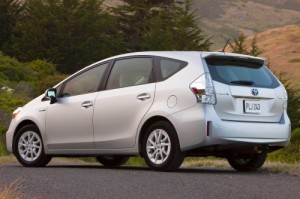 Search used cars for sale and find the best deals near you at iSeeCars.com.
To get a FREE iSeeCars VIN Report for a car, click here.