It's that time again. Following the candy-stoked high of Halloween, the annual Specialty Equipment Market Association, better known as SEMA, delights showgoers with all manner of displays and exhibits in Las Vegas. Among the many attractions are the specially-prepared show cars and concept vehicles from automakers, aftermarket companies and racing performance groups. Take a look at 10 hot cars, SUVs, concepts and more at SEMA 2015.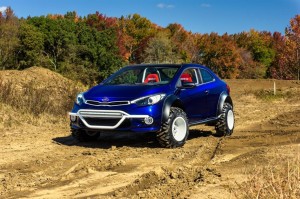 Kia Forte Koup Mud Bogger – It's taken us a while to get used to the spelling of Koup, but we're instantly attracted to the wickedly adventurous Kia Forte Koup Mud Bogger making its debut at SEMA this year. Kia says the Koup Mud Bogger celebrates the joy of getting dirty on four wheels with six concepts. This one embraces the American South, riding on 28-inch off-road tires aided by a generous four-inch body and suspension lift. Modified fenders and side skirts, custom riveted fender flares, a panoramic roof with vinyl pushback top, a stripped-down interior with the floor lined with Line-X protective coating, two Sparko EVO II red race seats and a hand-built white powder-coated roll cage complete the look of this one-of-a-kind, purpose-built off-roader.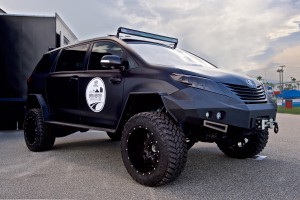 Toyota Ever-Better Expedition (Ultimate Utility Vehicle) – Toyota Motor Division is showcasing 14 custom-built vehicles at this year's SEMA show, including the Toyota Ever-Better Expedition, ultimate utility vehicle, or UUV. First introduced in June 2015 as part of the Japanese automaker's North American leg of a five-continent driving project, the Ever-Better Expedition is a Sienna "Swagger Wagon" retrofitted onto a Tacoma pickup chassis equipped with a Toyota Racing Development (TRD) supercharger, upgraded Heim steering and 22×12-inch Monster Energy off-road wheels.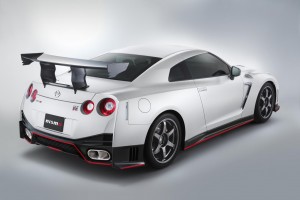 2016 Nissan GT-R NISMO N Attack Package – It was developed to achieve optimal speed and the NISMO N Attack Package in the 2016 Nissan GT-R NISMO will be revealed at the upcoming SEMA show in Las Vegas. Components of the NISMO N Attack Package include aerodynamics (necessary to achieve superior down-force), full bucket seats (required to remain in place in optimal driving position during powerful g-force), and a suspension more than capable of handling brutally punishing road surfaces. Parts were combined and assembled at the NISMO Omori factory in Japan and will be sold and installed in the U.S. by Steve Millen Sportsparts, Inc. (STILLEN).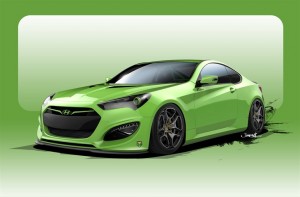 TJIN Edition Genesis Coupe – Neil Tjin's first official Hyundai vehicle built for SEMA is the "convention-defying" TJIN Edition Genesis Coupe, a 500-horsepower race car. The 3.8-liter Hyundai Lambda V6 engine has been modified with a Bismoto Engineering Vortech supercharger kit, the addition of a free-flowing exhaust system, Vortech front mount intercooler and blow-off valve. Rotiform 19-inch three-piece HUR wheels, Falklen FK345 tires, custom Baer x CBA Extreme Plus brake calipers, custom front lip, rear spoiler and custom trunk lid by Unique Fabrication, and a custom Kylie Tjin "Axalta" green exterior paint job finish out the Tjin Edition Hyundai Genesis.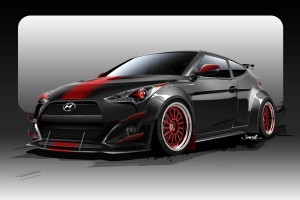 Blood Type Racing Veloster Turbo –Taking the Hyundai Veloster to a much darker side, Blood Type Racing, Inc., the Chicago-based tuner, shows off the Veloster Turbo R-Spec at SEMA 2015. The sinister appearance begins with a carbon black paint job and a red racing stripe running from the front splitter up and onto the hood. The Veloster gets its aggressive stance thanks to a carbon-fiber wide body kit. Front-mounted aero canards, front splitter and rear deck spoiler help provide necessary ground force at speed. "Demon eye" projector headlights and red accents on custom SSR three-piece wheels further add to the Veloster's menacing look. The Veloster's stock 1.6-liter Gamma engine received a Garrett high-boost turbocharger, BTR added new cylinder sleeves plus custom connecting rods and pistons. With some retuning of the OEM ECU and a few more tweaks, horsepower climbed to 500+. On the inside, a four-point roll cage, Sabelt bucket seats, harnesses and steering wheel, plus Rockford Fosgate audio and Tanabe OLED Revel gauges complete the look.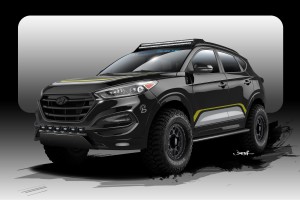 Rockstar Performance Garage 2016 Tucson – In yet another first, Rockstar Performance Garage teams up with Hyundai to deck out the RPG 2016 Tucson for SEMA 2015. The popular Hyundai CUV gets a bumper-to-bumper overhaul by the creative geniuses at RPG, starting with a massive suspension that sits six inches over stock height, gargantuan 32-inch MTZ P3 tires from Mickey Thompson, and a completely-custom adjustable shocks and strut system from King Shocks. Finished in black and yellow, smoked rear taillights, custom off-road bumpers and Bulldog LED Lighting's custom LED light bar setup, the RPG 2016 Tucson is one off-roader designed to satisfy the most serious trail blazer.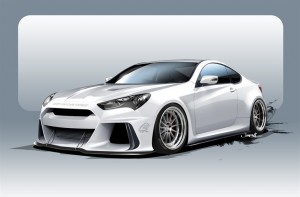 ARK Performance Solus Genesis Coupe – This year's SEMA show marks the seventh consecutive vehicle ARK Performance has built for the popular annual event. The race-inspired Solus Genesis Coupe stokes the Hyundai 3.8-liter Lambda engine with the addition of a Rotrex supercharger and strengthened engine internals to pound out more than 500 horsepower. Nitto rubber, an ARK Legato trunk spoiler, ARK Performance front splitter and a complete interior makeover (including redesigned dashboard, race-bred steering wheel and gauges) round out the look.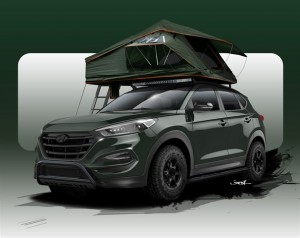 John Pangilinan Tucson Adventuremobile – Not to be outdone in the off-road adventure arena, famed California tuner John Pangilinan shows off his 2016 Hyundai Tucson SEMA build. The first thing you notice is the Treeline Tamarack rooftop tent (roomy enough for two campers), and Goal Zero solar panels (to power various accessories). The Tucson's exterior benefits from Aries bull bar and side steps, LED lights from Rigid Industries, and a BASF Army green paint job from Strasse Sport. Adding to the user-friendliness of the Tucson for off-road use, the vehicle gets extra ground clearance from a 1.5-inch custom suspension lift, and Toyo Open Country A/T II tires with RAYS Gram Lights 57DR wheels providing just the right amount of grip for heading off the beaten path.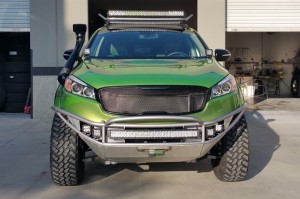 Kia PacWest Adventure Sorento – With its lush green paint scheme inspired by the forests of the American Pacific West region, the Korean automaker's 2015 SEMA vehicle, the Kia PacWest Adventure Sorento, looks ready to tackle any terrain. The tough off-road utility boasts a custom suspension and snorkel intake system, among other modifications to be revealed during the vehicle's debut at SEMA.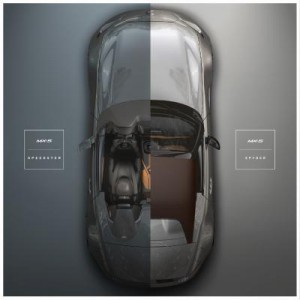 Mazda 2016 MX-5 Spyder and Speedster Concepts – Mazda's MX-5 Miata is without question a long-running exhilarating performer that's affordable and a delight to drive. Capturing the excitement of more than a quarter century of this lightweight sports car, Mazda brings to SEMA 2015 two concepts worth a closer look. All that's available right now is a composite photo of the Mazda 2016 MX-5 Spyder and 2016 MX-5 Speedster concepts. These represent very different, but significant, takes on the fourth-generation Mazda MX-5.
Search used cars for sale and find the best deals near you at iSeeCars.com.
To get a FREE iSeeCars VIN Report for a car, click here.