Buying a new car is stressful enough without having to worry if your purchase or lease is going to result in unnecessary repairs, troubles that are either annoying or end up being major expense items, and how the car's reliability will affect its resale value. For peace of mind, many consumers turn to the annual list of 10 most reliable cars from Consumer Reports.
For 2016, the list includes five models from Toyota/Lexus, two from Audi, one from Mercedes-Benz, one from Infiniti and one from Chevrolet. That means the 10 most reliable cars for 2016 consist of six models from Japanese automakers, three from German carmakers and one from an American car brand.
Here's the list of 10 most reliable cars for 2016, listed in descending order, with the highest-scoring model first.
Toyota Prius – Fans of the Toyota Prius should be pleased with its first-place spot on this year's 10 most reliable cars list. The reasons aren't surprising. The Prius is longer, lower and wider for 2016, and testers managed to get 52 mpg fuel economy overall, significantly better than the 44 mpg in the previous generation Prius. Editors call the Prius sensible and say it's "always been about efficiency and low running costs." The hybrid rides on a new independent rear suspension that benefits handling and ride quality. Negatives include chintzy seats, noticeable tire noise and less easy cabin access due to the lower stance of the vehicle.
Lexus CT 200h – The small hatchback hybrid, the Lexus CT 200h, rates high for responsive and secure handling in Consumer Reports testing, but has a stiff and choppy ride. Excellent fuel economy, a combined 42 mpg, is a highlight, as is the cabin material quality and assembly. Downsides include tight rear seats, modest cargo capacity and limited rearward view. On the safety front, the CT 200h sports a Top Safety Pick+ designation from the Insurance Institute for Highway Safety (IIHS).
Infiniti Q70 – For a luxury sedan, the Infiniti Q70, with 330-horsepower V6 engine, is quick and boasts agile handling. Pluses include easy-to-use controls, a roomy rear seat, and very good interior quality. Negatives include being somewhat behind the competition in terms of a quiet cabin, and an interior ambience described as austere. There's also a V8 and hybrid version, as well as the extended-length L model with roomier rear seat. Consumer Reports editors note that, although the Q70 is beginning to show its age, it's nevertheless still competitive. The 2016 Infiniti Q70 also boasts an IIHS Top Safety Pick+ designation and a five-star overall safety rating from the National Highway Traffic Safety Administration.
Audi Q3 – A compact crossover, the Audi Q3 has a lot going for it that merits its fourth-place ranking. The Q3 delivers a premium driving experience in a quiet SUV that boasts a firm, comfortable ride and responsive handling. The interior exudes a sense of quality, even if a bit simplistic looking. Dings include cramped driving position and tight quarters.
Lexus GX – The upscale cousin of the Toyota 4Runner, the Lexus GX is a body-on-frame SUV. It snags the mid-way spot on this year's 10 most reliable cars list due, in part due to its comfortable ride, highly capable off-road ability, plush and well-finished cabin, and high tow rating. The GX, although a hulking brute, is nevertheless quick and agile, say Consumer Reports editors.
Lexus GS – A midsize luxury sports sedan, the Lexus GS shines for delivering the "balanced combination of ride, handling, quietness and roominess." Rear-drive, all-wheel drive, high-performance GS F and hybrid versions are available. The cabin is nicely furnished, although the infotainment system is controlled by a distracting mouselike controller.
Mercedes-Benz GLC – Replacing the outgoing GLX and based on the current C-Class, the Mercedes-Benz GLC offers better rear seat room (although it's still snug), plush furnishings, a quiet cabin, comfortable ride and athletic handling. While automatic emergency braking is standard, other advanced safety features (blind-spot monitoring, cross-traffic alert, etc.) are part of packages. The GLC has a high towing capacity for the class.
Chevrolet Cruze – A comfortable ride, quiet interior, new infotainment system and roomy rear seat are highlights of the redesigned 2016 Chevrolet Cruze sedan. A new 1.6-liter turbodiesel and hatchback will be available in 2017. Advanced safety features are available, including blind-spot monitors, rear cross-traffic alert and parking assist, lane-keeping assist, intelligent headlights and forward-collision warning.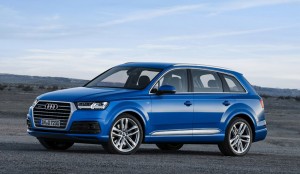 Audi Q7 – The luxury 3-row SUV Audi Q7 earns a spot on the 10 most reliable cars list from Consumer Reports, whose editors say it's "an impressive vehicle, and among the best we've ever tested." Pluses include effortless acceleration and 20 mpg overall fuel economy in testing. The Q7 is very quiet, with beautifully finished interior, excellent seats and more. The Q7 also boasts an IIHS Top Safety Pick+ designation.
Toyota 4Runner – The final model on this year's 10 most reliable cars list, the Toyota 4Runner, is a body-on-frame SUV that's rugged off-road and better suited there than on-pavement driving where the ride can be unsettled with clumsy handling. The 4Runner's 4.0-liter V6 engine, say Consumer Reports editors, is rough-sounding but powerful and reasonably fuel-efficient. Access and driving position are compromised by a high step-in and low ceiling. A third-row seat is optional, and editors remark that the 4Runner's power-retractable rear window is handy. The 4Runner has eight standard airbags and a standard rearview camera.
Search used cars for sale and find the best deals near you at iSeeCars.com.
To get a FREE iSeeCars VIN Report for a car, click here.