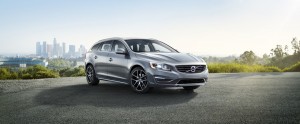 Are station wagons making a comeback? Are American consumers finally getting over their infatuation with crossovers? The answer to the first question is possibly, while the answer to the second is not very likely.
Still, the station wagons being offered today are a far cry from the old-fashioned wagons that grandma and grandpa drove when they were raising families. Meet the new class of wagons. There may be something here that more than meets your needs.
2015 Volvo V60 – With its trademark high-safety appeal, the five-passenger 2015 Volvo V60 also offers station wagon buyers a balanced blend of ride and handling. Cargo space is generous, although not exceptional at 43.8 cubic feet. Engine choices include the new 240-horsepower 2.0-liter four-cylinder turbo, the 250-horsepower 2.5-liter five-cylinder turbo, or 325-horsepower 3.0-liter turbocharged V6. Base price is $35,300.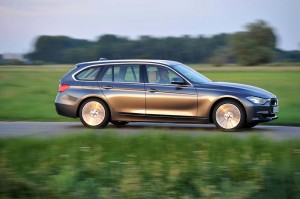 2014 BMW 3-Series Wagon – Buyers can choose from the 328i or 328d wagon. Power comes from the 241-horsepower turbocharged four-cylinder in the former and 180-horsepower turbocharged clean diesel (TDI) four-cylinder engine in the latter. A total of 53 cubic feet of cargo space rests behind the front seats. Fuel economy is estimated at 26 and 35 mpg in combined driving, respectively. Starting price is $41,450.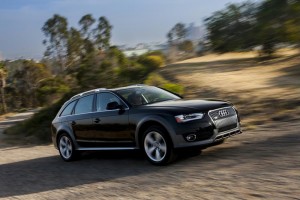 2014 Audi Allroad – With its 220-horsepower, turbocharged four-cylinder engine and Quattro all-wheel-drive system, the 2014 Audi Allroad conveniently offers 50.5 cubic feet of "gear-friendly" cargo space behind the front seats. There's also some off-road (Audi calls it all-terrain) potential. Combined highway driving fuel economy is EPA-estimated at 21 mpg. Base price is $40,700.
2014 Mercedes-Benz E350 – With its ability to carry up to seven passengers in luxury and style, the 2014 Mercedes-Benz E350 wagon is a step up from many wagons available today. Cargo space is 57.4 cubic feet behind the front seats. That's in addition to its trademark rear-facing third-row seat. EPA-estimated fuel economy from the 302-horsepower V6 engine is 21 mpg combined driving. Available in E350 4MATIC and E63 AMG S-Model 4MATIC trims. Starting price is $58,600 and $102,370, respectively.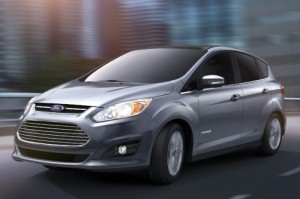 2014 Ford C-Max Hybrid – With its high fuel economy, refined driving manners and stylish and well-made interior, along with good acceleration, abundant features standard and available and elevated driving position, the 2014 Ford C-Max Hybrid may prove the right choice for consumers looking for stylish, affordable and economical utility in a family vehicle. Maximum cargo capacity is 52.6 cubic feet. EPA-estimated fuel economy is 42 mpg city/37 mpg highway. Pricing begins at $25,170.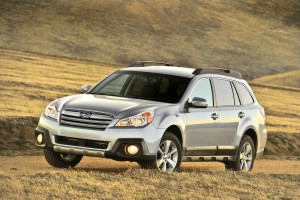 2014 Subaru Outback – Highly affordable at a base price of $24,895, the 2014 Subaru Outback (essentially a Legacy station wagon), has 71.3 cubic feet of cargo space behind the front seats. Two engines – the 173-horsepower four-cylinder in the 2.5i and 256-horsepower six-cylinder in the 3.6R achieve EPA-rated 24 to 26 mpg and 20 mpg in combined driving, respectively.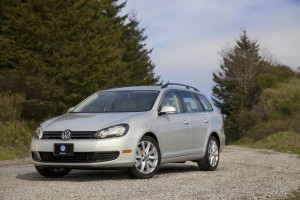 2014 Volkswagen Jetta SportWagen – Affordable, great cargo space (66.9 cubic feet behind the front seats), standard 2.5-liter five-cylinder gasoline or optional turbocharged clean diesel engine getting an EPA-estimated 42 mpg highway fuel economy, the 2014 Volkswagen Jetta SportWagen offers a lot for budget-conscious families looking for attractive, economical transportation. Starting price is from $20,995.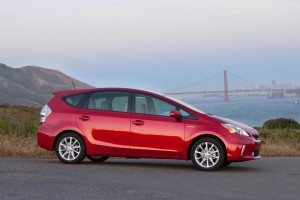 2014 Toyota Prius V – A hybrid station wagon, the 2014 Toyota Prius V is a five-passenger wagon with the interior room of a compact crossover and a fuel-economy rating of 44 mpg city/40 mpg highway/42 mpg combined. Cargo space behind the front seats is 67.3 cubic feet. Base prices starts at $26,750.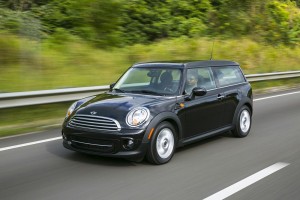 2014 Mini Cooper Clubman – A Mini that's a station wagon? Yes, the 2014 Mini Cooper Clubman meets the traditional definition of one. Seating four comfortably, the Clubman has barn-style rear cargo doors but just 32.8 cubic feet of cargo space behind the front seats. The Clubman is available in Clubman, Clubman S and Clubman John Cooper Works trim levels. Base price starts at $22,195.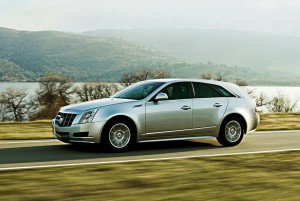 2014 Cadillac CTS Sport wagon – Available in CTS or CTS-V versions, the 2014 Cadillac CTS Sport wagon offers high-style luxury in a five-passenger midsize wagon. Precise and well-weighted steering means driving fun as well, although not quite as athletic as the BMW 3-Series wagon or the Audi Allroad. Cargo space behind the front seats is 58 cubic feet. EPA-rated combined driving is 21 mpg in the CTS wagon and 14 to 16 mpg in the CTS-V wagon. Starting price is around $42,195.
Search used cars for sale and find the best deals near you at iSeeCars.com.
To get a FREE iSeeCars VIN Report for a car, click here.