This may just be what we need for the start of the spring selling season. Whether it's a son or daughter's graduation gift or a neat second or third car for the household, the 10 Coolest New Cars under $18,000 from Kelley Blue Book gives us something to think about.
We know what cheap means, or the more genteel term of inexpensive. Priced under $18,000 is easy enough to understand. But wait, what about the cool factor? How did KBB determine that? According to the publication, two factors stand out in determining a vehicle's coolness: fun to drive and fun to own. That said, here is this year's list of the 10 coolest cheap cars under $18,000 from the editors of Kelley Blue Book.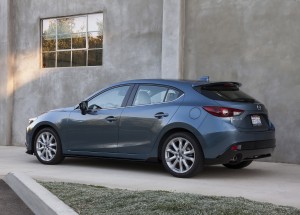 2015 Mazda Mazda3 – Earning the top spot for the second year in a row, and ranking in the top 10 for all 12 years of the KBB annual listing, the 2015 Mazda Mazda3 is definitely a cool, cheap car. But the Mazda3 is more than the sum of its parts, although those parts are most assuredly appealing in their own right. With a starting price of $16,945, the 2015 Mazda3 is available in four- and five-door configurations, with fuel-efficient engines in the form of the SKYACTIV-G 2.0-liter or 2.5-liter engines.

2015 Volkswagen Golf – The 2015 Volkswagen Golf 1.8T two-door compact car is versatile, innovative and powered by a 170-horsepower 1.8-liter turbocharged engine that gets an EPA-estimated 25 mpg city and 37 mpg highway fuel economy. The price is also nice, starting at $17,995. Volkswagen calls the Golf the "modern hatch, "and the auto world mostly agrees. The 2015 Golf was named Motor Trend Car of the Year. Great handling, excellent front seats, good cargo space and a rating of Top Safety Pick+ from the Insurance Institute for Highway Safety (IIHS) are other consumer-friendly characteristics of the 2015 Golf.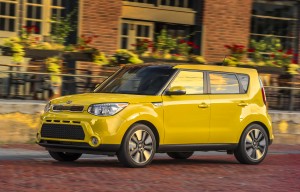 2015 Kia Soul – With a base price of $15,190, the 2015 Kia Soul, a "fun-and-funky" urban runabout, sails it out of the park with a number three spot in the KBB list of coolest 2015 cars under $18K. What's it about the Soul that makes it so cool? Outside of its unique exterior design, the Soul features flexible interior configurations, lots of features, roomy cabin, and great cargo space. The 2015 Kia Soul is available in Base, Plus, and Exclaim trim levels. Power for the entry-level model comes from the 130-horsepower 1.6-liter four-cylinder engine, while the other two trims benefit from the 164-horsepower 2.0-liter NU engine.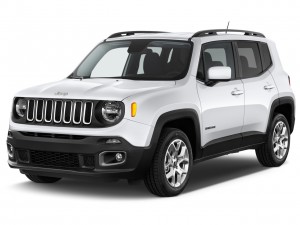 2015 Jeep Renegade – All-new for 2015, the Jeep Renegade small SUV offers best-in-class off-road ability, a fun-to-drive and fun-to-own character, lots of advanced safety and technology offerings. Marking its first year on the KBB "10 Coolest Cars Under $18,000" list, the editors found that the Renegade "deliver[s} a buffet of desirable Jeep aspects…in a package [that's] sensible for everyday commuting." The Renegade has a starting price of $17,995.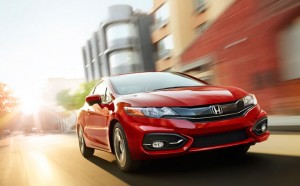 2015 Honda Civic Coupe – Refined, comfortable, with top-notch safety ratings – and a starting price that's budget-friendly at $18,290, the 2015 Honda Civic coupe – especially in red – offers more fun than you'd imagine for this popular compact car. Nicer cabin, quieter ride, and good 33 mpg combined fuel economy are other attributes that put the 2015 Civic coupe in "must-buy" category for thrifty-minded consumers.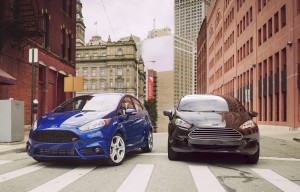 2015 Ford Fiesta – KBB editors hail the "multifaceted appeal" of the 2015 Ford Fiesta subcompact. Starting prices for the Fiesta S sedan ($13,790 – after $1,000 cash back offer) and Fiesta S hatchback ($14,190 – after $1,000 cash back offer) are equally compelling. Other must-have features for a cool car under $18K include European-inspired driving dynamics and a rather bold style. Fuel economy at an estimated 28 mpg city/37 mpg highway doesn't hurt the wallet either.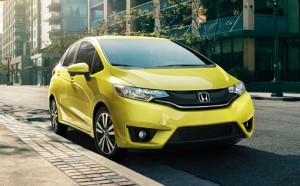 2015 Honda Fit – Honda completely redesigned the 2015 Fit subcompact car and consumers are the ones to benefit. Two of the Fit's three models: LX and EX, a have starting prices of $15,650 and $17,560, respectively, while the top-end EX-L is slightly over the $18K mark at nearly $20K. Consumers like the cargo and passenger versatility and the fact that Honda reliability is stellar. Oh, and the Fit is cute and fun to drive as well as own.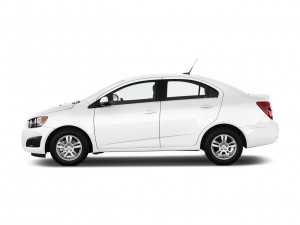 2015 Chevrolet Sonic – A subcompact that's fun to drive and fun to own, the 2015 Chevrolet Sonic hatchback carries a low starting price of just $14,245. How's that for inexpensive? But just because it's the car with the lowest starting price on this list of cool cars under $18K doesn't mean it's cheap. The Sonic is the only car in its class with 10 standard airbags. There's also an available turbocharged engine that gets an EPA-estimated 40 mpg in highway driving.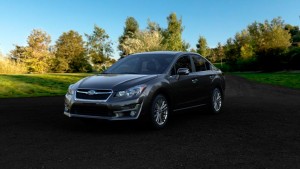 2015 Subaru Impreza – It's the only vehicle on this list that includes all-wheel drive as standard equipment. That desirable attribute alone is enough to rank the 2015 Subaru Impreza four-door sedan a cool car in our book, but there's also the low starting price of $18,195. Other neat equipment that's standard for the 2015 Impreza includes a rearview camera, a 6.2-inch touchscreen interface with nicer infotainment features, and cruise control. Excellent safety scores are another plus.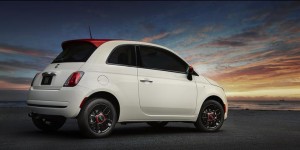 015 Fiat 500 – Returning for its fifth consecutive year on the KBB coolest cars under $18K list, the Fiat 500 for 2015 is "charmingly retro and aggressively modern at the same time…a poster child for cool," say the publication's editors. Starting price for the 2015 Fiat 500 is $16,745.
Search used cars for sale and find the best deals near you at iSeeCars.com.
To get a FREE iSeeCars VIN Report for a car, click here.