There are a few things that every person who has ever sat behind the wheel should know about his/her vehicle. A few well-prepared drivers will have at least a vague knowledge of all ten of these items; quite a few more will know about most of them; several more will know two or three; and, a few are going to have some problems at some of the worst times if they don't become familiar with this list. For all of the above, here are 10 things everybody should know about their cars.
1. Year, Make, and Model
Knowing this simple little tidbit about your vehicle will help you when you need to shop at parts stores, when you need to take your vehicle in for service, or when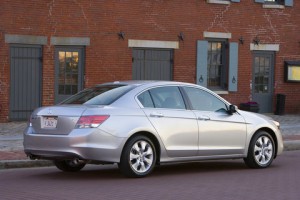 you need to shop for automobile insurance. This is also a good bit of info to know if you ever want to find out the value of your vehicle. Many of you laugh, but you'd be surprised how many people simply don't have a clue what they're motoring around in.
2. How to Check Tire Pressure
Checking your tire pressure is not something that needs to be done daily, but it is a good idea to perform the task once every month or two. Just like the air outside your tires, the air inside them changes its volume with temperature. As it gets colder, you may need to add a few pounds of air to each tire. As it warms up, you may need to release a few. Keeping your tires at the right psi setting will not only improve the life of your tires, it will also increase your fuel efficiency and decrease the risk of damage to your steering and suspension parts.
3. How to Change a Tire
The reason for this one should be pretty obvious. Even if you're a member of a motor club like AAA, knowing how to change a tire on your vehicle may be a lifesaver someday. Let's say you're in a very big hurry to get somewhere for an important appointment. Can you afford to wait 45 minutes to several hours for help? Or perhaps you're in an area where a towing service isn't offered. There are several scenarios that make it a good idea to learn at least the basics of changing a tire.
4. Fluid Insertion and Check Points
While most people will have this area taken care of at their local repair facility, it's still a good idea to know where the various areas of fluid insertion (brake fluid, engine oil, engine coolant, and transmission fluid being the most common) and their appropriate check points are. There's no telling what can happen out on the road, and keeping your fluids at the appropriate levels will keep your vehicle running longer.
5. How to Change Wiper Blades
It is not uncommon to have wiper blades fly off or come loose while driving. Most are held on with plastic clips that become brittle over time. If this happens in a snowstorm or heavy rainstorm, it would probably be helpful to know how to put it back on until you can get to a parts store or service center.
6. Where's the Battery?
Despite door buzzers, bells, and flashing lights, leaving lights on in a parked vehicle is still a very common occurrence. Getting a quick jump is a fairly simple process as long as you know where your battery is located. For cars that have the infamous "hidden" batteries, there should be jumper posts under the hood somewhere, should you have the need for a kick-start.
7. Type and Grade of Fuel
The cheaper the better is usually the motto here. However, every vehicle will perform differently on different types of fuel. Finding the right choice for your vehicle can improve fuel efficiency, keep your engine cleaner, and make tune-up parts last longer. As always, you never want to put the wrong type of fuel in your vehicle either. Diesel and Regular are not interchangeable.
8. When Was the Last Oil Change?
If you don't have one of those little stickers in the upper-left corner of your windshield, or at least a little piece of paper with the appropriate mileage wadded up in the glove compartment, then we hope you just have a really good memory. Getting your engine oil changed on time will increase the life of your vehicle more than just about any other maintenance item.
9. Maintenance Intervals
Speaking of maintenance, it's not a bad idea to keep track of your maintenance mileage intervals. Most of the time, your local repair shop or dealership will keep track of these records for you; or, you can usually find them in the owner's manual. It's still not a bad idea to keep a record of what needs done to your vehicle at certain mileage intervals, as well as what maintenance has been performed already. This will lengthen the life of your vehicle, and could also ease the mind of the vehicle's next owner should you decide to sell it.
10. Noises it Makes
Keeping the radio blaring so loud that you can't hear the guy behind you honking and screaming that your Grandmother's hat blew out the back window two miles ago, or your poor Grandma screaming at the back of your head for the past two miles either, is never a good idea. Not only will it severely upset Grandma, and probably the guy behind you, but it prevents you from becoming familiar with your vehicle's noises. Knowing the common noises your vehicle makes is a very important step to knowing when something may be going wrong with it. If you don't recognize these new noises, or can't hear them to begin with, it could turn into a very costly repair down the road…replacement cost of Grandma's hat excluded.
Search used cars for sale and find the best deals near you at iSeeCars.com.
To get a FREE iSeeCars VIN Report for a car, click here.