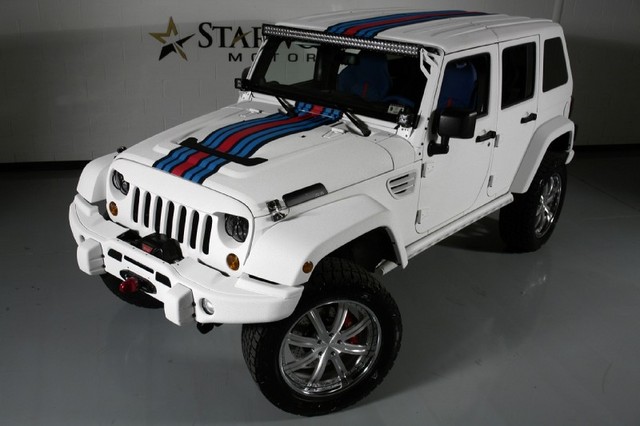 Spending nearly $125,000 on a Jeep Wrangler may sound extreme, but if extreme is what you want this may be the Jeep for you.
Coming to us from Starwood Motors in Dallas, where they offer many custom Jeeps, this 2013 Jeep Wrangler Unlimited Martini Hemi Edition 4WD ($124,885) is truly unique. It has just 125 miles on it and one previous owner.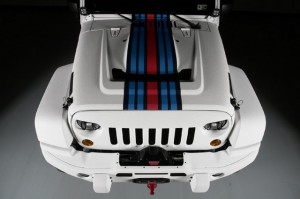 It may be pristine now, but you'd be insulting it if you did not take it off-roading. Starwood says this Jeep comes with exclusive full Kevlar finish, which offers 4,700 PSI tensile strength – protecting it from the elements. The exterior is highlighted by a sharp blue & red Martini Racing centerline graphic. The custom exterior also includes AEV front and rear bumpers, AEV Heat Reduction Hood, rock rails and a Wild Boar grille. With a Warn Zeon winch with synthetic rope and a Poison Spyder fairlead it's ready to get in or out of any terrain.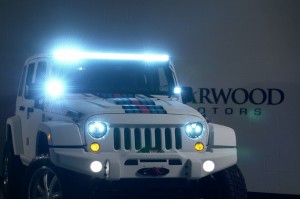 Let the sun shine in without missing a beat with the lifted off road fastback Targa top. Or if it's dark out, flip on the JW Speaker 8700 Evolution LED headlamps, LED tail lamps, Rigid Industries 50″ LED light bar, the Rigid 'Dually' LED spots, or all of the above. There, now you can see.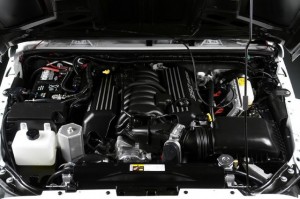 Sitting up on a Rancho 3″ lift kit along with 22″ custom Modulare brushed aluminum wheels you will get some stares in this Jeep, but your admirers better not blink because it can cruise right by them. This 6.4L Hemi conversion is a 450-hp machine ready for wherever you bring it.
We wouldn't dare call the interior luxurious, but you will ride very nicely surrounded by custom red and blue leather. At your fingertips you have Garmin Navigation, iPod audio/video, Bluetooth connectivity, SIRIUS Radio, and a back up camera. Finish it off with a top-of-the-line sound system – the speakers have been enhanced to JL Audio components along with a Kenwood 1000-watt 10″ sub –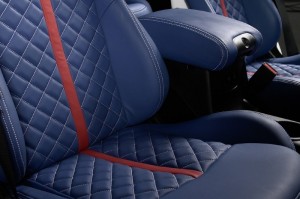 and you will not want to get out of this Jeep.
In fact, you may have spent the equivalent of a small house on it, but one ride in Jeep Wrangler Unlimited Martini Hemi Edition and you might decide to live in it.
What do you think? Would you drive the Jeep Wrangler Unlimited Martini Hemi Edition?
View the original listing on iSeeCars, or if it's been sold, click to see all used Jeep Wranglers for sale.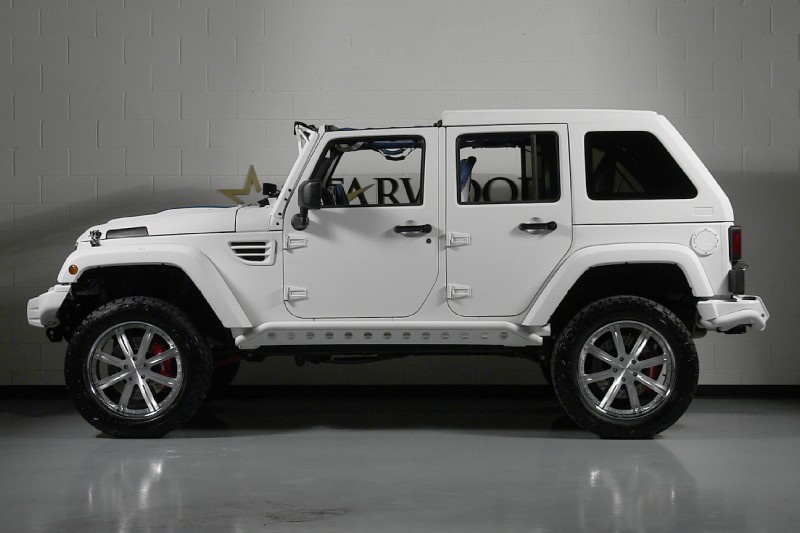 Search used cars for sale and find the best deals near you at iSeeCars.com.
To get a FREE iSeeCars VIN Report for a car, click here.