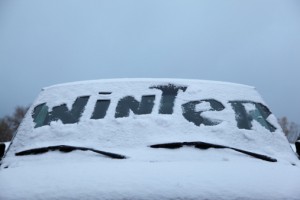 Blizzards, blowing and drifting snow, icy roads, reduced visibility, and the possibility of getting stranded for hours or longer are just some of the dangerous aspects of driving in severe winter weather. It's not only inconvenient when massive snowstorms hit; the results can be deadly. When confronting the prospect of driving in such treacherous weather, the two questions every driver should ask themselves are: Do I really need to drive, and if I have to drive, what is the best way to go about it?
Here are 14 things you really need to know about driving in severe winter weather: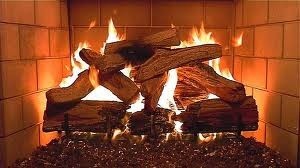 1.Don't drive unless it's absolutely necessary. Safety experts are unanimous in recommending you stay home when winter weather hits with massive force. There's simply no safer place you can be.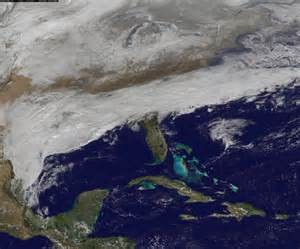 2.Keep an eye on the weather. Pay attention to TV and radio weather reports the night before and the morning of any planned driving. Be especially alert to warnings about heavy snow accumulation, blizzard conditions, icy road conditions and other severe winter-related road conditions. It's important to know that weather changes rapidly during winter and the worst times to drive are during early morning and evening. That's when temperatures can plummet drastically, making driving any road a much more dangerous proposition.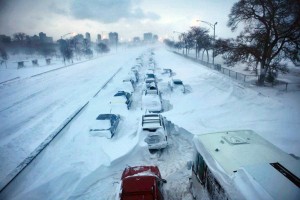 3.Adjust your route to avoid extreme weather or road conditions. An important part of driving safely during severe winter weather is planning ahead to take an alternate route when you know you'll encounter ice, hail and snow, let alone a blizzard. While the adjusted route may take you longer mile-wise and time-wise, considering the possibility you could be stranded by attempting to drive through the extreme weather may make the choice more palatable. It's certainly the safer choice.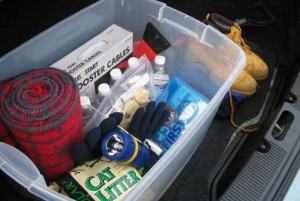 4.Make sure you have an in-car emergency kit. Winter is one of the most dangerous seasons to get stranded and come out safely. Be safe, not sorry, by making sure your car is stocked with an emergency kit that includes the following: bottled water, non-perishable foods, flashlight, blanket, battery-powered radio, flares, maps, first aid kit, tire repair kit, jumper cables and fire extinguisher.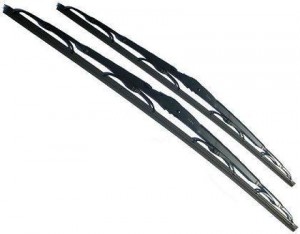 5.Check your car to be winter-ready.  Doing simple car maintenance before you head out on the road is always recommended. In winter, however, this procedure can save your life. Ideally, you've already done this, but if you haven't, now is the time. Have your radiator and cooling system serviced. Check your wipers and fluids. Monitor and maintain proper tire pressure and replace worn tires or put on snow tires.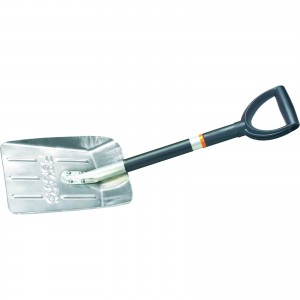 6.Clear your vehicle of snow and ice.  Unless you park your car in a garage, be prepared to spend some extra time clearing it of accumulated snow and ice. Be sure to brush the snow off the roof as well as the windows. This will ensure maximum visibility and prevent snow from your roof blowing onto the vehicle behind you and causing a hazard. Make sure you have a snow brush/ice scraper with you in the car to clear the vehicle during your travels as well.
7.Leave yourself plenty of time – and don't take unnecessary risks. If you have to be out on the roads during severe winter weather, bake in an extra hour so that you can handle unexpected delays, going at a lesser speed, navigating around obstacles and accidents. By leaving early and giving yourself plenty of time, you'll feel less anxious about arriving late and won't be tempted to run that yellow light to clear the intersection.
8.Wear your seat belt at all times. No matter how anxious you are to get on the road, before you start your car make sure you buckle your seat belt. If you have any passengers in the vehicle, ensure they're all securely buckled or properly restrained in child safety seats. Keep in mind that safety belts reduce risk of fatal injury by 45%.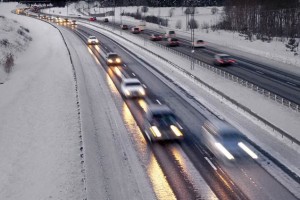 9.Slower is better – and safer. This is not the time when you'll be going the posted speed limit. Severe winter weather conditions require that you only go the speed that allows you to safely maneuver your vehicle, especially when other drivers on the road make unexpected moves and you have to react quickly. Keep in mind that brakes are less responsive on icy road surfaces, so slow down to be safe.
10.Maintain a wider following distance to the car ahead. It's important that you widen the distance between your car and the one ahead in order to ensure you're able make any necessary adjustments quickly. Following at a greater distance also avoids the danger of snow blowing from the vehicle ahead and dumping on your windshield, causing loss of visibility.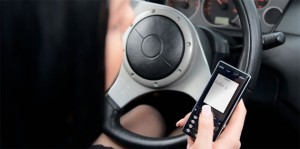 11.Avoid all in-car distractions. Do not use your cell phone to make or take calls or texts. This distracted driving behavior is problematic at any time; during extreme winter weather it may rob you of precious seconds you need to make a life-saving driving decision. Just two seconds of driving distracted doubles the chance of an accident. Keep your focus on the road and your driving.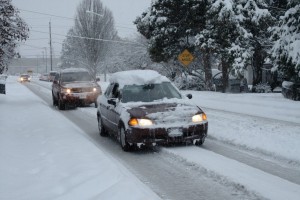 12.Know your exit ahead of time. Whether you've traveled this route a hundred times or think you can wing it, don't take the chance that you'll become occupied by trying to navigate around other drivers and dart to your exit at the last minute. Keep an eye on the exits and know the one you'll be using by name and number. Watch the last few miles and make sure you're in the appropriate lane to exit safely.
13.Never cut in front of a big truck. It's not only cars that are on the road but also big trucks – which take a lot longer to stop than passenger vehicles. Big rigs are also heavier than cars and the resulting injuries and damages from a truck-car collision can be much more severe. For this reason, never cut in front of a big truck.
14.Watch out for trucks' blind spots. Bigger, wider and heavier than passenger cars, big truck have massive blind spots. The truck driver can't see you drafting him and there are serious blind spots on the sides of his vehicle as well. The safe rule of thumb is if you can't see the truck driver in his or her mirrors, it's likely the truck driver can't see you either.
Search used cars for sale and find the best deals near you at iSeeCars.com.
To get a FREE iSeeCars VIN Report for a car, click here.