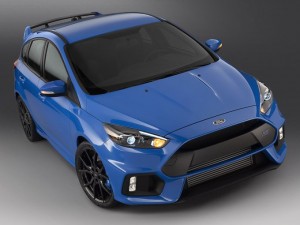 If you're lucky enough to visit the Big Apple for the 2015 New York Auto Show, you're in for a treat. Auto critics and consumers alike say this is one year where the show is filled with unexpected surprises. Others have said "let the good times roll," indicating the health of the auto industry.
We'd have to agree and think you will too as you take a brief look at some of the standout models featured at the year's last big auto show this spring.
2016 Ford Focus RS – Fans of the blue oval have reason to rejoice next spring when the 2016 Ford Focus RS pocket-rocket appears in dealerships. With 315+ horsepower, all-wheel drive and something called "drift" mode, the Focus RS will provide discerning consumers with an alternative to higher-priced sporty-driving cars. Brembo brakes are standard as are black 19-inch wheels, lower body kit, rear spoiler and vaned rear diffuser with two tailpipes.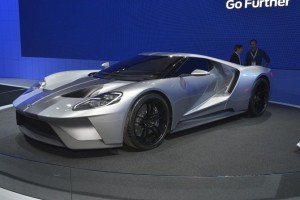 2017 Ford GT – With a price tag estimated at $400,000, the 2017 Ford GT unveiled in New York promises to be not only the most expensive car in Ford's storied history but also the fastest and most ambitious. A 600+horsepower turbocharged V6 engine rests beneath the rear decklid and a seven-speed dual clutch automatic does the shifting. Top speed is over 200 mph. Ford will only build about 250 of the GT supercars each year. If we had an extra $400,000 we know we'd be in line for one.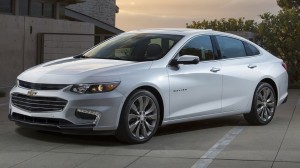 2016 Chevrolet Malibu – Once again the midsize sedan market is heating up with the introduction of the all-new 2016 Chevrolet Malibu and Malibu Hybrid at the New York Auto Show. The hybrid boasts an all-new hybrid powertrain that leverages technology from the Chevrolet Volt. The Malibu Hybrid is expected to deliver a "segment unsurpassed" 47 mpg combined fuel economy; while the Malibu's standard 1.5-liter turbocharged powertrain will deliver an estimated 37 mpg highway. Standard Malibu safety equipment includes 10 airbags, while optional equipment includes forward collision alert, rear cross-traffic alert, automatic parking assist, and a new Teen Driver feature which allows parents to monitor their teen driver's behavior, including maximum speed, warning alerts and more.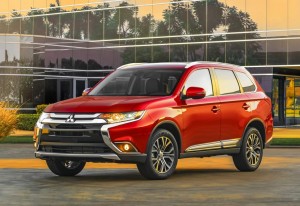 2016 Mitsubishi Outlander – It's all-new and decidedly different. The 2016 Mitsubishi Outlander, and don't confuse it with the Outlander Sport, aims to boost sales with consumers looking for an affordable, three-row SUV. The complete makeover features more than 100 design and engineering changes. The result is a new Outlander that boasts improved handling, greater quietness inside the cabin, and a sleek and inviting exterior with LED position lights and 19-inch alloy wheels.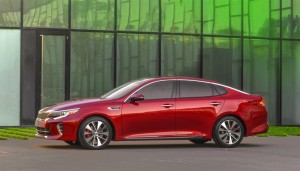 2016 Kia Optima – The midsize sedan is gussied up in all-new interior and sleek exterior, plus a few more extras consumers care about. Greater use of soft-touch materials make the interior comfortable and good-looking, while a height-adjustable front passenger seat, a feature normally found only in more expensive vehicles, adds convenience. A rear camera display is standard, while SX and SXL trims have optional 360-degree Around View Monitor. Driver-aid technology includes available smart cruise control, blind spot detection, rear cross traffic alert, and autonomous emergency braking.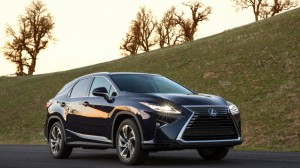 2016 Lexus RX – The midsize luxury crossover SUV segment gets an important contender in the all-new 2016 Lexus RX. Although its fourth-generation redesign featuring a much more aggressive new look may put off some long-time brand loyalists, it may just more than make up for it with new intenders. Its 3.5-liter V6 engine is now more powerful, generating 300 horsepower with direct injection and a new eight-speed automatic transmission. Other new features are 20-inch customizable aluminum wheels and a retractable panoramic moonroof. Available models include the RX 350, RX 450h, and RX F Sport.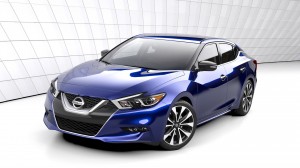 2016 Nissan Maxima – While critics have claimed the full-size sedan is all but dead, the 2016 Nissan Maxima shows the buying public that there's life left yet in this family segment. With an all-new design, the Maxima may prove to be an affordable choice for larger families who want and need something that isn't a crossover, minivan or SUV. In short, a full-size sedan with all the right bells and whistles, as well as the latest safety equipment, fuel-efficient engines and such.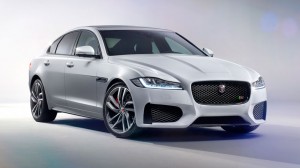 2016 Jaguar XF – Some may say the 2016 Jaguar XF hasn't changed all that much. They'd be wrong. With its lighter, stronger chassis and improved interface, the second-generation midsize luxury 2016 XF may attract new buyers to the Jaguar fold when it goes on sale this winter. Astute consumers will realize that this is the first new model in the Jaguar lineup since Indian automaker Tata bought the British brand. The Jaguar XF will be offered in rear-wheel drive and all-wheel drive and a choice of two supercharged V6 engines plus a comprehensive suite of driver assistance, infotainment and advanced performance technology.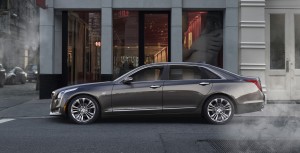 2016 Cadillac CT6 – Aficionados of sporty performance cars can't wait for the all-new full-size Cadillac, the 2016 Cadillac CT6. Besides being a deliciously-exciting driver's car, the CT6 will be outfitted with all sorts of luxury features designed to appeal to buyers in this segment, such as 40.4 inches of rear legroom, a 34-speaker Bose stereo system and wireless charging for cell phones. Three engines will be offered at launch: a 265-horsepower turbocharged in-line four-cylinder (rear-wheel drive); a 335-horsepower 3.6-liter V6; and a 400-horsepower 3.0-liter twin-turbo V6. Both V6 engines offer standard all-wheel drive with a two-gear transfer case. Safety equipment includes an industry-first rear camera mirror delivering to the interior mirror an unobstructed rearward view.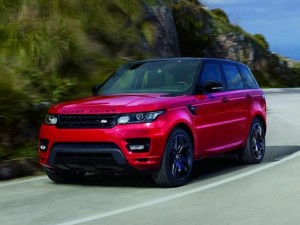 2016 Range Rover Sport H ST – Although it's powered by the same supercharged 3.0-liter V6 as the regular Sport, the 2015 Range Rover Sport H ST manages to pound out 30 more horsepower for a total of 380 horsepower. Sport H ST also has a plethora of new features and differentiation in visuals to better separate it from other variants. These include glossy black inserts on the hood, grille, fog lamp bezels and front wing vents. The luxury SUV rides on dark satin gray 21-inch or optional 22-inch so-called "stealth" alloy wheels. Look for the 2016 Range Rover Sport H ST in dealerships by the end of the year.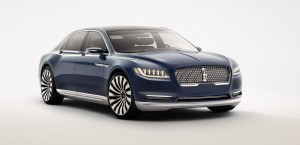 Lincoln Continental Concept – It's been 13 years since the last Lincoln Continental rolled off the assembly line. At this year's New York Auto Show, however, Lincoln previewed the Continental to come (as a production 2016 model) in the guise of the Lincoln Continental Concept. The full-size sedan never looked so good, in our humble opinion. According to Lincoln, the concept is powered by a turbocharged 3.0-liter EcoBoost V6 engine, has various driver-assist technologies and 21-inch wheels.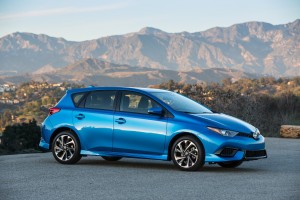 2016 Scion iM and iA – The youthful brand of Toyota is showing not one, but two vehicles at the 2015 New York Auto Show: the iM 5-door hatchback and the newly-named iA sedan. The 2016 Scion iM, which Toyota says will be priced starting under $20,000 when it goes on sale this fall, is powered by a 1.8-liter four cylinder engine mated with either a six-speed manual or a continuously variable automatic transmission (CVT). Standard equipment includes 17-inch wheels, a rear backup camera and driver-seat knee airbag, among many other features.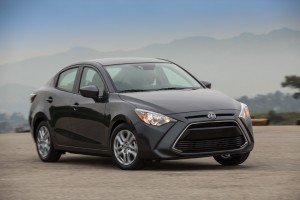 The 2016 Scion iA, meanwhile, is the brand's first four-door sedan. The subcompact is much the same size as competitive sedans like the Ford Fiesta, Kia Rio, Nissan Versa, Chevrolet Sonic and others. Power for the iA comes from the Mazda 1.5-liter in-line four-cylinder engine producing 106 horsepower. Transmission choices are a standard six-speed manual or available six-speed automatic. With a full roster of standard airbags, the iA also has a low-speed pre-collision system with a laser sensor to warn the driver of potential collisions.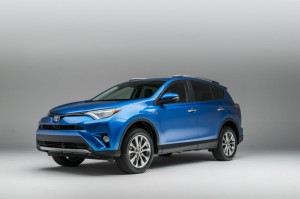 Toyota RAV4 Hybrid – First introduced by Toyota for the 2012 model year, the RAV4 compact crossover is one of the Japanese automaker's high-volume vehicles. The New York Auto Show is the venue Toyota chose to showcase its first-ever RAV4 Hybrid. Toyota now has the distinction of being the only automaker to offer hybrids in all its vehicles. The RAV4 Hybrid is powered by the same hybrid powertrain used in the Lexus NX 300h: a 2.5-liter four-cylinder gasoline engine paired with two electric motors, a nickel-hydride battery pack, and CVT. This leads to a combined power rating in Lexus NX 300h of 194 horsepower, but Toyota hasn't released numbers yet for the RAV4 Hybrid.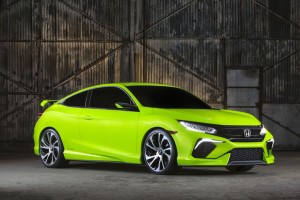 Honda Civic Concept – Previewing the 2016 completely redesigned Honda Civic, Honda unveiled the Civic Concept at the 2015 New York Auto Show. In fact, the Civic Type R, which Honda officials say will also be coming to the U.S., will be "flat-out, the most dynamic, the most technologically advanced and the most refined and stylish Civic we've ever made." Look for more details on the production version of the 10th-generation Honda Civic when launch comes closer later this year.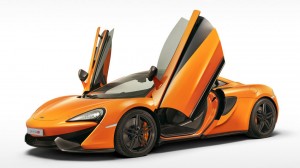 McLaren 570S Coupe – What's an auto show without a little "wow" factor? McLaren certainly obliged with the introduction of the McLaren 570S Coupe, billed as an "more affordable Sport Series road car." The two-door hardtop will be powered by a 562-horsepower 3.8-liter V8 engine and will jet from zero to 62 mph in just 3.2 seconds. Top speed is 204 mph. While the rear-wheel drive supercar has yet to be priced, expect it to be in the range of $175,000 to $185,000.
Search used cars for sale and find the best deals near you at iSeeCars.com.
To get a FREE iSeeCars VIN Report for a car, click here.