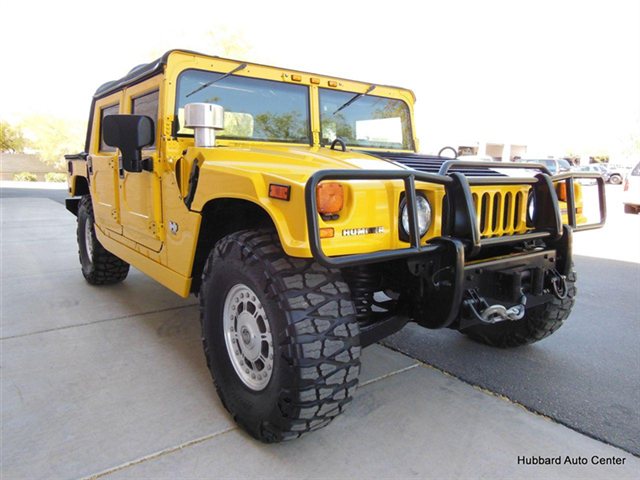 Be prepared for attention. A Hummer will get you noticed. An H1 will get you waves and beeps and a yellow H1… well, be prepared to have your photo taken like you are Schwarzenegger. This vehicle is not for the faint at heart or the wallflower.
By many opinions, Hummers were a big deal (and we mean big) in the early 2000s.  In 2006, the H1 was discontinued. Does that make this model more in-demand? As time goes on, and less are around, the answer is likely yes. It's always been a limited production vehicle. Lately, they seem to be gaining in popularity again both in the US and overseas. This big yellow 2003 Open Top Hummer H1 is no exception. It comes to iSeeCars.com from Scottsdale where it saw a lot of love and little miles (29,991).
When it comes to off-roading, this H1 is ready for what you want to give it. It has a heat-treated corrosion-resistant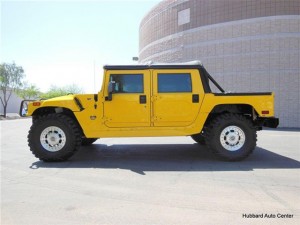 aluminum alloy body and galvanized steel doors. It has a 6.5L  turbo-diesel V8 engine and it's in full time 4WD.  It also has Central Tire Inflation, a button that allows the driver to add to or decrease the tire air pressure. This is ideal as lower tire pressures are better for off-road, and higher tire pressures are better suited for on-road.
And some may complain a huge, heavy SUV such as this is a guzzler, but at least your don't really have to worry about running out of fuel. It has dual fuel tanks (25 gallon main/17 gallon auxiliary). Really, if you're concerned about fuel, this is not the vehicle for you.
The cloud gray leather interior includes four high-back bucket seats, a Monsoon premium audio system, and basics, such as heat, A/C, power windows and keyless entry.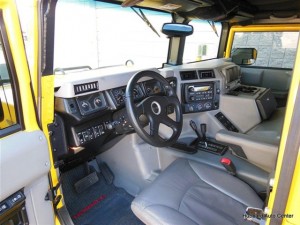 Back in 2003, the MSRP on this make/model ranged from $105K-$116K. Today this particular Hummer has been listed for 35 days and seen two price drops, bringing it to $77,000. That should tell the wise consumer that they may have some good negotiating power. And, the longer it sits on the lot, the better the chances of getting a deal on it.
Tell us, would you drive this 2003 Open Top Hummer H1? See the listing on iSeeCars.com or checkout all of the used Hummers for sale.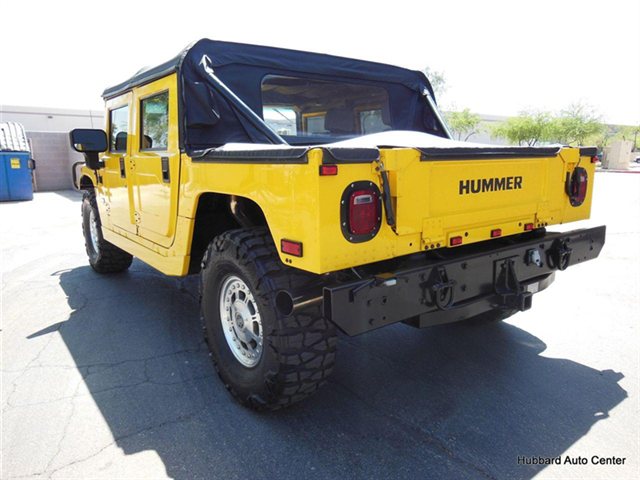 Search used cars for sale and find the best deals near you at iSeeCars.com.
To get a FREE iSeeCars VIN Report for a car, click here.