Consumers concerned about how safe electric cars are should be encouraged to learn that the 2011 Chevrolet Volt and Nissan Leaf are the first electric cars to win top safety awards. The announcement came April 26, 2011 from the Insurance Institute for Highway Safety (IIHS), which conducted the first-ever U.S. crash tests of mainstream electric cars.
The 2011 Chevrolet Volt and Nissan Leaf earned the Institute's highest rating of "Good" across the board: frontal, side impact, rear and rollover crash testing, and each come with standard electronics stability control (ESC). Such unanimous wins in all categories of testing earn Chevy Volt and Nissan Leaf the designation of "Top Safety Picks 2011."
What's important to note is that the IIHS says the two tested electric cars are as safe as gasoline-powered vehicles – because automakers use the same safety engineering in developing them.
"What powers the wheels is different, but the level of safety of the Volt and Leaf is as high as any of our other top crash test performers," says Joe Nolan, IIHS chief administrative officer.
Both the Chevy Volt, a dual-powered vehicle, and the all-electric Nissan Leaf not only surpass benchmarks for occupant protection in crashes but each also exceeds current fuel efficiency and emissions standards.
They're both also brand-new vehicles for 2011 and designed from the ground-up to be electric cars.
2011 Chevrolet Volt – Chevrolet calls the four-passenger 2011 Volt and extended-range electric vehicle. The IIHS says it is a plug-in battery/gasoline hybrid. Volt can run in electric-only mode with a range of about 35 miles, at which time a gasoline engine kicks in to power the electric motor for an extended range of up to 375 miles.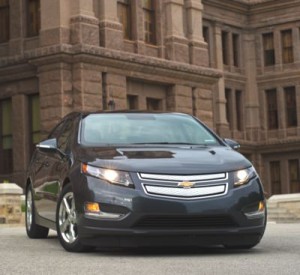 2011 Nissan Leaf – It's 100 percent electric, and the 2011 Nissan Leaf runs solely on battery power. This gives it a range of about 73 miles on a single charge, as estimated by the Environmental Protection Agency (EPA). Nissan, however, claims that the Leaf can go up to 100 miles before recharging.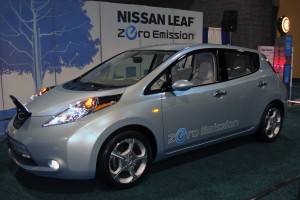 The IIHS says that while the Volt and Leaf are small cars, with overall length, width and passenger capacity of similar small cars that are gasoline-powered, with their added weight for battery packs, their curb weight is more in line with midsize and large cars. Volt weighs about 3,760 pounds, while Leaf weighs about 3,370 pounds. Taking a family comparison, Volt's large car sibling, the Chevrolet Impala, weighs about 3,580 pounds. The Nissan Altima, a midsize sedan, weighs about 3,200 pounds.
Commenting further, IIHS's Nolan says, "The Leaf and Volt's extra mass gives them a safety advantage over other small cars. These electric models are a win-win for fuel economy and safety."
Bottom line: the 2011 Chevrolet Volt and Nissan Leaf – the first electric cars to win top safety awards – are safe, fuel-efficient and green. As the Institute's Nolan says, "Eco-minded drivers keen on switching to electric would do well to buy a Leaf or Volt for highway driving instead of a low-speed vehicle if they are at all concerned about being protected in a crash."
Search used cars for sale and find the best deals near you at iSeeCars.com.
To get a FREE iSeeCars VIN Report for a car, click here.