Cool is very subjective, but it's always fun to check out the annual Top 10 Coolest New Cars Under $18,000 from the editors of Kelley Blue Book (kbb.com). The big news is the appearance of the 2012 Fiat 500 in number one spot. Ford and Honda snag two spots each.
1. 2012 Fiat 500 — Fiat's first offering in the U.S. in 28 years is also the number one spot on the 2011 Top 10 Coolest New Cars Under $18,000 list from KBB. Seven inches shorter than the MINI Cooper, the 2012 Fiat 500 is spot-on in the fun-to-drive subcompact car offerings – and the price is right for budget-conscious buyers, too. 
2. 2011 Mazda3 —Making its eighth consecutive appearance on the annual KBB list, the 2011 Mazda3 proves that, once again, the Mazda3's design, superior driving dynamics and excellent interior are the epitome of fun-to-drive and fun-to-own characteristics of the coolest new cars.
3. 2011 Ford Fiesta –-With its well-crafted interior, European looks, sharp driving dynamics and nimble handling, the 2011 Ford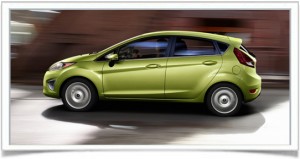 Fiesta may very well become a perennial fixture on the coolest new cars under $18,000 list. Add to that 38 mpg gallon highway fuel economy (40 mpg highway with SFE), and you've got a very cool new car.
4. 2011 Honda Fit –-There's no doubt about it: the editors at KBB have a fondness for the Honda Fit, including it almost every year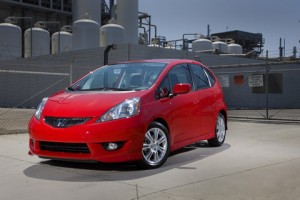 to their annual listing of Top 10 Coolest New Cars Under $18,000. Calling it "fun, flexible and funky," editors say the Fit Sport has even more equipment and still comes in under the $18,000 price tag ceiling.
5. 2011 Kia Forte Koup –– Editors say the 2011 Kia Forte Koup is not only the "sportiest-looking car on our list," it also boasts loads of standard equipment. All this goes to prove that the "uncommon" Forte Koup is "about as cool as it gets for less than $18,000."
6. 2012 Honda Civic –– Low-maintenance and easy-going are two of the phrases KBB editors give to the 2012 Honda Civic. Good enough to land the Civic on the 2011 Top 10 Coolest New Cars Under $18,000 list.
7. 2012 Ford Focus –– Great looks, loads of standard equipment and a price under $18,000 – good thing Ford brought the "Euro-sweetened" Focus stateside for 2012.  
8. 2011 Volkswagen Jetta –– With its "quirky cool spirit," the 2011 Volkswagen Jetta offers value-minded consumers a roomy, fine-handling German sedan at an affordable price. What's not cool about that?
9. 2011 Nissan Cube –– Saying that it's "hip to be square," KBB editors admire the 2011 Nissan Cube as an attractive, exceptionally practical and modestly-priced car – while admitting the Cube is not for everyone.
10. 2011 Hyundai Elantra  –– Last on the list but oh-so-cool, the 2011 Hyundai Elantra has great styling, 10-year/100,000-mile powertrain warranty and that vaunted 40 mpg highway fuel economy going for it.
Search used cars for sale and find the best deals near you at iSeeCars.com.
To get a FREE iSeeCars VIN Report for a car, click here.