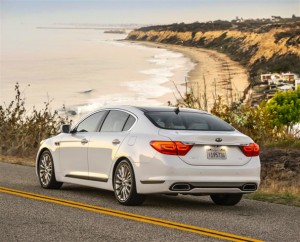 As the anticipation for the dancing hamsters was mounting, Tom Loveless, EVP Sales, took the stage, told the eager crowd that Kia's 25th anniversary in the U.S. was fast approaching and went to share the the happy stats for the brand. And this was after we listened to live electric violin and bass accompanied by a soothing music track to soothe our ears while stunning shots of left coast scenery on the giant screens feasted our eyes. It's obvious that Kia is proud to be a part of the California good vibrations.
And then it happened. Described as "our boldest statement yet" the K900 sedan was introduced. This is not merely bold for Kia; it's beyond daring. Who would have thought that this brand with a heritage of hip-hop, hamsters and basketball players would take a flying leap into the luxury realm?
The list of sumptuous features for the K900 is endless; the softest "Nappa" leather, natural wood in the cabin, panoramic sunroof, 4 layers of exterior paint to add more depth to the look, plenty of horses under the hood, numerous technologically advanced features such as blind spot detection, heated/cooled seats front and rear, and three years of service maintenance included. Wow!
And the car is good looking too! And spacious size is somewhere between a Lexus GS and LS. Slated to bow this spring, pricing will be around $50,000 for the V6 and
about $60,000 for the fully loaded V8.  Does Kia want to be your brand for life? It appears so as they expand their product offerings to a fuller, richer array.
And the hamsters? They took the day off.
Written by Gerry Wendel
Photos  courtesy of Kia, the article author and Image Collage of 2014 Kia K90 design by: Gerry Wendel
Search used cars for sale and find the best deals near you at iSeeCars.com.
To get a FREE iSeeCars VIN Report for a car, click here.