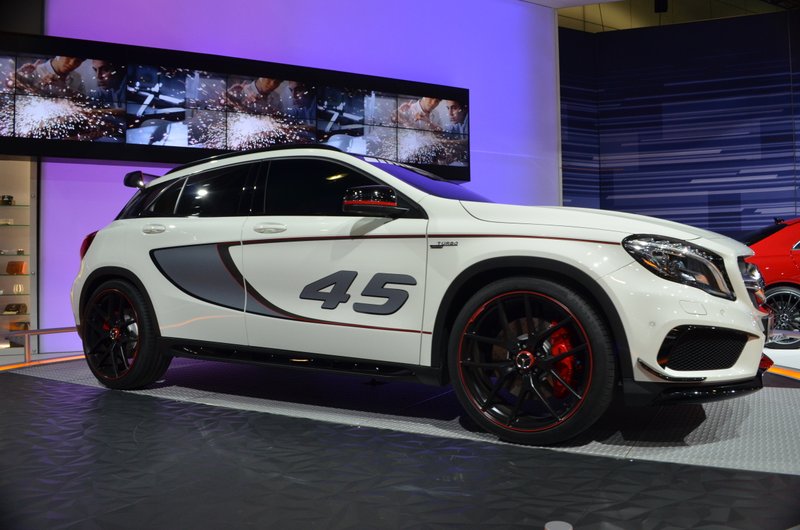 Mercedes-Benz gifted us with rapid fire AMG excitement, declaring that the U.S. is the most important market for this product line. The dizzying array of letters, numbers, prestige, and performance was served up neat in a speedy twenty three minute presentation. Where to start: How 'bout a little fantasy?
In celebration of the new Gran Turismo 6 video game, the Mercedes-Benz AMG Vision Gran Turismo  was ushered in on a cloud of hoopla moments after the creator of the game, Kazunori Yamauchi, was introduced. I uttered a rather loud oooh and had the attention of a few people for a brief three seconds before their steely eyes gazed back to a machine of pure, steely-toned wonderment. If there was ever a concept to boost imagery for a brand, this is it. They say a picture says a thousand words; in this case, it says two-thousand.
And that was the icing on the cake. Maintaining exclusivity while continuing to market a strong brand heritage, four years after the intro of this line, Mercedes introduced the SLS AMG GT Final Edition, scheduled for flight sometime in the second half of 2014. This vehicle will become the pride of ownership for a mere 350 people. Described as "as exclusive as it looks", this magnificently styled, glorious gull winged machine sports 583 horsepower.  It's fast flying at 3.6 seconds from zero to sixty! There was a hint via a shadow on the big screen of what's to come after this vehicle with a promise of something new and different. Meanwhile, the rumor mill suggests that the so-called Final Edition may not be so final after all.
Mercedes-Benz has worldly AMG ambitions that rely heavily on the aura of the S Class. The S63 AMG made its' U.S. premiere and features such as the use carbon fiber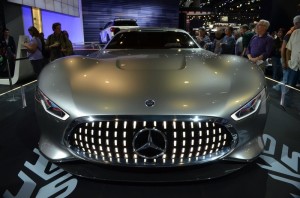 and aluminum were touted on an environmental level. The vehicle sports an enhanced 4-matic system as standard. 67% of the power to the rear wheel enables the S63 to go from zero to 60 in 3.9 seconds, with a little help from 577 horsepower. There will also be a plug-in hybrid variant is in the pipeline for early 2015.
Next up we have another S Class vehicle sneak peek, starring the S63 AMG's sibling, the S65 AMG, a vehicle loaded with "absolute power" including a 6-liter, twin-turbo V12 with 612 horsepower. The car is described as "an ultimate combination of luxury and driving performance" and utilizes engineering design that minimizes the impact on the environment achieving this by meeting the strictest standards in the world. The S65 AMG also touts a 7-speed transmission for reducing fuel consumption and all the gadgets you can imagine.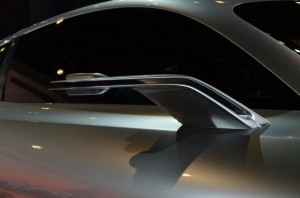 Mercedes-Benz is also out on a mission to bring first time buyers for the brand into the fold; the all new GLA coming next year will play a key role in that growth strategy. This sporty crossover is designed to appeal to younger buyers who have an appetite for style and adventure. The aggressive stance will further appeal with a 2-liter, 4 cylinder turbo-charged 208hp engine under the hood.
Yet another premiere delighted us within the AMG family as that line rapidly expands with multiple offerings in the near future. While this vehicle is not quite ready to bow yet, the GLA 45 AMG Concept made a grand appearance and was described as "close to production". As those of us in LA stand to reason being the embracers of all things sport utility, it will be an important market for this vehicle. Performance and efficiency should impress in GLA 45 AMG Concept powered by a 355 horsepower 2.0 liter inline 4-cylinder that takes less than a crisp five seconds to go from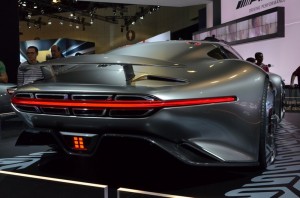 zero to 60. Mercedes dubs it "The world's most powerful 4-cylinder engine."
What's left to leave on the table? Not much as Mercedes plans to give us "more of everything" going forward, including increasing the number of AMG models to over thirty selections and selling 30,000 units annually by 2017. Mercedes Benz has taken giant steps closer towards their ambitious goal of being the "best carmaker in the world".
Written by Gerry Wendel
Images by Jon Gala
Search used cars for sale and find the best deals near you at iSeeCars.com.
To get a FREE iSeeCars VIN Report for a car, click here.