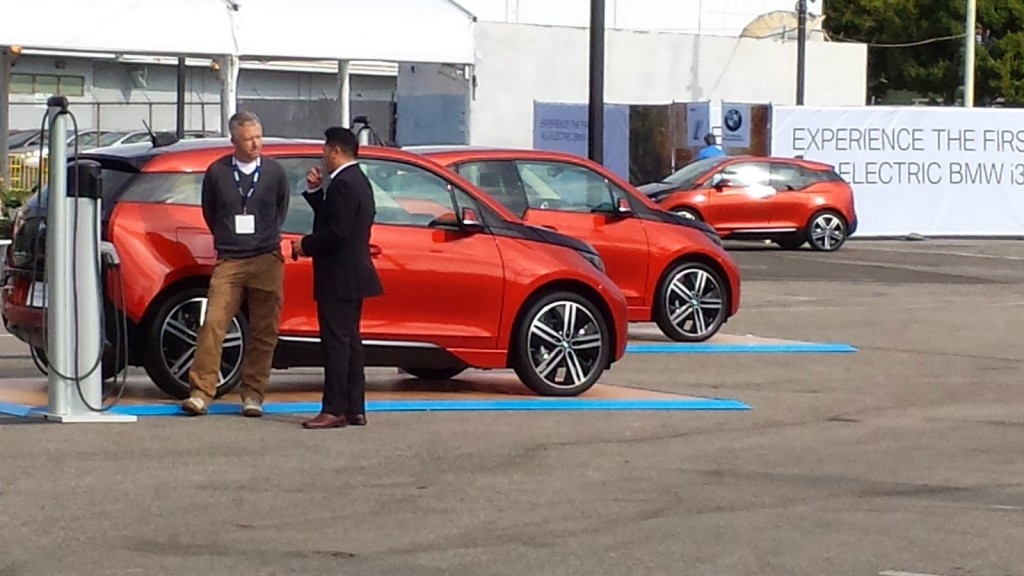 BMW unleashed a flurry of noteworthy designs at the LA Auto Show that retains their traditional standpoint, and, through their green vehicles, also offers "Lightweight design, high performance, and low low emissions."
That's a tall green order! BMW wowed the crowd with the I8 that seeded as a plug-in hybrid several years earlier when they premiered their "Efficient Dynamics concept". Well, now they've built it! It's coming to the U.S. in the summer of 2014. Green credentials, performance and glamour too.  This pretty car can go from 0 to 60 in 4.4 seconds, fueled by a turbo-charged 3-cylinder gas engine in harmony with an electric drive that adds up to the values of a true sports car. In addition, the I8 is estimated to get 94 miles per gallon and has a 310 mile range.
More green: The I3 was just launched in Europe and will bow stateside in the second quarter of next year. This vehicle signals more growth for the 3-series, which accounts for 20% of BMW sales. Need I go into the ultra-lite carbon fiber used in all of the I vehicles? Production takes place in the Pacific Northwest through a partnership formed two years ago with SGL Group, utilizing local, sustainable hydro power.
For those who dig two wheeling, there's the new K1600 GTL touring motorcycle, making it's' world premiere. Equipped with a 6-cylinder, 1600 cc engine, it's 10% more efficient than the previous generation and now includes features such as a keyless ride and hill start control, making departure on steep hills easier.
BMW acquainted us with the X4, declaring it the "first sports activity coupe in its class". The design vaguely recalled the days of yore when hatchback styling ruled the land except that this vehicle was mighty beefy and beautiful to boot. The X4 will be built in Spartanburg, SC and is also expected to say hello in the summer of 2014.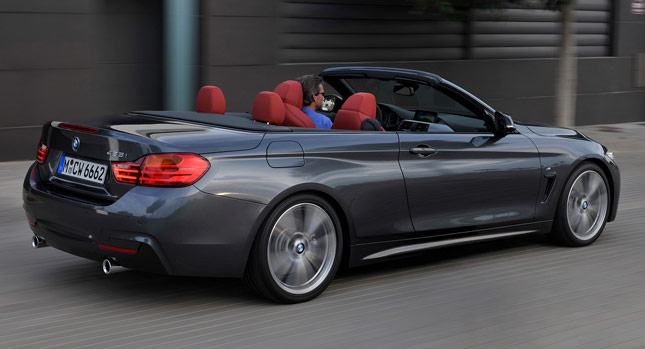 Another world premiere introduced the 4-Series convertible, described as embracing "esthetics, comfort, and driving dynamics." The 3-piece retractable hardtop, seen in motion, is swift beauty to behold. And for the first time, this vehicle offers AWD via X-Drive, for those wishing to ski at Big Bear in the morning and cruise the PCH in the afternoon. To further enhance climate change comfort, there's optional neck warmers incorporated into the front seats for keeping the chill away while the top is down!
There's something for everyone from BMW, ranging from those desiring wind-blown hair, to speedsters, to those who want to make a positive impact on the environment. The array of offerings is dazzling and the devotion to the U.S. from a European brand is impressive.
Written by Gerry Wendel
Images by Jon Gala and BMW
Search used cars for sale and find the best deals near you at iSeeCars.com.
To get a FREE iSeeCars VIN Report for a car, click here.