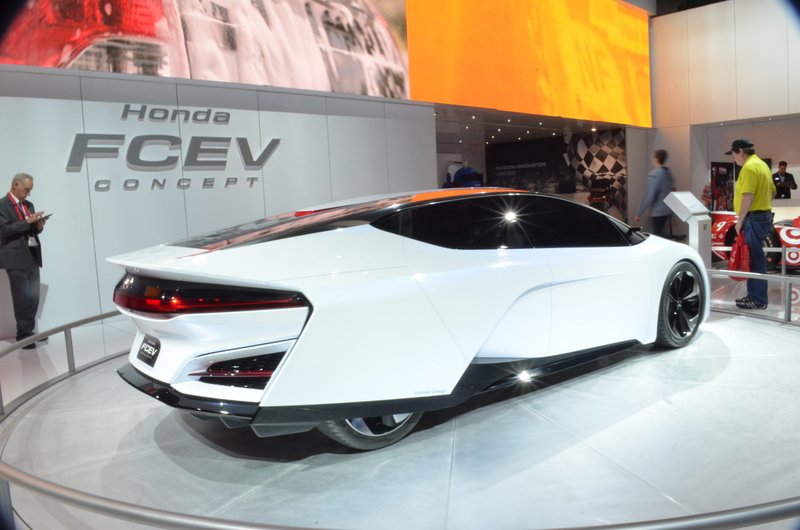 Before introducing the 2015 Honda FCEV hydrogen powered concept car at this year's LA Auto Show, Honda North America President and CEO Tetsuo Iwamura promised a 60% improvement in power, efficiency and range for this new model when it is released to the buying public as compared to the FCX Clarity which Honda introduced in 2007. If you have never seen an FCX Clarity, you aren't alone as they are only leased currently to Southern California residents and production has never been anything more than a trickle of new models built each year.
That, however, is set to change thanks to a new hydrogen fuel cell research and expansion agreement Honda inked a while back with General Motors. Given the fact that Honda's new hydrogen fuel cell vehicle will have a range of over 300 plus miles (the tank refills as fast as a gas tank) in a rakishly fashion futuristic four door sedan body that will seat five. As opposed to the current FCX Clarity which housed its fuel cells down the center of the vehicle, the next generation 2015 FCEV Concept shows how fuel cell technology has made all the components smaller meaning now it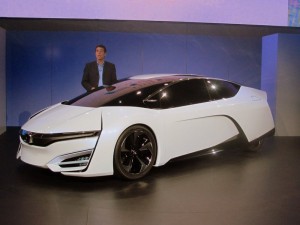 all fits conveniently in a conventional engine compartment.
For Honda, the FCEV has always represented the ultimate in low emissions driving and thanks to the new H2USA Government program and a tie-up with General Motors, it looks like perhaps North America may be getting on board with the idea. Clearly electric only as it stands now does not suit the needs of enough drivers here and in a conversation with a General Motors executive later at the LA Auto Show, apparently it would take just about $9 billion dollars for the Government to grant 70-80% of us a hydrogen refueling infrastructure. In Government money, that's pretty cheap to us.
Now in less Earth shaking news, Honda also unveiled a refreshed 2014 Honda Civic coupe which has updated exterior styling for the front and rear end as well as interior enhancements and on all Civic models which can now be had with lane departure warning assist, a keyless -entry/start system as well as a nicely updated in-dash touchscreen navigation/audio system unit that should be much more user friendly than the unit found in earlier Civics.
The 2014 Civic Si model also gets a power hike to 205 horsepower/174 lb. feet of torque thanks to rerouting of exhaust gasses in the 2.4 liter 4-cylinder engine as well as some new sport seats which may cross the boundaries of your good taste thanks to a newfound fascination with the use of bright red leatherette seat material.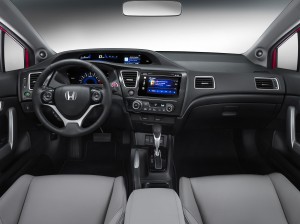 All we are saying is that perhaps buyers may want to reconsider red as an exterior color for their Si when the interior also uses so much red in the seats, gauges and as a general visual accent piece. Also note, the 2014 Honda Civic Natural Gas can now be purchased with leather seats only you can't specify them in red. Overall, a great showing by Honda at this year's LA Auto Show!
Written by James Hamel and Jon Gala
Photos by Jon Gala and Honda
Search used cars for sale and find the best deals near you at iSeeCars.com.
To get a FREE iSeeCars VIN Report for a car, click here.