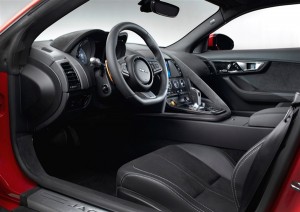 Jaguar's puttin' on the roof as they take a bow with the F-Type coupe. While there were some beauty shots leaking out early and a private debut the night before the official U.S. unveiling at the LA Auto Show, enthusiasm for the vehicle far exceeded any spoilers.
This is one fast and ferocious cat with three variants available: a V6 with 340 horsepower,  a V6 "S" model with 380 horsepower, and "The Pinnacle" R variant with 550 horsepower in a supercharged V-8. Zero to 60 in 4 seconds? Good thing it isn't a convertible, just think of all those manicured hairdos it would wreak havoc with! And toupees, quite possibly.
Pricing begins at $65,000 for the base coupe and the S starts at $11,000 more. The R Coupe's price tag at $99,000 ensures that only a few speed lovers will enjoy the thrills. Styling nods to the sporty good looks of the E-Type from days of yore. Now, can we all sit tight until sales start this spring? And yes, it does come in British Racing Green!
The Jaguar brand continues to receive awards from various consumer studies and there's little doubt that this sleek kitty will continue to reap kudos as owners of the F-Type coupes reap kudos for their purchases.
Written by: Gerry Wendel
Search used cars for sale and find the best deals near you at iSeeCars.com.
To get a FREE iSeeCars VIN Report for a car, click here.