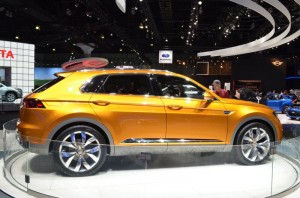 As Volkswagen's first attempt at an all-electric vehicle, the 2015 VW e-Golf is hugely impressive thanks to a powerful 115 horsepower/199 lb. feet of torque liquid cooled state of the art lithium-ion battery pack. Volkswagen says the range is between 70 and 90 miles with a quick charge capability allowing the e-Golf an 80% re-charge in just a half hour. Add in the fact that this is otherwise your usual Golf hatchback and this new environmentally friendly option should prove fun to drive with handling that will shame any lame Nissan Leaf owner back to their recharging station.
The VW Golf TDI clean diesel returns from a successful sales run as part of the previous generation Golf family with a heavily revised 2.0 liter turbocharged 4-cylinder motor pumping out 150 horsepower and 236 lb. feet of torque. The design and layout of the motor is similar to last year's but nearly all of the parts are newly redesigned or have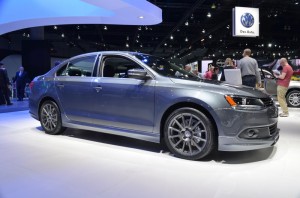 been updated to improve efficiency, emissions, drivability and noise suppression. We were lucky enough to get an early test drive in a 6-speed manual transmission equipped Golf TDI earlier this year and we can confirm the new diesel is in fact so quiet we couldn't tell it was a diesel engine from inside the much more upscale and usefully roomy cabin.
On the road, the manual gearbox is even smoother with a lighter clutch progression and turbo lag has been totally eradicated from the driving experience. The 2015 VW Golf TDII felt so fast on the road thanks to its ample torque now available over a wider expanse of the rev range that we didn't feel shortchanged in the fun to drive stakes when we tried the GTI. Volkswagen expects a hefty 22% improvement in not only EPA fuel economy estimates but in real world efficiency that driver's should be able to easily reach. Sounds like the Prius has some problems.
The Hot Hatch Toys: The Specs and Details for the 2015 VW GTI and 2015 VW Golf 1.8 Turbo
We suppose that we could call the 2015 Volkswagen Golf 1.8 turbo "entry-level" but given the fact that each Golf comes with interior quality that is class best and the
"base" motor is a state of the art turbocharged 4-cylinder putting out 170 horsepower/184 lb. feet of torque over a wide rev range, there is  little doubt in our minds any buyer will come away feeling cheated. This motor is also very fuel efficient returning highway estimates in the high 30's. Best of all, when we drove this motor in both the Jetta and Passat recently it transformed both of those cars into tractable, fun to drive German sport sedans. Truly a return to form for VW.
And finally we have the fan favorite 2015 VW Golf GTI which returns with traditional striped tartan cloth seats as standard, an aggressively traditional hot hatch stance and a rip snortingly new and more powerful EA888 2.0 liter turbocharged and direct injected 4-cylinder that puts out 210 horsepower/258 lb. feet of torque. There are manual transmission and double clutch automatic DSG gearboxes as choices for buyer's to make and VW estimates EPA figures of 24 city/34 highway.
This GTI, as with all of the new Golf models, is built on Volkswagen's brand new modular platform set to be the basis for vehicles in all of their brands. It is a stiff but light platform which led to this generation Golf shedding about 200 pounds on average thereby improving efficiency and drivability. A new all-electric power steering unit is now being used but in what may be a first—it is actually an improvement over the previous hydraulically assisted system and offers plenty of feedback. Based on our drive time with the 2015 VW Golf TDI and 2015 VW Golf GTI we are sure that this historic compact car will not just survive into the future, it will thrive.
Also on the VW Stand!
Check out the thinly disguised VW CrossBlue Concept SUV which previews a three row, seven passenger family utility set to be built alongside the Passat in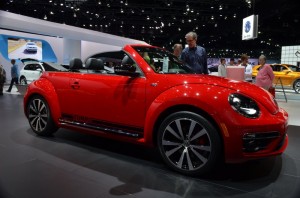 Tennessee. From the clean lines and roomy greenhouse, we are confident this SUV will hit all the right buttons for North American buyers.
written by James Hamel
photos by Jon Gala and James Hamel
Search used cars for sale and find the best deals near you at iSeeCars.com.
To get a FREE iSeeCars VIN Report for a car, click here.