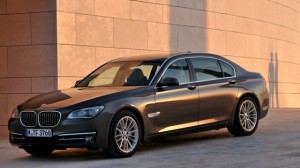 In a long-awaited move, BMW is finally bringing its 7-Series diesel to the U.S. this spring. Due to be unveiled at the 2014 Chicago Auto Show, the 2014 BMW 740Ld xDrive sedan, says BMW, boasts more than 400 pound-feet of torque and fuel economy near 30 mpg.
Pricing for the diesel-powered Bimmer flagship sedan starts at $83,425, which also includes a $925 destination charge.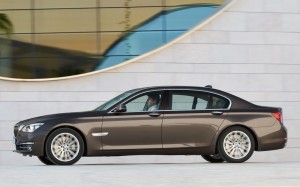 Performance
Let's talk about that power first and foremost. While the 3.0-liter turbocharged inline six-cylinder engine delivers 266 horsepower, it's the 413 pound-feet of torque between 1,500 and 3,000 rpms that really make this big luxury sedan haul. With a standard eight-speed automatic transmission and BMW's xDrive all-wheel drive, the 740Ld xDrive hits zero-to-60 mph in just 6.1 seconds. The 2014 BMW 740Li gasoline-powered version is only slightly quicker at 5.6 seconds.
More important, perhaps, to consumers looking for the latest clean-burning diesel technology is that the BMW 7-Series diesel further reduces dangerous diesel particulates. Its exhaust gas treatment system has been specifically designed to meet with ULEV II emission standards. Other components helping to ensure harmful emissions are kept to a minimum are a NOx storage catalyst, diesel particulate filter and a selective catalytic reduction (SCR) system.
What about fuel economy? After all, diesel costs, too, about 22 cents more a gallon than premium, according to AAA. Here, BMW projects a 25 to 30 percent fuel economy improvement of the 3.0-liter turbocharged inline six-cylinder gasoline engine powering the current 7-Series. The gas-powered 740Li xDrive averages 22 mpg combined fuel economy. In the 740Ld xDrive, that could be as much as 28 mpg combined. As a comparison, the BMW ActiveHybrid 7L gets an EPA-estimated 25 mpg combined.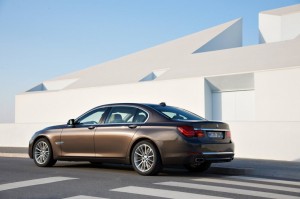 In announcing the pricing for the 7-Series diesel, BMW said that standard features like Driving Dynamics with Eco Pro mode and auto start/stop will make it easier for the driver to reduce fuel consumption during real-world driving conditions.
The use of aluminum in the block and head designs, said BMW, also contributes to the reduction in fuel consumption and emissions while also delivering the driving dynamics BMW customers expect.
Less Diesel Competition
Note that Mercedes-Benz S-Class no longer offers a diesel powerplant, although many auto critics expect that could eventually change. For now, the only real competition for the BMW 7-Series diesel is the Audi A8L TDI. That Teutonic rival delivers 240 horsepower and 405 pounds-feet of torque. Pricing for the Audi A8L TDI is almost equal to the new Bimmer diesel at $83,395.
For now, if you're in the Chicago area during the annual Windy City auto show, definitely make it a point to check out the 2014 BMW 740Ld xDrive sedan — that is, if you're considering a 7-Series and want to go diesel.
When it goes on sale in dealerships later this spring, the 2014 BMW 740Ld xDrive sedan will be the fifth BMW advanced diesel available from the German automaker. The others include the 328d and 328d xDrive sedans, 328d xDrive Sports Wagon, 535d and 535d xDrive sedans and the X5 xDrive35d Sports Activity Vehicle.
Search used cars for sale and find the best deals near you at iSeeCars.com.
To get a FREE iSeeCars VIN Report for a car, click here.