Introduction
There is something about the 2014 Fiat 500L four door hatch that reminds us a bit of David Bowie in his "Ziggy Stardust" musical phase. But don't think for a minute that this stylistic "Rebel, Rebel" will be anything less than a necessary and inevitable mainstream hit for Fiat as a brand. It is just the car that Fiat needs to fill out the lineup as its mainstream player-considering that that basic 500 two door is less than practical for hauling more than two people and a light load of cargo. The back seats are pretty much there for show. We do, however, quite love driving the Abarth version of the 500 and the C convertible models with the canvas roof top prove a worthy alternative to regular full drop tops.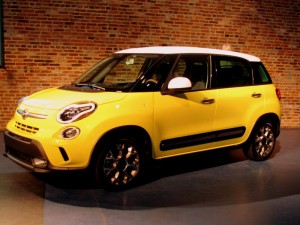 Sure, as auto journalists we would prefer the hyperactively accurate steering from the Abarth but for fans of that sportiest Fiat model, just take heart that the 500L shares the same 1.4 liter turbocharged 160 horsepower/184 lb. feet of torque 4-cylinder engine as that stinging scorpion. The steering in the 500L is a tad lighter and less prone to demanding constant inputs on long freeway jaunts. The 500L, mind you, is the practical Fiat and it is one that is surprisingly utilitarian and roomy inside all the while retaining the feel of a unique "Space Oddity" just as any Italian subcompact car should. It may just be the best Fiat model yet and you will have to read on to see why we think so.
Lineup
There is only one engine available with the 2014 Fiat 500L and it is a 1.4 liter 160 horsepower/184 lb. feet of torque 4-cylinder turbocharged 4-cylinder also found in the smaller Abarth hatch and the Dodge Dart sedan. Buyers can opt at launch for either a six-speed manual transmission which proved smooth and pleasurable to use despite a rather soft feeling clutch or they can specify a six-speed double clutch automatic transmission.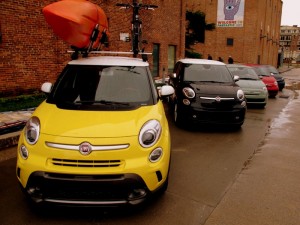 Oddly, Fiat says it will introduce a conventional automatic transmission at a later date almost as if it was trying to apologize for how well their double clutch auto worked. There have been complaints about the double clutch automatic that is available with the Dart but during our drive time in the twin-clutch automatic 500L we found it to be perfectly smooth even at slow traffic speeds that occasionally can cause rough shifting in this kind of gearbox. Not only did the double clutch snap off quick, rapid fire shifts when we wanted to play hooligan but it also faded invisibly into the background as we drove through the suburban streets around Baltimore, Maryland. We see no reason to wait for a better automatic should you choose to buy a 500L right now.
Exterior Styling
Any car that makes a bold, unique and somewhat in your face style statement will invariably engender  very strong opinions from people about how it looks—and even if you love the looks of the 500L you need to be ready for rude comments about why you bought such an odd looking little car. Couldn't you be satisfied with a Camry, they'll no doubt ask? Well, we would take this 500L over a Camry or for that matter the truly gawky and hideous four door Mini Countryman any day.
Sadly, the 2014 Fiat 500L will have to go up against the visual powerhouse known as the 2014 Kia Soul which is less expensive and looks less like a wild animal crossing a deep river on the tips of his or her toes. No matter, neither car is for people who like to follow the norm and have their car look like everyone else's. Also, if you look at the 500L as a workhorse then you will grow to appreciate the wide rear doors, easy to load wide hatch door and the fold down passenger seat for long items.
Interior
One thing that Fiat could work on in the 500L is the placement of storage bins and cubbies. Sure, they have two handy gloveboxes in the dash but the cupholders aren't exactly made for our Big Gulps and the USB/i-Pod port/Aux-input jacks are all located next to a narrow storage nook that could never hold an iPhone much less even an iPod Nano. Trying to have your iPod plugged into the USB port while driving is a matter of just letting it land where it wants to depending on how aggressively you are driving. Perhaps just let the front passenger hold it?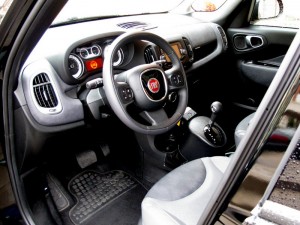 Now while the regular 500 can allegedly hold four adults, the new 500L has ample rear leg and headroom thanks to a 27 inch stretch in length along with 6 more inches in height and width. It is rated to hold five people which it can in a pinch but four adults will be perfectly content over long distances. The result is a car that is roomy enough inside for most people's daily needs but never feels oversized. As Goldilocks might say, the 2014 Fiat 500L feels "just right" from a size perspective.
But while the exterior of the 2014 Fiat 500L can be a love it or loathe it experience for certain people, there is no doubt that the interior of this little four door hatchback prove what Europe has known for decades—nobody knows the art of the small car quite like Fiat. Usually when a person goes shopping for a four door subcompact car they are left with interior designs that are downright nasty (the Toyota Yaris springs to mind) or at most utilitarian but lacking in imaginative flair (the Honda Fit). Surprisingly, the 500L is also supremely practical with rear seats that slide forward and back to increase passenger legroom, rear seat backrests that recline for comfort and when you need to haul cargo the seats can fold forward or be folded down flat. There is also a hidden cargo area under the rear cargo floor for valuables. When the rear seats are in use the 500L still offers up 23 cubic feet of cargo space.
When you open the door to the 2014 Fiat 500L, no matter which trim level you choose, you will find uniquely woven yet stylish seat fabrics or leather, a sturdy soft touch dash with easy to understand yet highly modern looking controls and the use of some trim colors that no other automaker in their right mind would attempt to use in any of their cars. But Fiat somehow makes each and every trim level interior of the 500L work without making them feel like cheap penalty boxes. Lastly, there is an optional full length panoramic sunroof available on some trims and it really does give the 500L a feeling of enormous spaciousness that really enhances the experience of riding in the car.
Driving Experience
While the 2014 Fiat 500L may have packed on a few more pounds than its two door siblings, it still has the Abarth's racy engine as its responsive and fast beating heart. Although 1.4 liters and 160 horsepower/184 lb. feet of torque may be down on the ratings enjoyed by owners of the Mini Countryman, those numbers don't tell the whole story. Compared to the 1.6 liter turbo that Mini uses which sounds a bit gruff and unrefined at high revs, the Fiat motor never makes any sort of unpleasant noises rather preferring to emit a sonic symphony of metallically resonant joy whenever you pass through a tunnel at full speed.
The 2014 Fiat 500L may be at its core a utilitarian family friendly MPV/wagon but that doesn't mean it isn't more than capable of embarrassing larger and more powerful cars away from stop lights or in passing maneuvers on the freeway. Thanks to a suspension that is expertly calibrated and the 500L's longer wheelbase, this particular Fiat rides very much like any larger European car. That is to say it absorbs potholes and surface irregularities solidly as it also tries to balance the ability to corner and feel sporty when the driver is in the mood.
At freeway speeds the 500L is Lexus quiet in comparison to a basic 500 coupe model and even manages to one up much of its subcompact competition thanks to sound deadening efforts that include laminated acoustic windshield glass, triple sealed doors, acoustic wheel arch liner and silencing foam in any open body cavities in the vehicle. The result is a hatchback that cruises rather serenely with only a hint of wind noise heard around the side mirrors. Otherwise the ride and engine/tire roar are all kept in calm check.
But should you want to have a little fun with your 2014 Fiat 500L, just hit the accelerator pedal and turn the handily communicative steering wheel to make this not so little hatchback wake up and play with you. Brake pedal feel is slightly abrupt but reaction times are strong and reliable during panic stops. Not that you will want to be sitting in traffic with your foot on the brake—the 2014 Fiat 500L really would rather go back to your favorite twisty mountain road. You know the one. An Abarth might attack it with more tenacity but after your drive is all over the 500L will leave you more relaxed.
Competition
The competition just got a bit more fierce for the admittedly still quite unique 2014 Fiat 500L four door with the recent arrival of the 2014 Kia Soul which is priced a bit lower, is a bit more stylish and has an interior that can't be beat for the price. Truly, the Soul is the fashionable compact car to beat right now. Also in the running with the 2014 Fiat 500L is the Nissan Juke and Mini Countryman which is ugly and not as fun to drive as other Mini products.
What We Loved
We simply love the 2014 Fiat 500L for its versatility and style as well as its unique interior feel
The 2014 Fiat 500L has a well sorted 1.4 liter turbocharged 4-cylinder engine
This car may be small on the outside but it feels plenty big on the inside
What We Would Change
The 500L needs more useful and deeper cubbies and storage nooks
Let the other 500 models (Abarth, Cabrio, Base Coupe) have the same navigation unit as the L
Flamboyant and unique style may be too much for conservative North Americans
Models Tested
In the Fiat line-up we have road test the 2014 Fiat 500L which is the main focus of this review and the most mainstream Italian model from this brand yet. Admittedly, driving a 500 Abarth Cabrio for a week was a whole lot of fun and totally unforgettable but in reality that vehicle needs more in order to appeal to someone buying what will be their only car. The 500L can manage a night out on the town, a trip to a hip club, late night grocery store run or whatever life throws your way. Finally, a day that Fiat requies
Written by James Hamel
Search used cars for sale and find the best deals near you at iSeeCars.com.
To get a FREE iSeeCars VIN Report for a car, click here.