Sometimes a new vehicle comes along that was designed seemingly with one purpose and intention in mind but somehow, as if by fate, it manages to become something more than you expect. At first glance, the new 2014 Nissan NV200 cargo van would appear to just be a competitor for something like the Ford Transit Connect and would only find use with delivery drivers and plumbers prone to showing off their butt cracks. But after spending a healthy amount of time piloting one around sunny San Diego recently, we came away convinced that this van might just be a terrific answer for an outdoor loving motorcycle enthusiast. Or possibly a tour bus for a moderately successful two man rock band.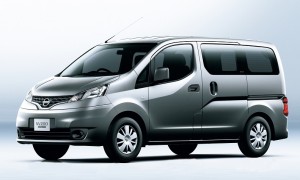 The most basic 2014 Nissan NV200 S starts at just $19,990 whereas the SV version bumps the price to $20,980 with the addition of features like cruise control and availability of options you can't get with the S model. Our test SV came with nearly everything but the rear door glass package ($190) but included a $190 exterior appearance package (body color bumpers, door handles, wheel covers) as well as the $950 technology package which adds navigation, a back-up camera, USB/i-Pod integration, Bluetooth, Bluetooth audio streaming, voice activation services as well as hands free texting. Our grand total came to just $22,120 which is terrific value for the money.
What we Loved
The spry handling and zippy acceleration around town
The affordable pricing allows for plenty of customizing!
The sensible size and shape
What We Would Change
Perhaps more power wouldn't hurt
More upscale interior plastics and trim
Rear passenger seating option
To read the full review, go to 2014 Nissan NV200 review
by James Hamel
Search used cars for sale and find the best deals near you at iSeeCars.com.
To get a FREE iSeeCars VIN Report for a car, click here.