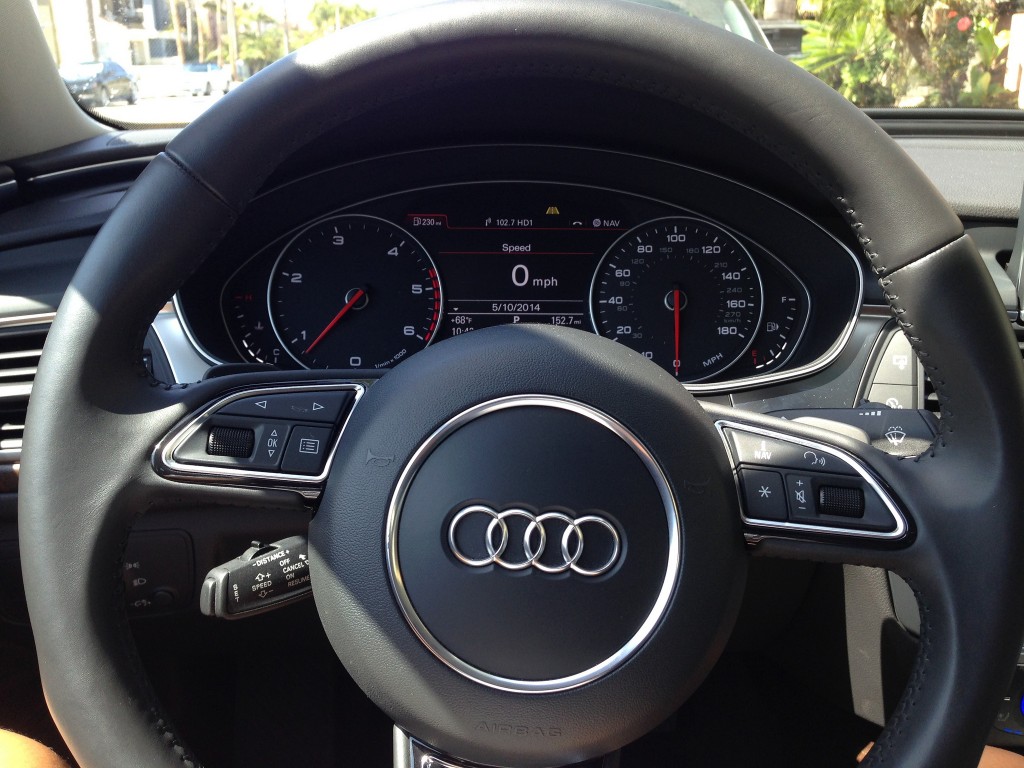 Overview (Overall Grade after 8 Categories: B
This review covers two separate models of A6 available in the United States with the first being a week we spent tooling around Los Angeles in the resolute luxury of a 2015 Audi A6 sedan with the 3.0 liter 333 horsepower supercharged 6-cylinder motor all wrapped in a delicious Garnet Red paint job which was so deep and lustrous it was almost maroon. Audi, as always, knows how to get these feel good factor details right especially when what you are driving is a $60,000 plus fully loaded Prestige S-Line Model with every bell, whistle and kazoo known to man.
Then later we were fortunate enough to get to spend a week piloting the 2015 Audi A6 TDI clean diesel luxury sedan which boasts a 3.0 liter 240 horsepower/428 lb. feet of torque turbodiesel V6 engine which is always ready to give you a quick shove of acceleration whenever you need it.
What We Loved about the 2015 Audi A6
Materials, Build, Paint and Assembly Quality all proved flawless
On Prestige models the interior is lit at night with ambient opera lighting coming from nearly every corner, separation, even from under the seats so passengers can travel in adjustable low or conversational but not distracting high light.
The engines are powerful and sound cool in totally different ways.
What We Didn't Love about the Audi A6
Prices get high in the upper reaches where most customers want to go
No free maintenance packages like rival BMW
Time for Audi to try some more unconventional designs as their whole line is looking too similar
For the full review, visit 2015 Audi A6.
Search used cars for sale and find the best deals near you at iSeeCars.com.
To get a FREE iSeeCars VIN Report for a car, click here.