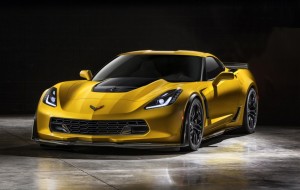 The Chevrolet Corvette has always been associated with performance, from its debut in 1953 to the latest introduction at the 2014 Detroit Auto Show. There, safely ensconced inside Cobo Arena, Chevy took the wraps off the 2015 Chevrolet Corvette Z06 – and ushered the sports car into supercar territory.
For consumers looking for a little more mph out of the Corvette, the reveal of the Z06 promises that and much, much more.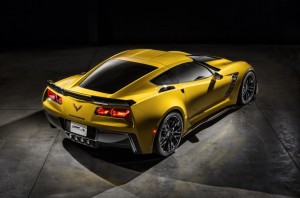 For starters, Chevy says the Z06 provides unprecedented levels of aerodynamic downforce, at least 625 horsepower and 635 pound-feet of torque from an all-new supercharged 6.2-liter LT4 engine, and an all-new, high-performance eight-speed automatic transmission.
The 2015 model is the first Corvette Z06 to offer a supercharged engine and an automatic transmission. Another first is a removable roof panel, due to the use of a stronger aluminum frame, which carries over from the Corvette Stingray.
As for the transmission, buyers will have the choice of a seven-speed manual or the high-performance eight-speed automatic with paddle shifters for manual control. This is unusual in most ultra-performance cars.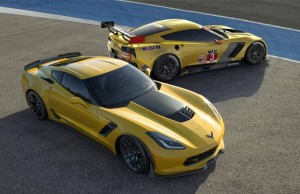 Other unique components adding to the Z06's aerodynamic downforce include a track-focused Z07 performance package, Michelin Pilot Super Sport Cup tires and massive Brembo carbon ceramic-matrix brake rotors for improved braking performance and greater handling. While development testing continues, Chevrolet claims the Z07 has already recorded some of Corvette's fastest-ever lap times, surpassing even the Corvette ZR1.
Driver Mode Selector delivers up to a dozen features to suit the driver's environment. These include launch control, active handling, traction control, performance traction management, and electronic limited slip differential.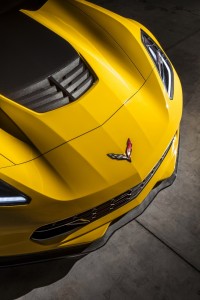 Then, there's the design of the Z06. Tom Peters, Corvette design director said that "Practically every exterior change served a functional purpose, as this beast needed more of everything." That more includes flared fenders to accommodate larger and wider tires for more grip, larger vents for more cooling air to the engine, brakes, transmission and differential for increased capability on the track.
Tires are mounted on lightweight, spin-case aluminum wheels that are larger than the Stingray, 19 x 10 inches in the front and 20 x 12 inches in the rear.
On the inside, the Z06 distinguishes itself from the Corvette Stingray by the use of unique color schemes emphasizing the driver-focused cockpit, and a unique, flat-bottom steering wheel.
Interior Z06 features include two seating choices: a GT seat for all-around comfort, and a Competition Sport seat with more aggressive side bolstering, providing better support on the track. Other interior details designed for high-performance driving, first introduced on the Stingray, include a passenger steel-reinforced grab rail located on the center console and soft-touch materials on the console edges.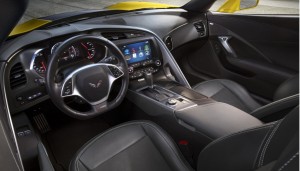 Available interior materials, depending on the trim level, include Napa leather, aluminum, carbon fiber and micro-suede.
For now, all would-be Z06 owners can do is dream and plan for how to finance their supercar. The new Corvette Z06 will be available in early 2015. Performance data and pricing will be released closer to the start of production.
Search used cars for sale and find the best deals near you at iSeeCars.com.
To get a FREE iSeeCars VIN Report for a car, click here.