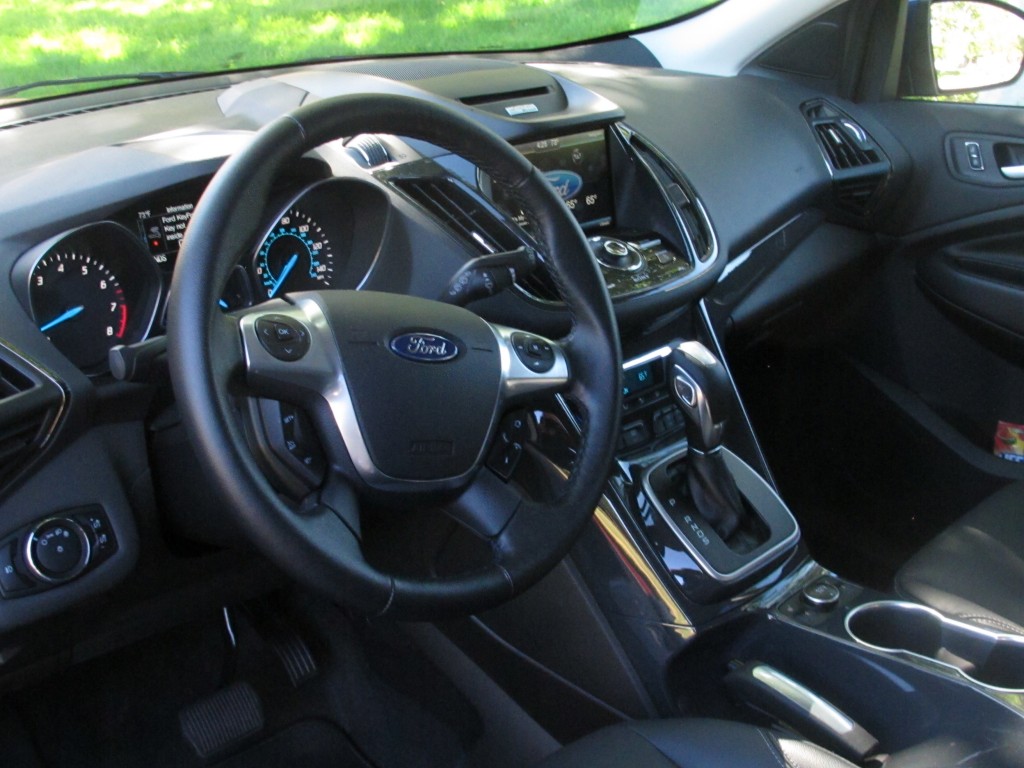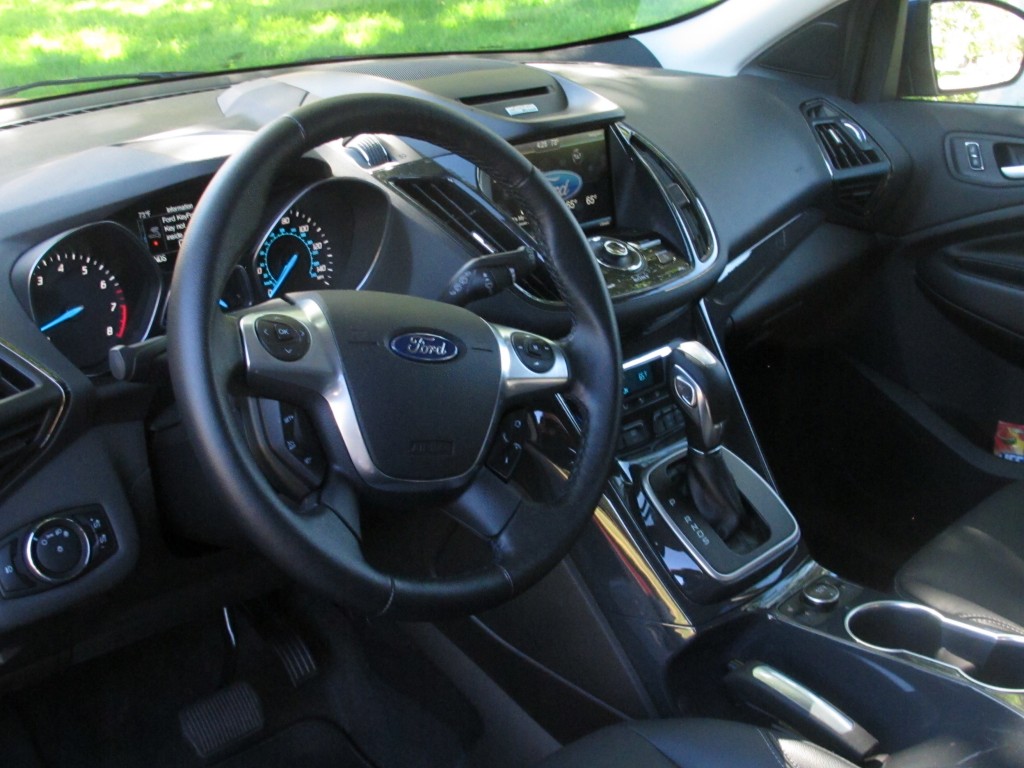 Written by James Hamel
Overview (Score after 8 Categories: B)
The 2015 Ford Escape is available in front or all-wheel drive with the choice of three engines—one is a 2.5 liter Duratec 4-cylinder good for 168 horsepower/170 lb. feet of torque, the second is a much more advanced 1.6 liter Ecoboost 4-cylinder which returns 178 horsepower/184 lb. feet of torque and lastly Ford offers a 2.0 liter Ecoboost turbo 4-cylinder boasting 240 horsepower/270 lb. feet of torque. We tested a fully loaded 2.0 liter model in Titanium trim as well as a 1.6 liter model in mid-grade SE trim. So which one did we like more and does the current Escape make a convincing alternative to the Nissan Rogue, Honda CR-V, Mazda CX-5 and Toyota RAV4? Read on to find out.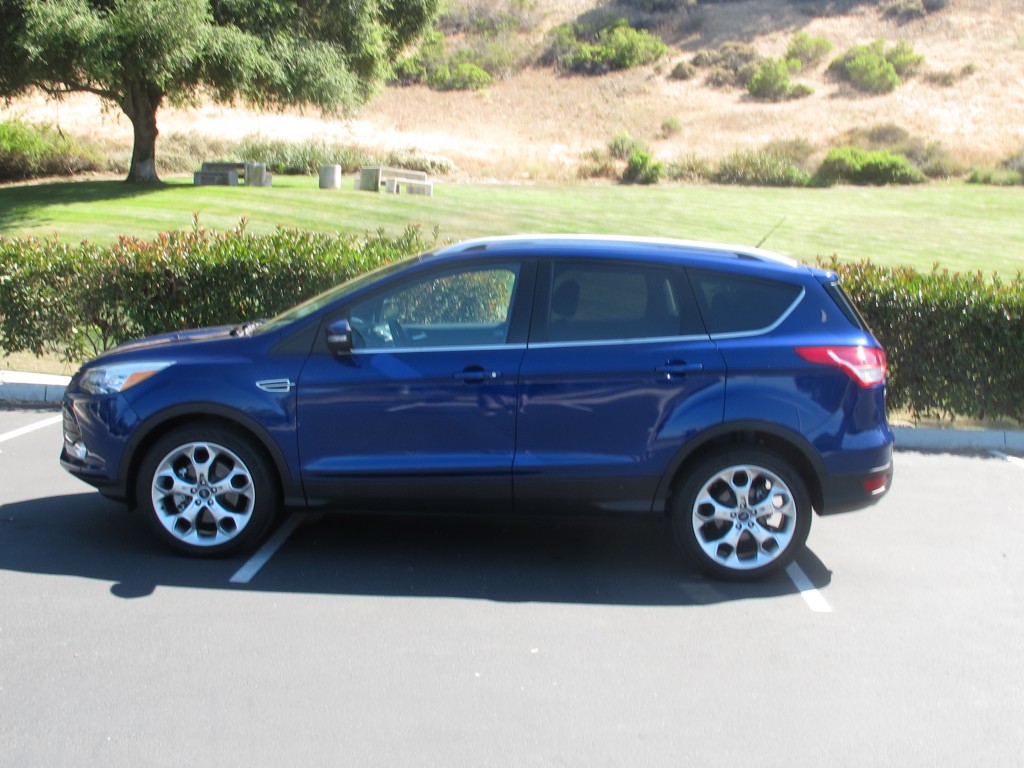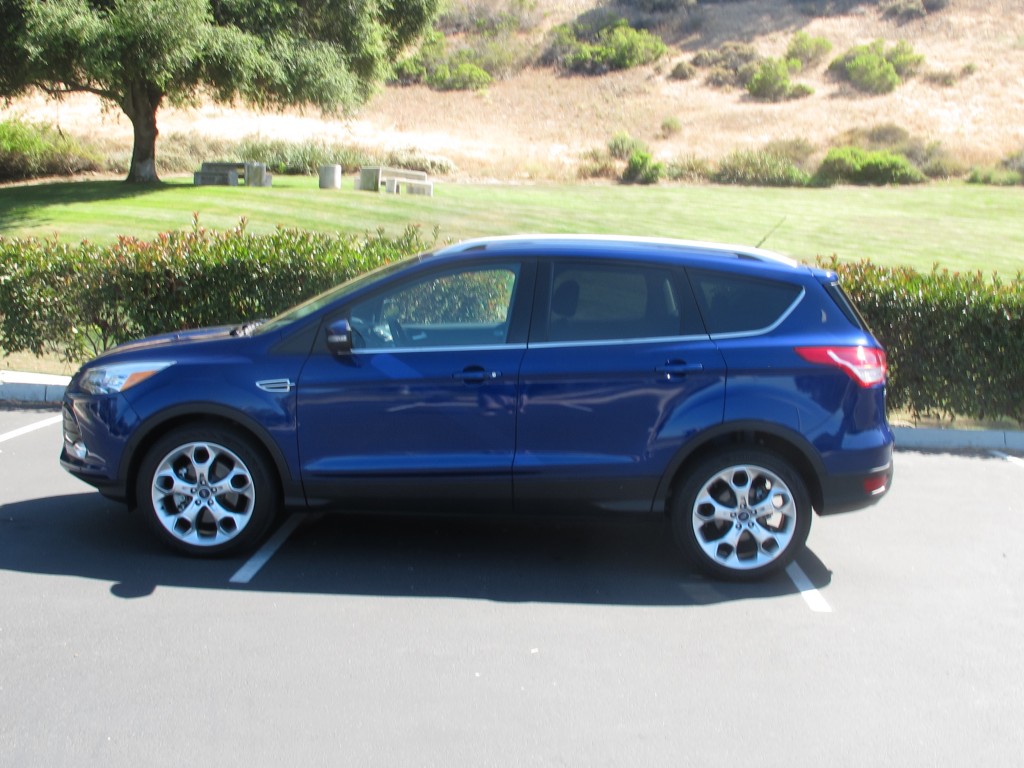 What We Loved about the 2015 Ford Escape
The responsive and efficient Ecoboost engines
The Sony Audio System and self-parallel parking system
Interior design and roominess
What We Didn't Love about the 2015 Ford Escape
Gets pricey when equipped with the cool options
My Ford Touch does not have the most intuitive touchscreen interface
Could do better in crash tests
To read the full review, visit 2015 Ford Escape review.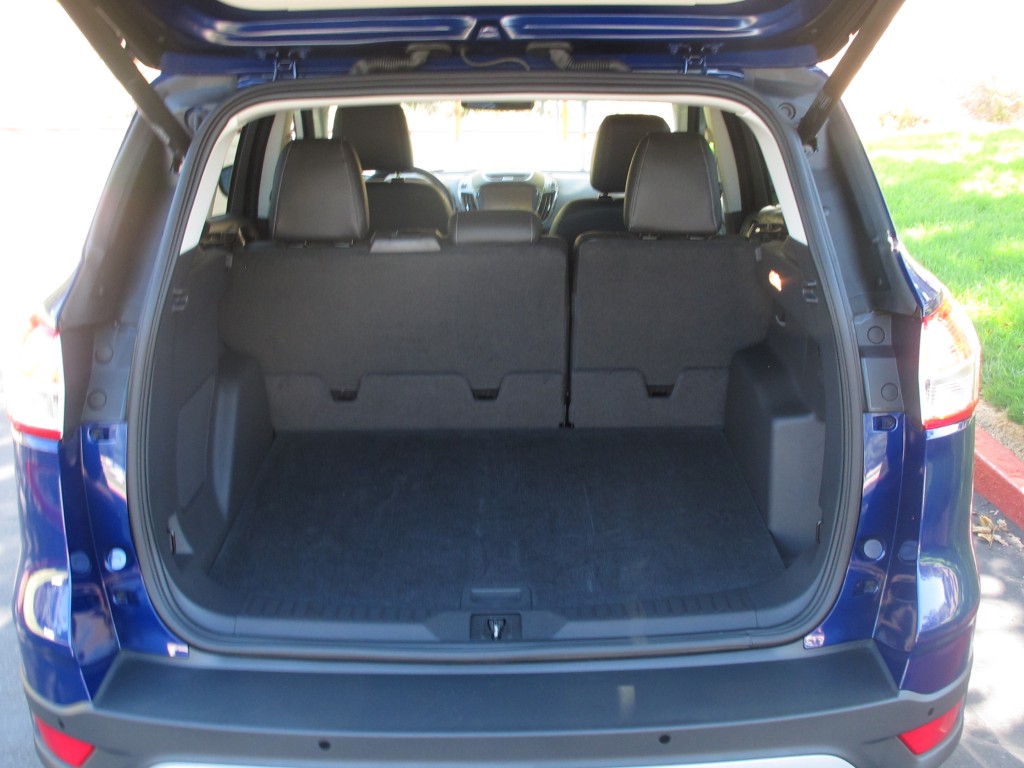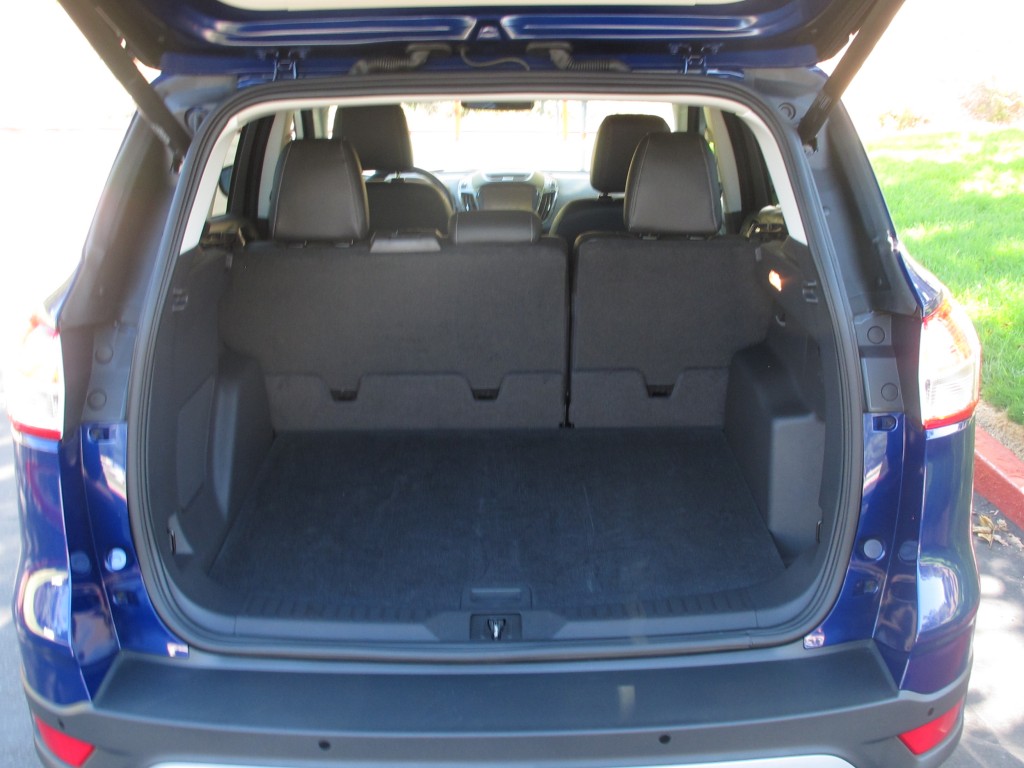 Exterior View (9 out of 10)
The 2015 Ford Escape, despite having been on the market a few years, still looks as fresh and handsome as the day it debuted. Where the last generation model was essentially a box on four wheels, the 2015 Escape is a very modern and sleek design that thankfully does without any spurious slashes or odd curves in the bodywork which does nothing but make a vehicle date very quickly (think: the last generation Hyundai Sonata).
Sure, the Escape may not scream macho off-road toughness like an F-150 or look as elegant in black as the Explorer but it manages to eke out its own niche in the Ford line-up. It may not be radically ground breaking in appearance but no one will ever call your new SUV ugly we can almost guarantee that. Well, you know, some people are just rude and we can't control their brand of crazy.
Interior Comfort, Quality and Overall Ease of Use (9 out of 10)
While we admit the interior of the 2015 Ford Escape looks positively resplendent and luxurious when you tick the box for the optional leather upholstery which is of a higher quality than the class norm, the basic layout inside the SUV is both ergonomic and straightforward. As with any self-respecting family SUV, there are tons of cubbies perfectly sized for smartphones, old candy wrappers with plenty of smartly shaped cup holders perfect for a group of people who were just lost for a week in the desert.
The rear seat offers plenty of legroom for adults and is just wide enough to keep them comfortable on trips around town. Two full size Americans would be more comfortable back there and on average we tend to be rather large. Especially after the Holidays with all that turkey, those cookies and non-stop snacking. The best time of year we say when it's perfectly okay to eat what you want. And to keep your pantry well stocked the Escape's cargo hold offers an impressive 34.3 cubic feet with that growing to over 67 cubic feet with the second row folded. That's about what larger midsize SUVs manage so the Escape is a packaging marvel.
We also loved the optional power lift gate which can be opened by waving your foot under the rear fender if your hands are full of bags. Yes, we are serious. It worked every time we tried it and just to freak out passer-by we would open the rear tailgate by waving our feet under the rear fender just to see them stare at our magic trick. The last design elements we adored? The giant volume knob on top of the dash for the awesome Sony Audio system and a truly elevated and comfortable seating position that makes the driver feel he or she is sitting on a comfortable throne above the masses.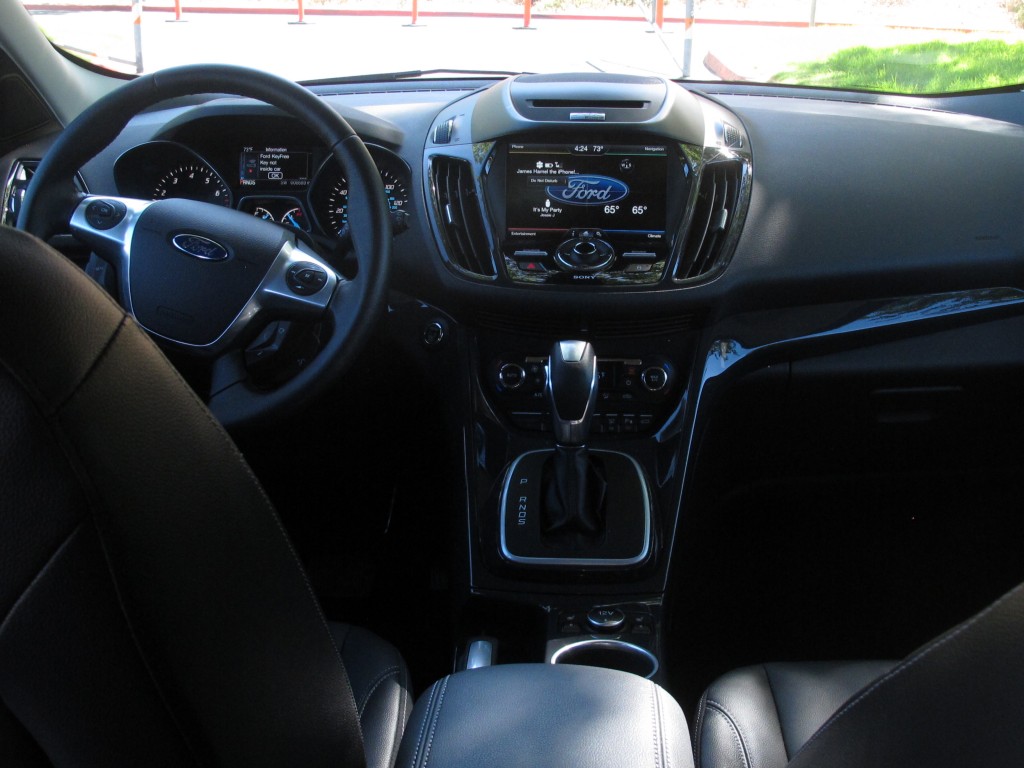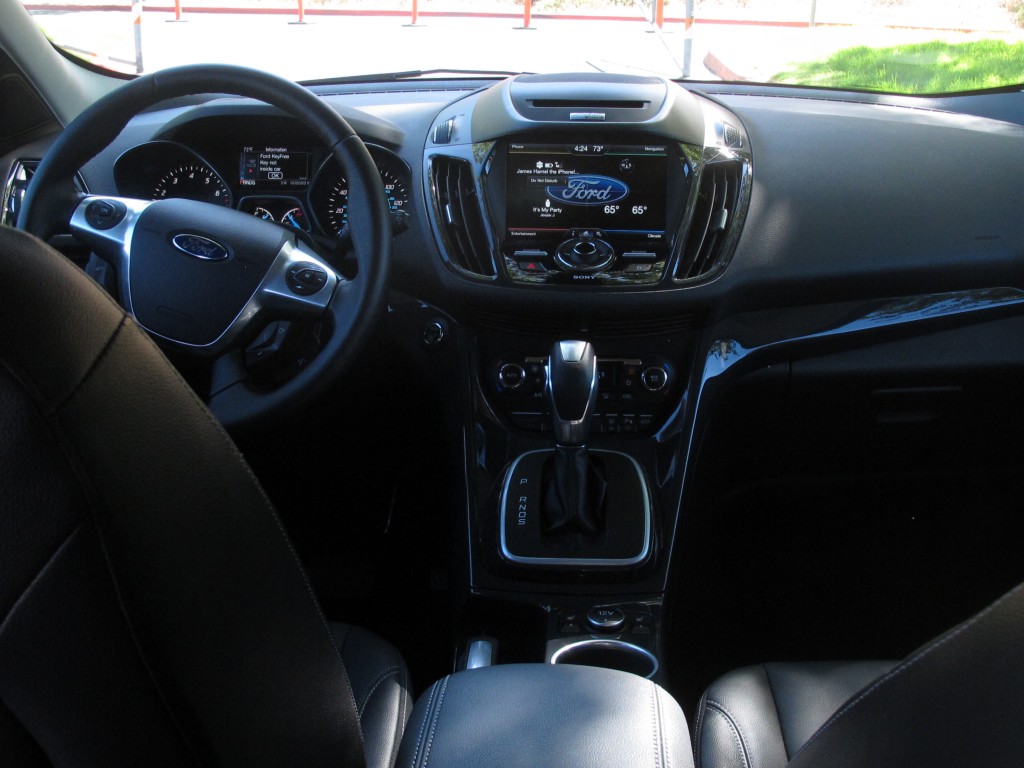 Technology (8 out of 10)
Both of our 2015 Ford Escape testers is both SE and Titanium trim came equipped with Ford's excellent Sync voice activated integrated infotainment system that controls your smartphone connectivity, iPod and myriad other functions. Sync has always been a well-designed, highly functional system. Where Ford ran into problems was when it later introduced the MyFordTouch system which took all of the hi-tech features of the Sync system and took it a step further. Some say it was a step too far as for the first few years on the market the system was rife with glitches, bugs and was not exactly the last word in user friendliness.
To this day, we still griped a bit about how the center mounted touch screen required you hit a very small section in each corner in order to activate either the navigation, audio, phone or other sub-menus. Doing this is hard to do on the road especially if your hands are not as steady as a surgeons. We hope Ford sees fit to fit a centrally mounted knob the help it using the system while on the move. Lord knows poking at the center screen repeatedly to find your favorite playlist is not exactly safe but sometimes you just keep doing it out of stubbornness. We are not talking about ourselves, merely people we have heard of doing such a thing.
Other than that small bit of user un-unfriendliness we suffered no glitches, shutdowns or other odd behavior out of the MyFordTouch system, Sync or any of the many advanced features available with the 2015 Ford Escape. Truly our favorite piece of technology was the Active Park Assist which actually allows the vehicle to parallel-park itself. Merely press a button on the dash and drive along the vehicles parked by the side of the road and the sensors and cameras mounted on the SUV will detect a spot large enough for the Escape. You will hear a beep that it's ready, you simply put the vehicle in reverse and the car does the rest including modulating the throttle and turning the steering wheel. We tried it over and over and over and never once did it fail us. The first two or three times it did scare the bejeesus out of us having the car control itself but we got past it.
Lastly, we are not sure that we can wax poetic enough about the Sony Audio system upgrade available on the 2015 Ford Escape which not only is one of the most impressive we have tested in any vehicle in this price class but it gives you 10 optimally placed, premium speakers, a large subwoofer along with HD radio capability. But it was the clarity of the sound which truly impressed us as too many audio systems mistake loudness for crisp and clear audio quality.
Also, the speakers often times separated sounds onto different side speakers or the front to back as was the case with the Carrie Underwood hit "Blown Away" which is about a Tornado and features an overwhelming array of thunder, lightning and wind as background noise. During the crescendo of the song we noticed the lightning and thunder sounds coming from the front speakers while the wind noise from the Tornado sounded like it was right behind us. Not a good song to listen to during tornado season in Oklahoma.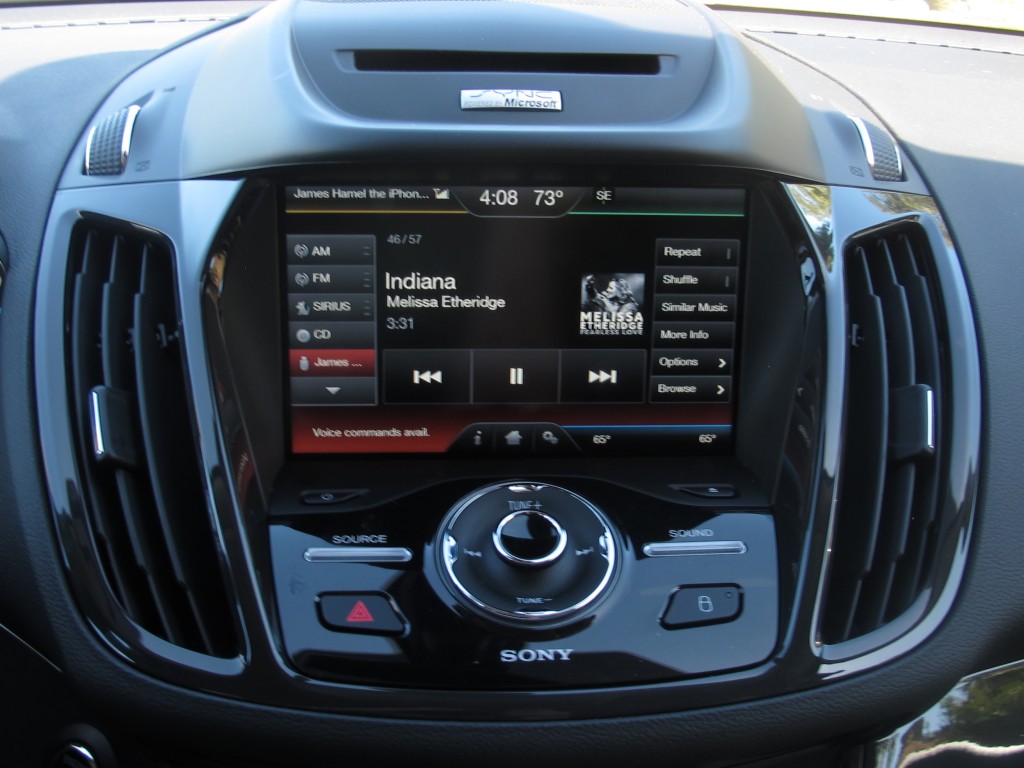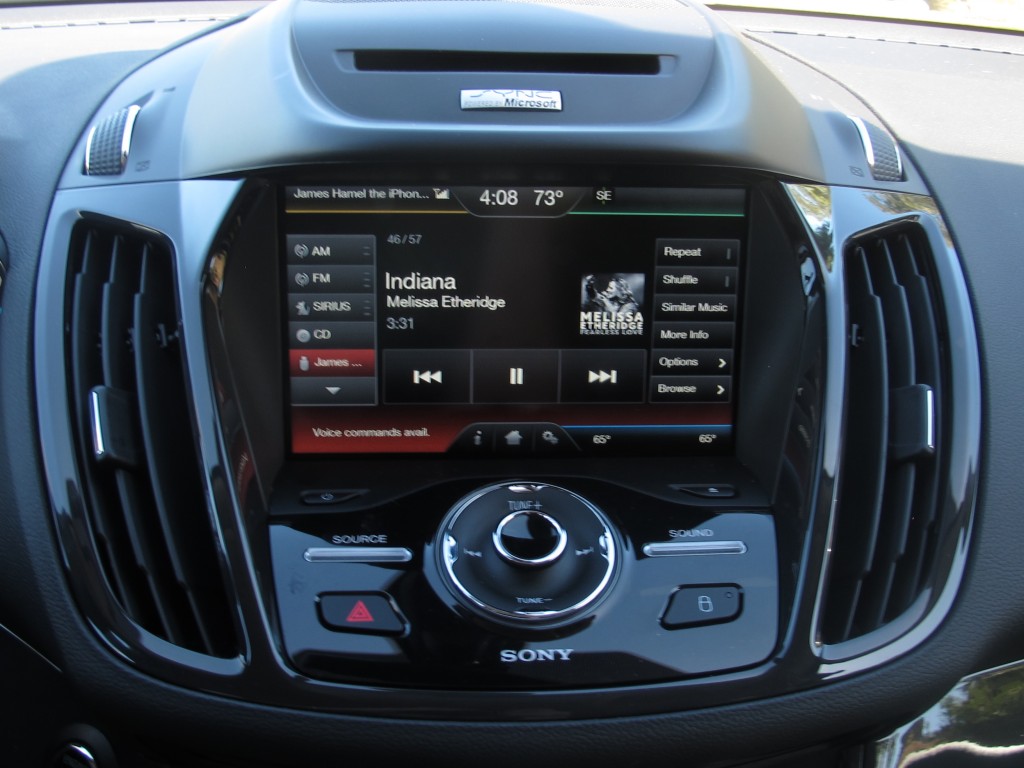 Fuel Economy (8 out of 10)
Our test models were both equipped with all-wheel drive (front wheel drive is standard and improves EPA economy) and for the 1.6 liter EcoBoost the EPA gives an estimated 22 city/29 highway. The 2.0 liter EcoBoost which we got a full week to test is EPA rated at 21 city/28 highway with our average coming to a highly impressive 24 mile per gallon average. Both models run on regular unleaded but as with most turbo motors the driver needs to realize that they can have either "eco" or full "boost" from these intoxicatingly powerful engines but not both. At least not to their greatest capacity. In other words, if you floor it all the time and the turbo is always working hard you fuel economy will suffer. But go easy on it and these two motors should return excellent efficiency given how darn fun they are.
Predicted Reliability and Initial Quality Ratings (8 out of 10)
While J.D. Power and Associates only gave the 2015 Ford Escape two stars out of five for predicted reliability, we fear that is merely the after effect of the last generation model which was never known for lacking in build quality issues or sundry recalls. The current model, according to owners, got perfect marks for powertrain, mechanical and build quality with the overall ranking coming to three out of five stars. As for how new owners feel about their 2015 Ford Escape right after they bought it? These people give the SUV five stars out of five.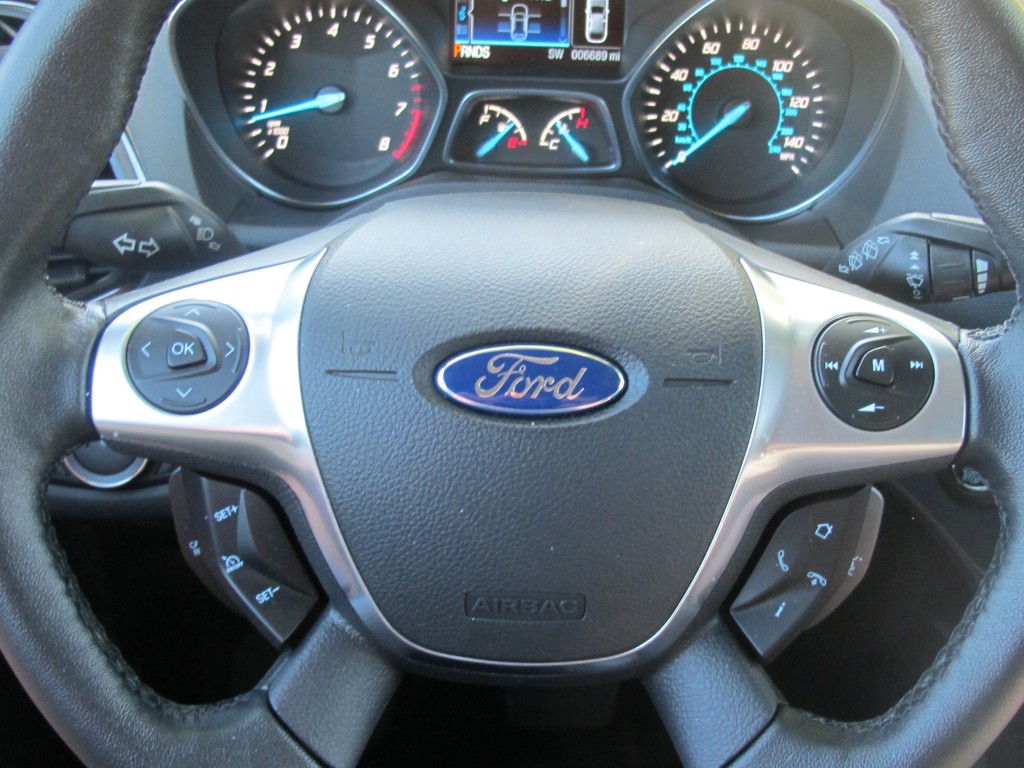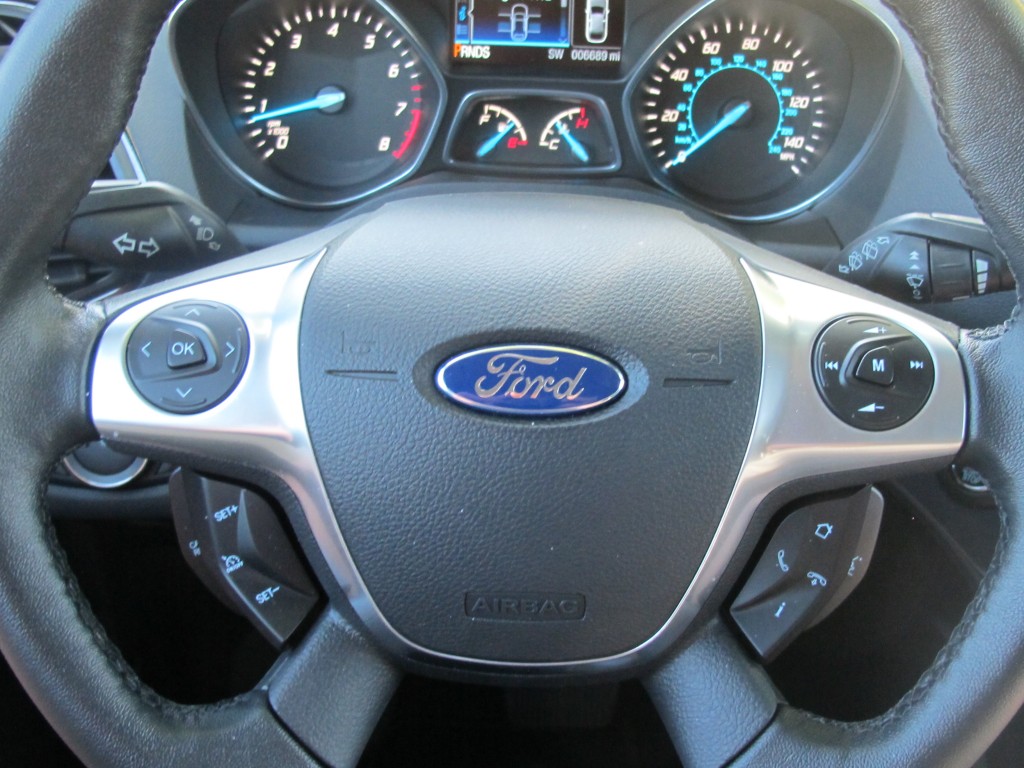 Safety (7 out of 10)
According to the IIHS, which otherwise ranked the 2015 Ford Escape highly in other crash tests like front, side impact and rollover protection, this SUV did not do well in the new and very difficult to pass small overlap front crash test. In fact, the Escape managed only a "Poor" rating in that test which is the lowest given by the IIHS. The small overlap front crash test mimics the effects of an impact with something like a pole or a tree and those are some of the deadliest crashes out there since often times front crumple zones aren't designed to handle it. Let's hope Ford does some structural work on the front of the Escape because otherwise the SUV is loaded with safety features to keep you and your family from getting hurt in an accident. Still, thanks to top marks in other categories the 2015 Escape was still named a "Top Safety Pick."
Performance (10 out of 10)
Now the 2015 Ford Escape may be a compact SUV crossover but don't make the mistake of calling it a baby-ute or backing it into a corner for that matter. Especially when equipped with the optional and rip snortingly powerful 2.0 liter 240 horsepower/270 lb. feet of torque direct injected and turbocharged EcoBoost 4-cylinder. If you need more power from your compact SUV, well, save up another $20,000 for a BMW X3 with the 300 horsepower turbo or an Audi QS5. Those two are a bit faster and pretty compact. If you want anything with the accelerative verve in this price bracket you have two choices—the 2015 Volkswagen Tiguan 2.0T which isn't nearly as roomy or the turbo Kia Sportage SX.
One thing that elevates the 2015 Ford Escape above even those competitors is its precise and taut steering feel and cornering abilities which belie the fact that it was developed partially and is sold in Europe as well. Europeans don't like slop in their steering or SUVs that tip over at 45 miles per hour. They sure are weird. Thankfully the Escape is impressively refined at speed at speeds well above the legal limit (those Europeans again) with brakes that are strong and easy to modulate. In other words, the 2015 Escape is a pleasure to drive and also makes you feel secure behind the wheel as all of the controls respond quickly and with precision.
When we later drove the Escape with the 1.6 liter 178 horsepower/184 horsepower turbocharged Ecoboost 4-cylinder we weren't expecting to be blown away but surprisingly this little motor that could has no problem blowing past slow moving traffic on the freeway and responds quickly and without fuss to calls for more power. For most people it will prove more than adequate for day to day driving and if you never drove the 2.0 liter you wouldn't miss the extra power. The 1.6 can get a bit buzzier at high revs but that's about it.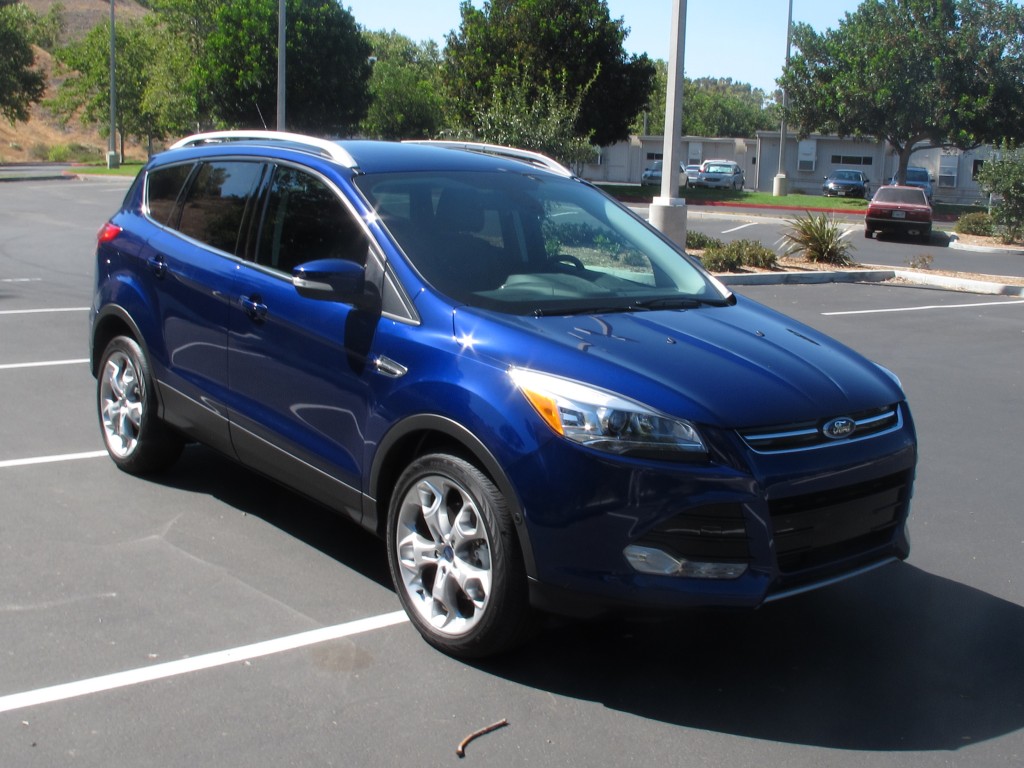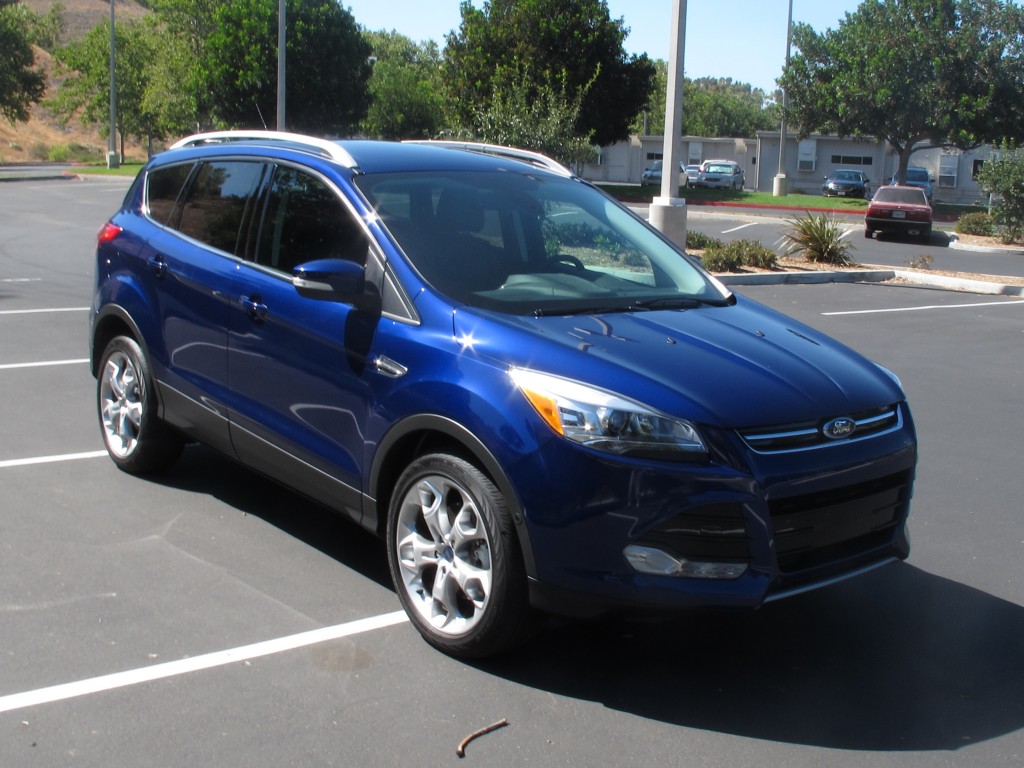 Pricing and Value for Money (9 out of 10)
Basic S models start at just over $22,000 but the much more common SE trim starts just around $25,000 and offers the 1.6 liter EcoBoost motor as standard as well as air conditioning, power front seat, 8 interior cup holders, ambient interior lighting, power windows and locks, automatic headlamps, AM/FM/CD 6-speaker audio, the Sync system with Bluetooth and USB/i=pod integration, halogen headlamps, a back-up camera, a 6-speed "Selecshift" automatic transmission and 17-inch alloys. That's a great price for everything a buyer could need. Want is another story left to the Titanium model.
The 2015 Ford Escape Titanium starts just over $29,000 and adds leather seating, the power rear tailgate with foot operation, the Sony Audio System upgrade, 10 way power driver and passenger seat with memory, a large center mounted screen to control Sync with MyFordTouch, dual zone climate, Intelligent keyless access with push button start, back-up sensors, rain sensing wipers, uprated 18 inch alloy wheels and the availability of the 2.0 liter Ecoboost motor.
We added to our 2015 Ford Escape Titanium optional extras like the full panoramic moon roof, blind spot warning assistance among a number of other high tech safety features, in-dash navigation, Bi-Xenon headlamps, a Tow Package (enabling the Escape to tow 3,500 lbs.), parallel parking assistance and all-wheel drive which drove the MSRP to almost exactly $36,000. The SE model we tested with the 1.6 lacked features like leather seating and other non-essentials and barely crossed the $30,000 mark so there truly is an Escape for any budget.
 "The Final Numbers" and the Competition (68 points out of 80: 85%)
If not for getting knocked down a few points for its less than stellar performance in the most recent and admittedly quite difficult IIHS crash test, the 2015 Ford Escape would have no doubt scored at least an A minus. That and some design issues with using the MyFordTouch system were our only niggles with this fun to drive, roomy, well built, stylish and economical compact family SUV. Sure, prices can get up there when this SUV is fully loaded but for all the features the price is worthwhile.
We recommend that if you love the turbo power of the Escape that you check out the Kia Sportage SX which offers a lot of the same upscale features at a lower cost. It does offer less cargo room but may be the coolest looking compact SUV on the market. The 2015 Mazda CX-5 may not have a turbo but its 2.5 liter 185 horsepower engine is eager to rev, powerful enough, economical and the SUV is the class leader when it comes to ride, handling and offering up driving enjoyment in a package that is still useful. A 2015 Honda CR-V is always a safe bet but not all that adventurous. It's good to know, however, you have lots of choices and so long as you avoid the RAV4 you should do just fine.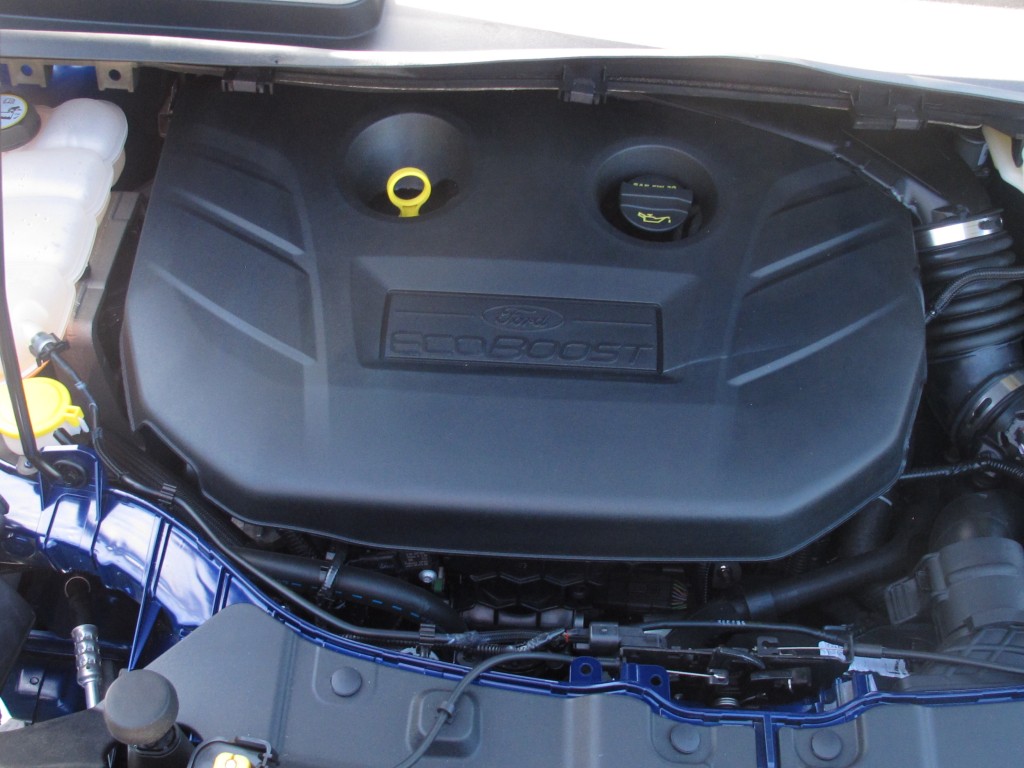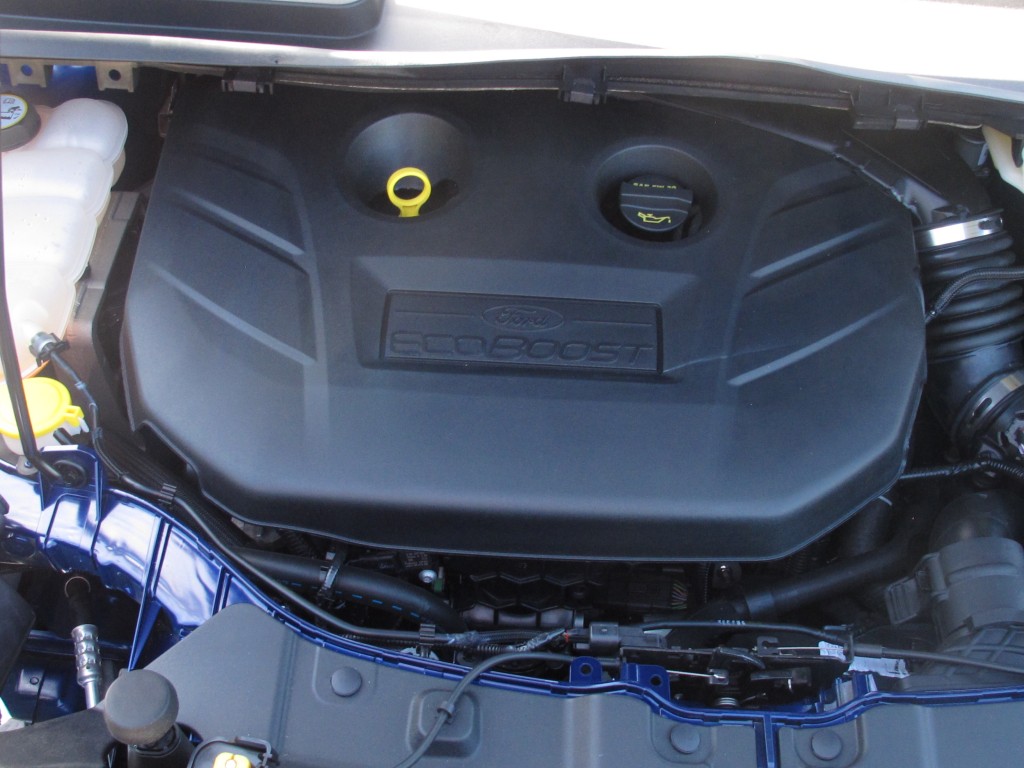 Search used cars for sale and find the best deals near you at iSeeCars.com.
To get a FREE iSeeCars VIN Report for a car, click here.