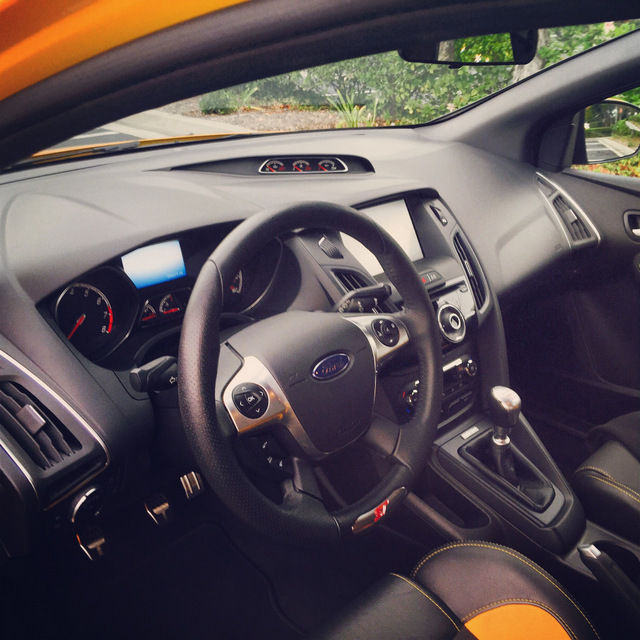 Written by James Hamel
Overview (Overall Grade after 8 Categories: B)
Even when covered in an eye searing yellow paint job, the 2015 Ford Focus ST hot hatchback always pulls off the visual trick of looking seriously bad-ass thanks to all of its enormous body spoilers and huge alloys which scream to anyone within earshot that "I am not a REGULAR Focus!" Then, you open the door and your eyes are drawn to the enormous, hip hugging Recaro sport seats which in our tester had huge yellow accents just to make sure you could see them in the dark. From space.
Even though this was not true when the ST was first launched, some may call it just a "warm hatch" now with the upcoming 300-hp plus all-wheel drive Focus RS coming soon to satiate the market for what is essentially a street legal rally race car. The RS is a vehicle that will be for hardcore driving enthusiasts who want to take it to the track or dirt trails every weekend and hopefully for their insurance premium's sake have taken some courses at a racing school.
Now, back to what we came here to talk about which is the 2015 Ford Focus ST which despite its still somewhat mental approach to hurtling itself down a windy road is quite clearly a rather sensible hot hatch choice. Now, not as sensible as a Volkswagen GTI but in exchange for a little refinement and always feeling planted the Ford Focus ST revs like a lunatic from a 2.0 liter 252 horsepower/270 lb. feet of torque turbocharged Ecoboost motor offered only with a deliciously harmonious 6-speed manual gearbox only.
So against a GTI the 2015 Ford Focus ST is a tad bit of the hooligan. But does that bad boy edge given off by the ST something that grew wearisome to us or did we find it endearing? Read on to learn more.
What we loved about the 2015 Ford Focus ST
The six-speed manual gearbox: everything from the chrome knob to the clutch actuation was perfect
Steering feel was razor sharp as was the handling so long as the weather cooperated
The intoxicatingly powerful 2.0 liter 252 horsepower/270 lb. ft. of torque EcoBoost 4-cylinder
What we didn't love about the Ford Focus ST
Useful five door layout only encumbered by oversized Recaro sport seats eating into rear leg room
At the Same Prices a Volkswagen GTI will feel more luxurious and refined to live with
Really? Yellow accents on the Recaro Seats? No.
For the full review, visit 2015 Ford Focus.
Search used cars for sale and find the best deals near you at iSeeCars.com.
To get a FREE iSeeCars VIN Report for a car, click here.