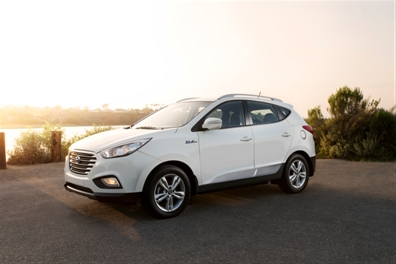 While hybrids and electric cars are beginning to be more common on roads across America, one advanced technology is only starting to come on-stream: hydrogen fuel cell vehicles. This spring, Hyundai is introducing the 2015 Tucson Fuel Cell, the first mass-produced fuel cell vehicle, available on a limited basis in the Los Angeles/Orange County area.
While Hyundai will be the first out of the gate with commercial availability, other manufacturers are also gearing up their own fuel cell vehicle offerings. To-date, the 2014 Honda FCX Clarity is currently available on a limited basis in Southern California. in limited testing, and in 2015, Toyota will launch the production version of its FCV fuel cell car.
Is this the dawn of the new age? Hyundai's CEO John Krafcik said the company will build and sell roughly 1,000 Tucson Fuel Cell vehicles over the next two years, although that number could rise if the demand is there.
Since November, Hyundai has received close to 100,000 consumer inquiries about the 2015 Tucson Fuel Cell.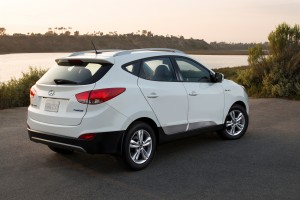 2015 Hyundai Tucson Fuel Cell – What We Know
Consumers in the Los Angeles/Orange County area will be able to lease the 2015 Tucson Fuel Cell for 36 months at $499 per month and $2,999 payable on signing. The monthly lease payment also includes unlimited free hydrogen refueling and Hyundai's "At Your Service" valet maintenance at no cost for the length of the lease.
The "At Your Service" valet program is the same service Hyundai Equus have enjoyed since 2010. With this free valet program, if the Tucson Fuel Cell requires any service, a Hyundai dealer will pick up the vehicle and provide a loaner, then return the customer's car after service, at no charge.
Southern California dealers first in line to offer the Tucson Fuel Cell include Hardin Hyundai in Anaheim, Win Hyundai in Carson, and Tustin Hyundai in Tustin. More Hyundai dealers will follow.
According to Hyundai, availability of the Tucson Fuel Cell will expand to other regions in accordance with accelerated deployment of hydrogen refueling stations. California approved a plan in October 2013 to develop up to 100 hydrogen refueling stations in the state over the next several years. Current public refueling stations are in Burbank, Fountain Valley, Harbor City, Torrance, West Los Angeles, Newport Beach and Irvine (UCI). Search for stations on the California Fuel Cell Partnership website.
Hyundai is also partnering with Enterprise Rent-A-Car to make the Tucson Fuel Cell available to consumers this spring at select Los Angeles/Orange County area locations.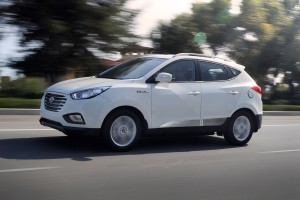 Tucson Fuel Cell specifics:
Driving range of 250 to 300 miles (estimated, EPA ratings to be determined)
Full refueling capability in less than 10 minutes, similar to a gasoline vehicle
Minimal reduction in daily utility, compared with gasoline counterparts
Instantaneous electric motor torque (221 pound-feet)
Minimal cold-weather effects compared with battery-electric vehicles
Reliability and long-term durability – no moving parts within the power-generating fuel cell stack, and more than two million durability test miles
Extensive crash, fire and leak testing successfully completed
Quieter EV operation
Zero greenhouse gas emissions, only emitting water vapor
Interested consumers can find out more information on the Hyundai Tucson Fuel Cell website.
Benefits of Fuel Cell Vehicles
According to the U.S. Department of Energy's fueleconomy.gov, fuel cell vehicles (FCVs) offer a number of benefits over gasoline- and diesel-powered vehicles:
FCVs powered by pure hydrogen emit no greenhouse gases (GHGs) from their tailpipe, only heat and water.
FCVs could reduce American dependence on foreign oil, since hydrogen can be derived from domestic sources, such as natural gas and coal, as well as renewable resources including water, biogas and agricultural waste.
FCVs emit no harmful pollutants, if they're powered by pure hydrogen. If powered by hydrogen produced from fossil fuels, some pollutants are emitted, but much less than the amount generated by conventional vehicle tailpipe emissions.
Challenges
There are also a number of challenges to the widespread adoption of fuel cell vehicle in the United States. For now, few fuel cell vehicles are commercially available, and those that are, are in limited geographic areas, some being evaluated in field tests.
Other challenges include FCV costs, onboard hydrogen storage, fuel cell durability and reliability, infrastructure for getting hydrogen to consumers, and educating the public about the reliability and safety of these vehicles, as well as the challenge of becoming familiar with a new kind of fuel.
Search used cars for sale and find the best deals near you at iSeeCars.com.
To get a FREE iSeeCars VIN Report for a car, click here.