This story is somewhat akin to either are-you-kidding-me or sure-I-can-see-that, depending on how willing you are to use your imagination and not get hung up with perceived notions of what constitutes a truly sporty car. The folks from Mazda, always known as a fun bunch, have come out with a comparison of the all-new (and wonderfully terrific) 2016 Mazda MX-5 Miata and the 2015 Porsche Boxster.
Nope, we're not kidding.
First of all, it's a side-by-side look at telling metrics such as horsepower and curb weight, 0-60 mph times and, of course, manufacturer's suggested retail price (commonly called MSRP). The results may just shock you – or at least have you wondering if you could convince your better half (or yourself) that plunking down all that coin for a Porsche may be better spent in the purchase of the sprightly new MX-5 Miata from Mazda (or even two, one for each of you).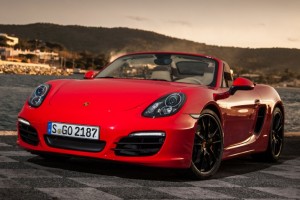 Getting serious now, though, here is a look at where each vehicle slots in these metrics.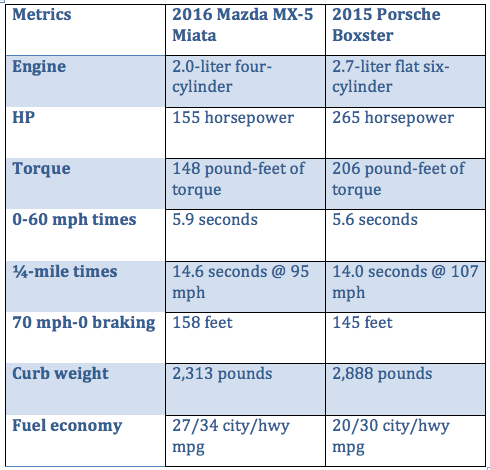 On the face of it, just glancing at the specifications, it may seem like an unfair comparison. Clearly the Porsche Boxster has a bigger engine, more horsepower, and quicker braking from 70 mph down to 0 mph.  But a closer look reveals that the Mazda MX-5 Miata isn't all that far behind and actually acquits itself rather nicely in key metrics: it's got better fuel economy, it costs less than half what the Boxster does, and it's close in 0-60 mph and ¼-mile times. All in all, the MX-5 Miata appears to be a bargain sporty car.
In fact, in the 0-60 mph metric, the MX-5 Miata only trails the Porsche Boxster by a mere 0.3 seconds.                                                       
In a press release, Frank Mitchell, parts manager for MazdaPartsUSA.com says that consumers can get "about 90% of the performance of a new 2015 Porsche Boxster at less than 50% of the cost."
When it comes to striking a balance between performance, fun-to-drive characteristics, fuel economy, price and overall exhilaration, it may be tough to choose. Then again, maybe it's not so difficult after all.
Where do you weigh in on this comparison of the 2016 Mazda MX-5 Miata with the 2015 Porsche Boxster? Don't be a snob. Keep an open mind and let us know your thoughts in the comments section below. We promise we're not leaning one way or the other. That's called fair and balanced reporting. Just the facts and we'll let you – the consumer – decide. Either way, you're bound to have miles of smiles on your face driving and owning either one of these fine automobiles.
Search used cars for sale and find the best deals near you at iSeeCars.com.
To get a FREE iSeeCars VIN Report for a car, click here.