Full-size sedans are known for providing excellent passenger comfort and a glass-smooth ride. They're not known for achieving high fuel economy figures.
That changed in 2013 when Toyota launched a hybrid variant of the Avalon that offered fuel economy figures similar to a compact sedan. It didn't hurt that the Avalon Hybrid boasted an interior that rivaled those found in more expensive sedans.
But the current Avalon Hybrid has been overshadowed by the new 2019 model, which brings forth a number of improvements, including slightly higher fuel economy. This doesn't mean you should discount the 2018 model.
What We Love About the 2018 Toyota Avalon Hybrid:
Still looks quite sharp
Interior rivals what you'll find in luxury models
Impressive fuel economy
What We Don't Love About the 2018 Toyota Avalon Hybrid:
Lack of headroom for rear seat passengers
No Apple CarPlay or Android Auto
Becomes somewhat noisy during hard acceleration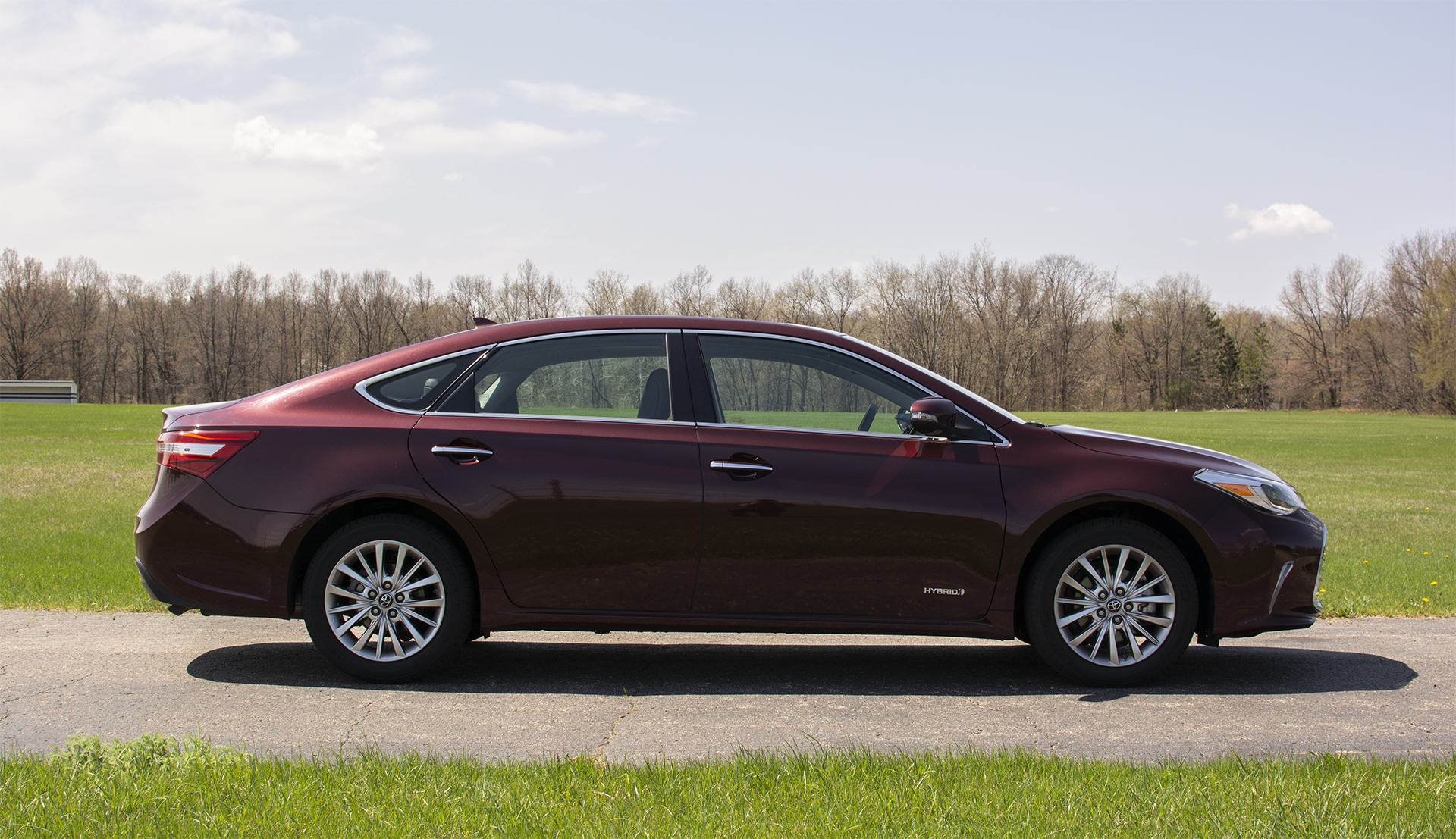 Exterior View (9/10)
The current Avalon's design dates back to to 2013 and it was quite the departure from previous models. Gone was the "plain and safe" mantra that had guided previous Avalons since the model's 1994 launch.
In its place was something very daring and risky, The proportions were more in line with a rear-wheel drive vehicle: long front, short rear and a coupe-like roofline. Five years on, it still looks like it just rolled off the show stage, especially in our tester's dark burgundy color.
Aside from the hybrid badges, Toyota does something clever to set the Avalon Hybrid apart from the regular Avalon. The Toyota badges have a blue tint to signify the hybrid model.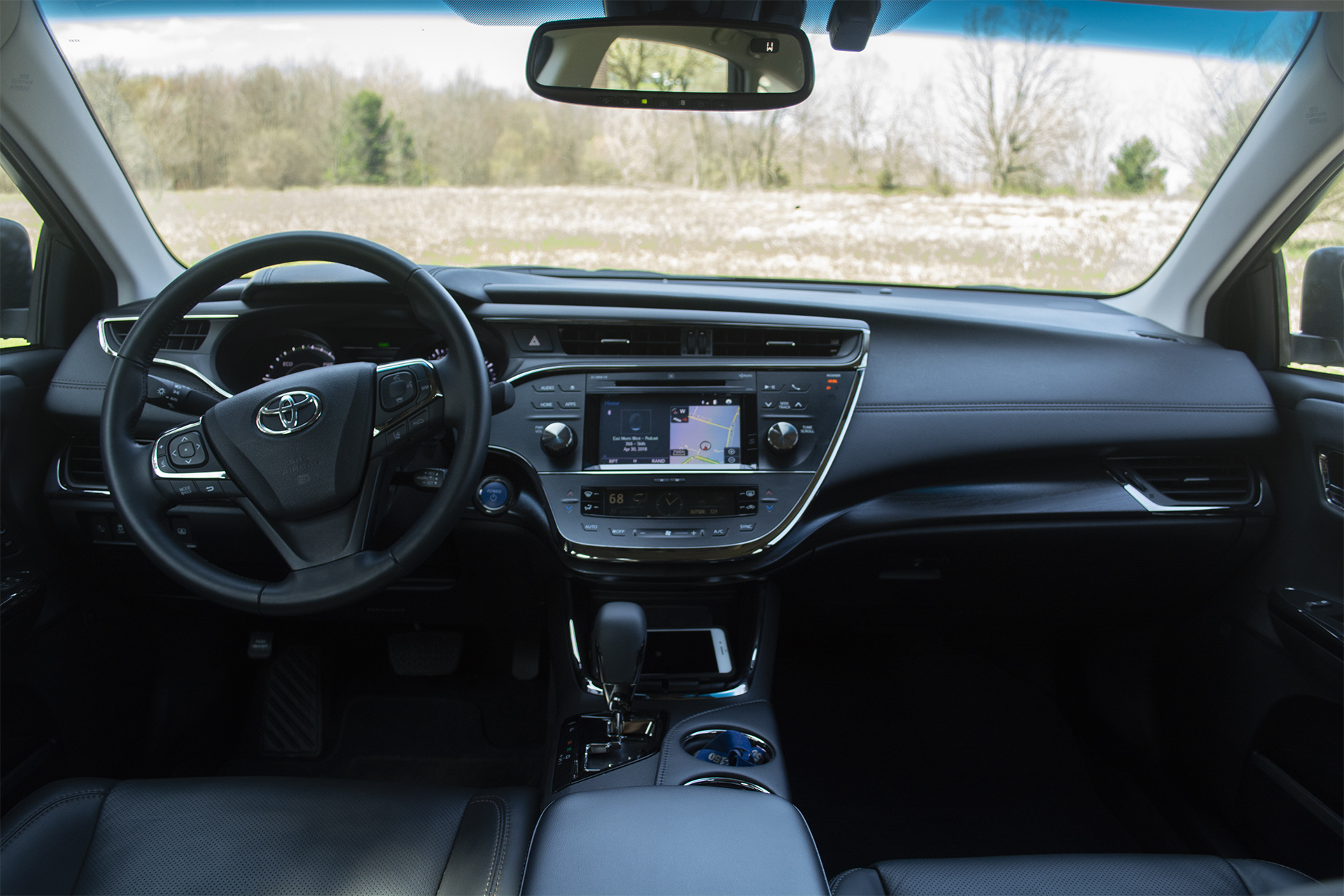 Interior Comfort, Quality and Ease of Use (8/10)
The Avalon Hybrid's interior is impressive. Aside from a modern design with flowing curves and contrasting colors, Toyota lined all of the interior with high-quality materials, including stitched soft-touch plastics on the dash and leather upholstery, and faux wood trim.
Power adjustments for the front seats are standard on all Avalon models. Our Limited test car featured 10-way driver and 8-way passenger power adjustments. It was very easy to find a position that worked for us.
The seats provide excellent support and comfort, especially on long road trips. Back seat passengers will have no complaints, as there is plenty of legroom. Taller passengers will feel somewhat cramped in terms of headroom due to the sloping roofline.
Trunk space is quite small for the class, at only 14 cubic feet. The batteries for the hybrid system take up a fair amount of space. There are no folding rear seats either.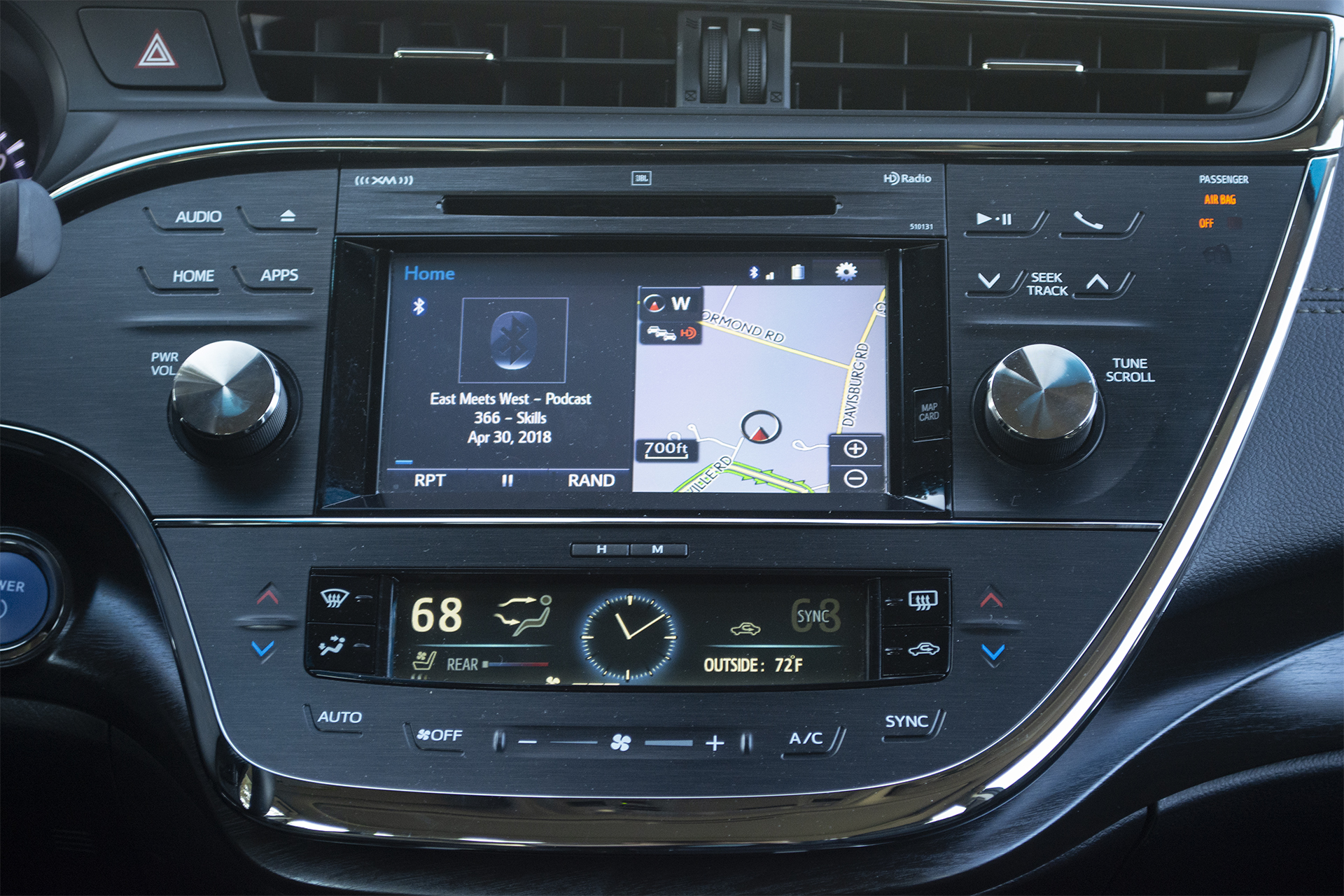 Technology (8/10)
All Avalon Hybrids get a 7-inch touchscreen with Toyota's Entune infotainment system. While the system is beginning to show its age in terms of the interface and lack of Apple CarPlay and Android Auto, Entune scores highly when it comes to ease of use, with large touchscreen buttons and legible text. Navigation is standard on the XLE Premium and Limited.
Fuel Economy (10/10)
EPA fuel economy figures for the 2018 Avalon Hybrid are 40 city/39 highway/40 combined, which tops the class for full-size sedans. We saw an average of 38 mpg during our week-long test.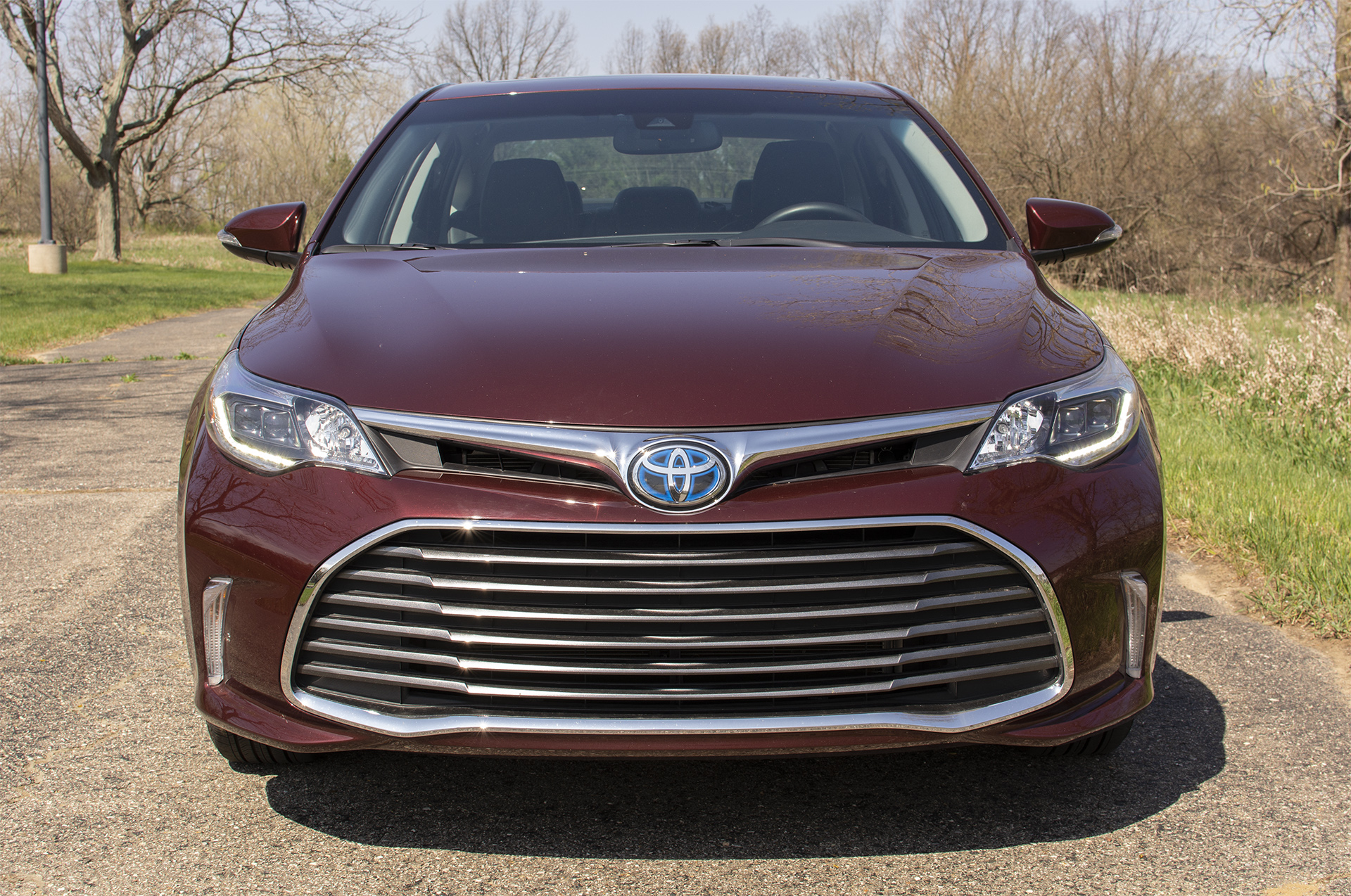 Predicted Reliability, Initial Quality Ratings (10/10)
If you're looking a model that can go the distance, look no further than the Avalon Hybrid. Both Consumer Reports and J.D. Power rate the model very highly in their predicted reliability ratings. For initial quality, the Avalon earns an above average rating from J.D. Power.
Safety (8/10)
The Avalon Hybrid comes well equipped in terms of safety equipment, with a full complement of airbags, backup camera, traction and stability control, brake assist, adaptive cruise control, pre-collision system with pedestrian detection, lane departure warning with steering assist, and automatic high beams. Higher trims get blind-spot monitoring and rear cross-traffic alert.
In the National Highway Traffic Safety Administration's tests, the Avalon Hybrid earned a five-star overall rating. The Insurance Institute for Highway Safety named the Avalon Hybrid a Top Safety Pick.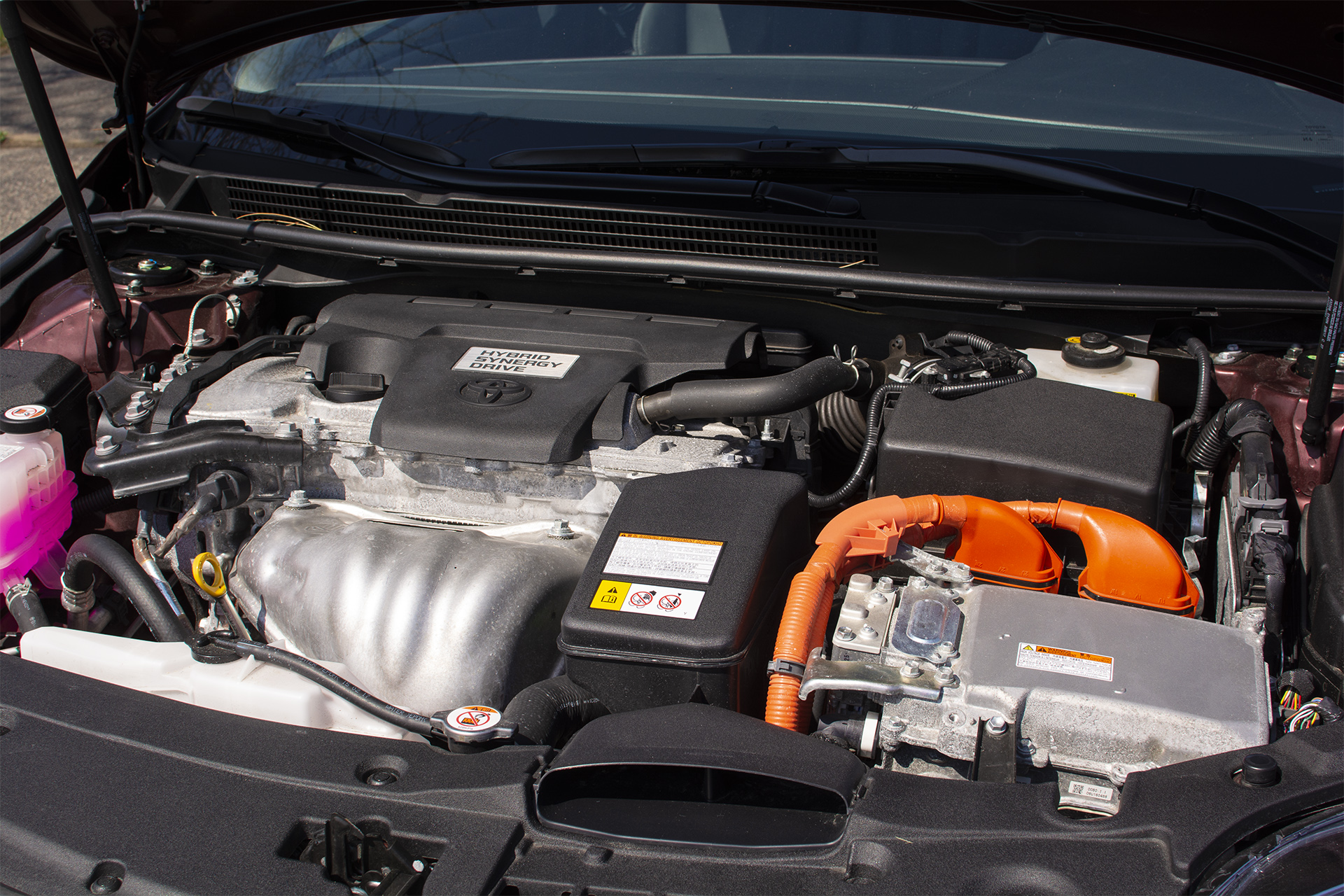 Performance (8/10)
Power for the Avalon Hybrid comes from Toyota's Hybrid Synergy Drive system. This is comprised of a 2.5L four-cylinder gas engine, two electric motors and a Nickel-Metal Hydride battery pack. Total output stands at 200 horsepower. A continuously variable transmission (CVT) routes power to the front wheels.
For a big sedan, 200 horsepower might not be enough to move it a decent rate. But the Avalon Hybrid surprises by providing modest and smooth performance in most situations. Be aware that the CVT becomes quite noisy during hard acceleration when you're trying to make a pass.
Transitions to the electric and hybrid modes are seamless and almost silent. There is an EV Mode button that allows the Avalon Hybrid to run on electric power alone. But EV Mode can only be activated at speeds below 25 mph.
The Avalon Hybrid will surprise many down winding roads, as it doesn't flounder around. It shows surprising poise when driven into a corner, with little body roll. Some will be disappointed with the steering because it feels light and doesn't have enough feel. There is a Sport mode that adds a bit more weight, which does help a bit. The upside to the light steering is that it makes the Avalon Hybrid more maneuverable in tight spaces.
The suspension absorbs most bumps, but some will be wishing for a softer ride. Road and wind noise are kept to near-silent levels.
Toyota still has some issues with their regenerative braking system. The pedal provides a vague feeling that makes it hard to determine how much braking force is being applied. We're hoping the redesigned Avalon Hybrid somehow fixes this issue.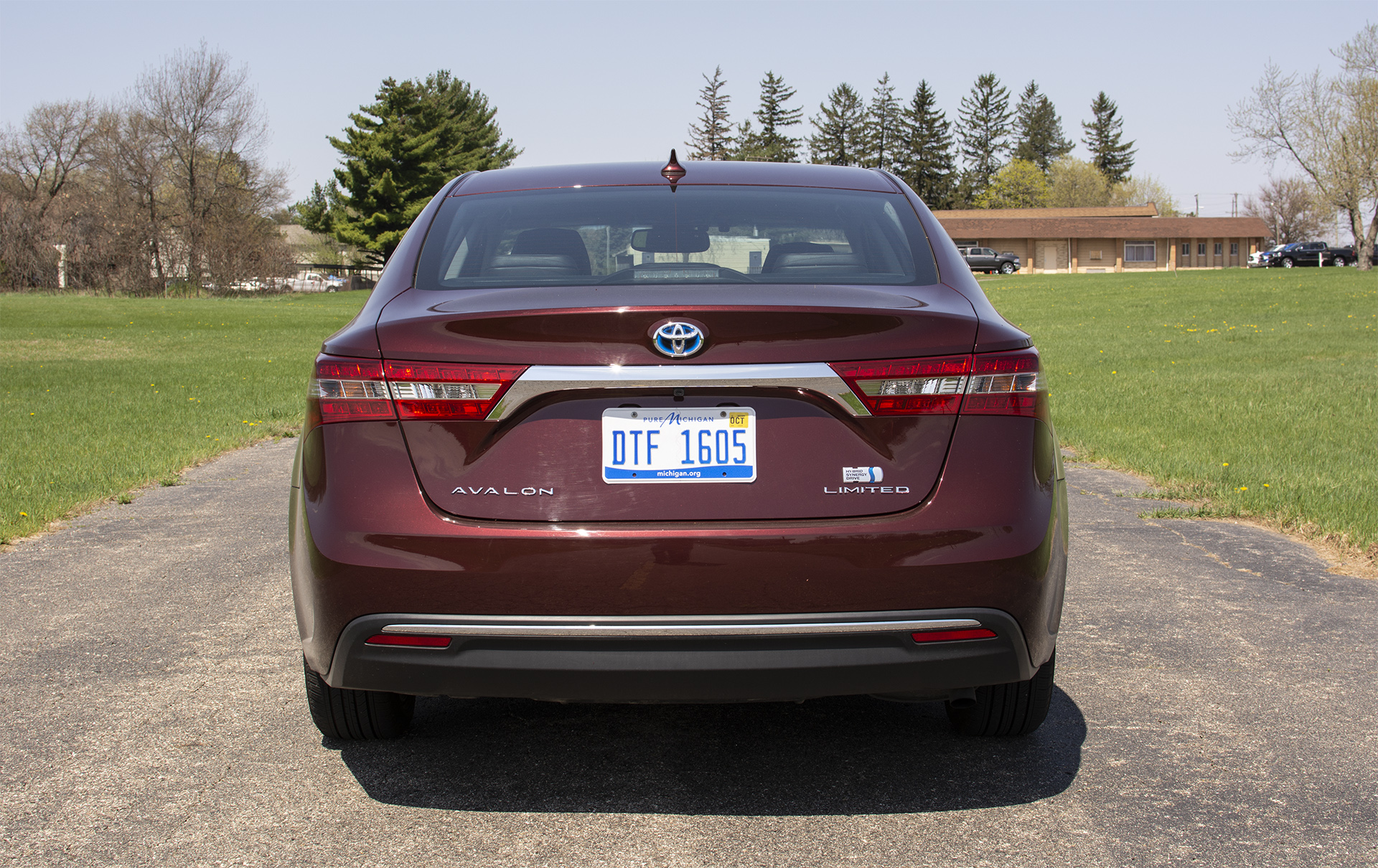 Pricing and Value (8/10)
The 2018 Avalon Hybrid begins at $37,500 for the XLE Plus, $38,950 for the XLE Premium and $42,800 for the Limited. Our pick is the XLE Premium. Yes, you'll miss out on niceties such as tri-zone climate control, ventilated front seats and 11-speaker JBL Audio system. But the XLE Premium includes all of the features you'll need, such as blind-spot monitoring, dual-zone climate control, and memory for the driver's seat and mirrors.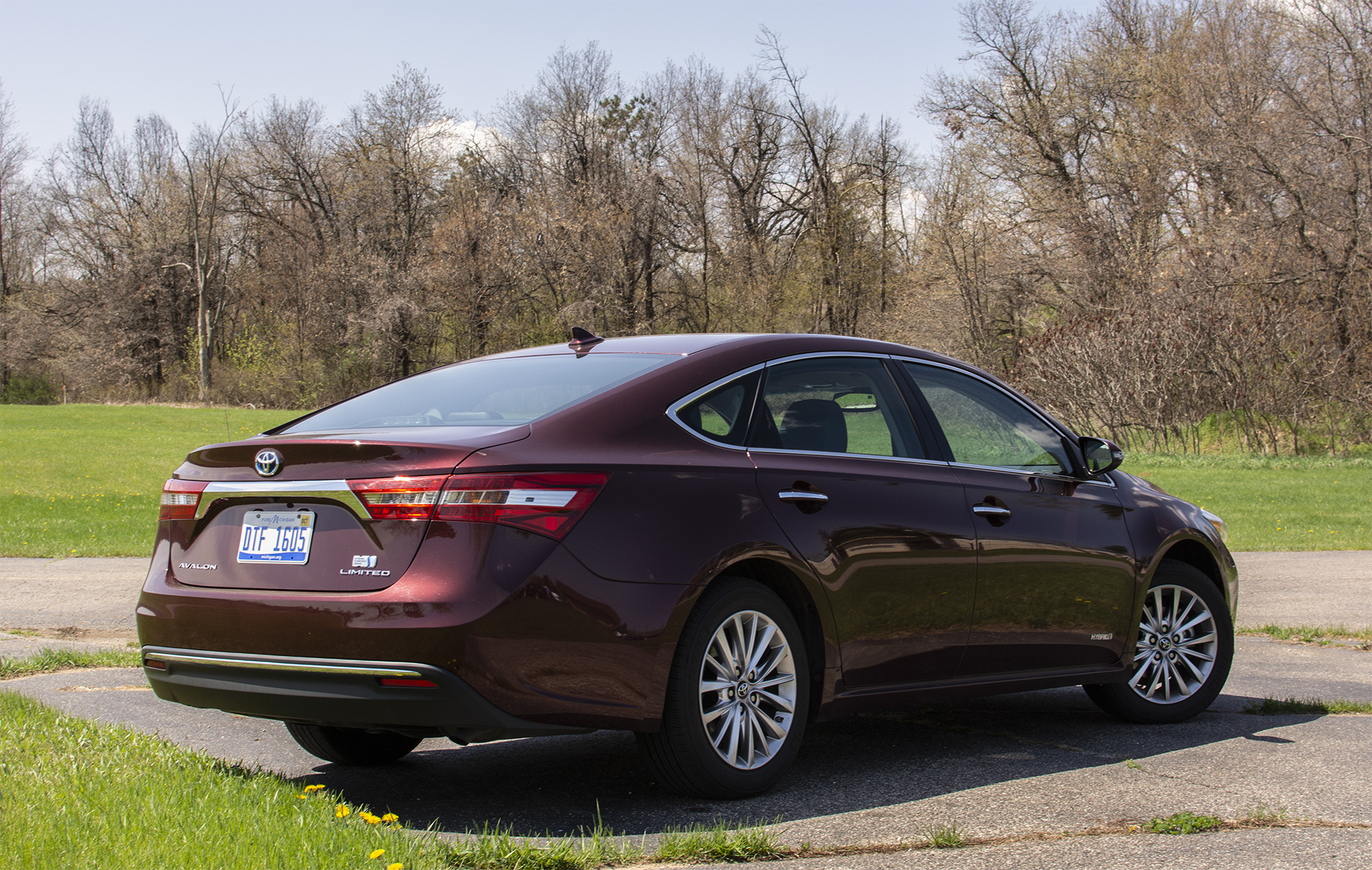 Total Score and Competitive Comparison (69/80, 86%)
The only real competitor to the 2018 Toyota Avalon Hybrid is the redesigned 2019 model. It makes great leaps in its interior, with a design and materials quality you would expect to find in a Lexus.
Fuel economy sees a noticeable improvement with a combined figure of 43 mpg. Toyota was also able to balance driving fun and comfort with the redesigned Avalon. Not everyone will like the look of the new Avalon, especially with its gaping front maw. Reviewers also note the Avalon Hybrid could use a little bit more power in certain situations.
The 2018 Buick LaCrosse offers a mild-hybrid system known as eAssist. This type of system provides some key benefits of a standard hybrid system, such energy recovery when braking and a smoother stop-start system. What it doesn't provide is the ability to travel on electric power alone. Fuel economy trails the Avalon Hybrid with figures of 25 city/35 highway/29 combined. The LaCrosse also lacks the Avalon Hybrid's driving excitement, but fights back with a smoother ride. The price also undercuts the Avalon with the base LaCrosse starting at $30,490.
The 2018 Avalon Hybrid may be overshadowed by the new model, but it still can hold its own in number of areas. Fuel economy is still near the top of the class, the design still looks quite sharp, and the interior is quite spacious and well appointed. What may put some people off is the slightly stiff ride and the behavior of the regulative braking system.
Search used cars for sale and find the best deals near you at iSeeCars.com.
To get a FREE iSeeCars VIN Report for a car, click here.