Overview (Final Score: B)
The 4Runner is a traditional body-on-frame (truck-based) sport utility but competes in an arena full of more modern crossover (car-based) utilities. The 2019 4Runner continues with the now long in the tooth design of this-generation 4Runner, introduced in 2010. Compared to most crossovers, the 2019 4Runner is far more off-road ready and muscular in capability as a traditional SUV.
For the 2019 model year, the Toyota 4Runner sees a few changes to specific trim packages. The TRD Pro off-road package now has new Fox shock absorbers, a new roof rack, and skid plate, and includes a sunroof and JBL sound system as standard. A new Limited Nightshade Edition 4Runner trim package adds a black-out color scheme to the 4Runner's top-end package options.
The 4Runner is a very capable off-road goer and "get there" SUV, but it lacks refinement on the road and isn't well suited for family hauling on the daily.
The 2019 Toyota 4Runner is a midsized SUV available in seven trim levels. There is only one engine and transmission option, but drivetrain options include both rear-wheel and four-wheel drive.
Read the full review.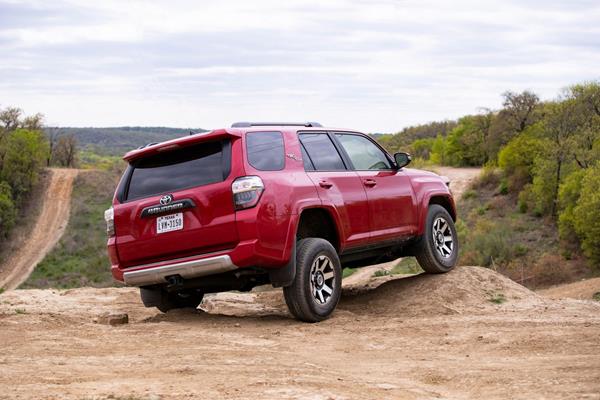 What We Love About the 2019 Toyota 4Runner:
Many 4WD packages offer nearly unmatched off-road capability
Configurations are greatly varied, allowing for versatility in purchase options
Cargo space is well-suited to multiple uses and towing is unusually good
What We Don't Love About the 2019 Toyota 4Runner:
Poor fuel economy, even for an off-road machine
Ride quality on the road is uncomfortable and loud
Ergonomics for daily use are some of the worst in the segment
The 2019 Toyota 4Runner has received a four-star (out of five) overall rating from the National Highway Traffic Safety Administration (NHTSA). This includes a 4-Star rating for frontal crashes, a 5-Star rating for side crashes, and a 3-Star rating for rollovers.
The Insurance Institute for Highway Safety (IIHS) has given the 2019 4Runner top scores of "Good" for most crash tests. The exception being a second-worst possible "Marginal" rating for small overlap front driver-side test results.
Performance (8/10)
The 2019 Toyota 4Runner has a 4.0-liter six-cylinder engine and a five-speed automatic transmission. The engine outputs 270 horsepower and 278 pound-feet of torque. Rear-wheel drive is standard in most trim options with four-wheel drive as an option. Some off-road-centric trims, such as the TRD packages, include 4WD as standard.
The 4Runner is a solid goer, but not exciting or really quick in most situations. On the road, the SUV is loud and has a mushy drive quality that doesn't inspire a lot of confidence around corners or on a merge. The transmission shifts often, but hesitantly, and the engine takes a while to get up to peak power output.
The off-road packages for the 4Runner are really where it's at for this rig. These offer the equipment to take full advantage of the 4Runner's design, allowing the SUV to become very capable off the pavement. For those looking for an adventure-ready rig, the 4Runner offers a lot of options and goodness. For those looking for a family hauler and daily drive, this probably isn't the best choice.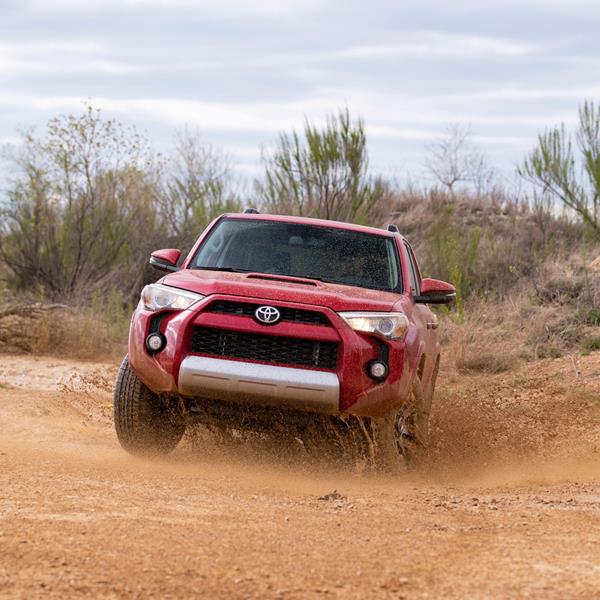 Total Score and Competitive Comparison (60/80, 75%)
The competition against the 2019 Toyota 4Runner is pretty slim, given its truck-based SUV build. The Chevrolet Traverse is a better family rig, the Jeep Cherokee and Grand Cherokee are largely just as capable off-road against non-TRD models of the 4Runner, and the GMC Acadia offers more premium styling and appeal. All of these options are more comfortable and daily-use friendly. None are as low-cost or package-ready for off-pavement as the 4Runner can be.
The 2019 4Runner is aimed towards sport utility buyers of the old school, who need off-road capability more than any other metric. Compared to family-oriented crossovers and more comfortable road-going SUV options, the 4Runner stands alone as a serious SUV.
Get more expert advice now in the 2019 Toyota 4Runner's FULL REVIEW with tips on its exterior, technology, safety, reliability, pricing and more.
Search used cars for sale and find the best deals near you at iSeeCars.com.
To get a FREE iSeeCars VIN Report for a car, click here.