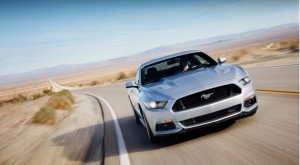 If speed is in your blood and you just have to own a car that can go fast (not that you'd necessarily drive over the limit), and you don't want to spend the equivalent of a monthly house payment for the vehicle, check out these five fast and (relatively) affordable new cars.
2015 Ford Mustang GT
Redesigned for 2015, the Ford Mustang comes initially in a coupe only. While you can enjoy spirited driving in a V6-powered Mustang, go for the 435-horsepower 5.0-liter Mustang GT for the more aggressive performance you seek. Pair the engine with either a six-speed manual or six-speed automatic with paddle shifters. EPA-estimated fuel economy is 15 mpg city/25 mpg highway with the manual tranny and 15/26 mpg with the automatic. Pricing starts at $32,100.
2015 Chevrolet Corvette Stingray
Long regarded as the pure American sports car, the 2015 Chevrolet Corvette Stingray truly belongs in the (relatively) affordable fast car category. Consider the 460-horsepower in the 6.2-liter V8 engine and a base price starting at $54,000 – along with the undeniably sexy exterior design and the bragging rights that go along with owning this high-performance sports car. What more needs to be said?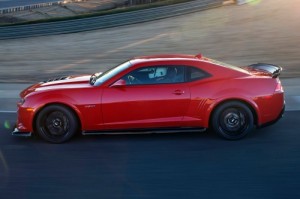 2015 Chevrolet Camaro ZL1, Z/28
Priced more than the Chevy Corvette? Yes, the 2015 Chevrolet Camaro – in ZL1 and Z/28 guise, starts off at $55,505 and $72,305, respectively. Where the go-fast comes in isn't hard to figure. The Camaro ZL1 packs a supercharged 580-horsepower 6.2-liter engine that does 0-60 mph in 3.9 seconds. As for the Z/28, this beast has 505 horsepower in a naturally-aspirated 7.0-liter V8 engine.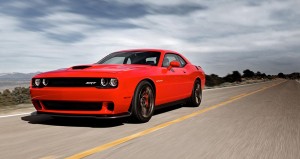 2015 Dodge Challenger SRT Hellcat
As the automotive aficionados gush, make way for the new demon in town, in this case, the 2015 Dodge Challenger SRT Hellcat. The numbers tell the story: a 707-horsepower 6.2-liter HEMI V8. Don't expect this fast and furious pony car to come for a whole lot less than the $59,995 starting price (but you can hope, right?).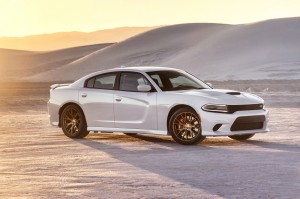 2015 Dodge Charger SRT Hellcat
Not content to have just one Hellcat in its stable, Dodge amps up the fast car excitement in 2015 with the Dodge Charger SRT Hellcat. The 707-horsepower Charger super sedan comes with a price that's higher than its Challenger SRT Hellcat sibling. Starting price for the 2015 Dodge Charger SRT Hellcat is $63,995.
Search used cars for sale and find the best deals near you at iSeeCars.com.
To get a FREE iSeeCars VIN Report for a car, click here.