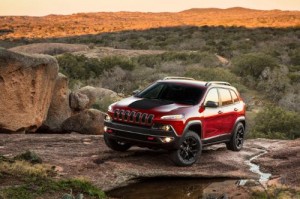 Planning a summer beach getaway with the family or hankering for a well-deserved escape to the mountains or woods? Is fishing, canoeing, kayaking or trail-biking in your future? You need a vehicle that's capable of carrying you and your gear, along with assorted companions, and will easily traverse most any type of terrain you happen across.
Some SUVs are better at off-road than others. Here we take a look at six we consider the best off-road SUVs for the great outdoors. Now, get packing.
2014 Jeep Cherokee – An all-new model, the 2014 Jeep Cherokee provides more off-road prowess than most crossovers can legitimately claim. Okay, it's not the no-frills off-road Cherokee of years past. It's also not a uber-off-road champ like the Jeep Wrangler, but this small crossover SUV, which has enough off-road ability to satisfy many consumers looking to R and R in the great outdoors, gets excellent marks for its nicely-furnished, roomy cabin, pleasant ride and smooth V6 engine. The Cherokee boasts one of the most friendly rear seats of any small crossover in its price range, but cargo volume suffers a bit. Two all-wheel drive systems are available, Active Drive I and Active Drive II, the latter much better for going off the well-traveled path.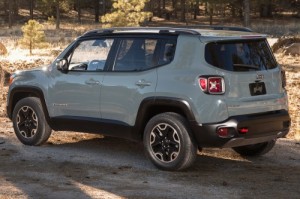 2015 Jeep Renegade – An all-new subcompact SUV model, it's from the trail-worthy Jeep brand. How could you go wrong? The new 2015 Jeep Renegade features a segment-first nine-speed automatic transmission, on- and off-road chops, two fuel-efficient engines, a 160-horsepower turbocharged 1.4-liter or the larger, 184-horsepower non-turbo 2.5-liter, plenty of safety technology and a cool look that practically begs new off-road aficionados to give it a try. As for size comparison, the Renegade is about 16 inches shorter and two inches narrower than the Jeep Cherokee. This newest, smallest Jeep won't be deprived of amenities, still to offer many of the same ones on upper-level Jeeps. These include 7-inch configurable gauge display, smartphone-integrated infotainment systems with 5- and 6-5-inch touchscreens, rearview camera, rear cross-traffic alert, blind spot monitoring, lane departure warning and forward collision warning. Opt for dual sunroofs to really let the outside in. The 2016 Jeep Renegade is a ways off, hitting dealers next January, so maybe plan this small SUV for next summer's outdoor adventures.
2014 Toyota FJ Cruiser – Call its styling funky or unique, there's no denying the outstanding off-road ability of the 2014 Toyota FJ Cruiser. This midsize SUV seats five in comfort, has simple controls, and in its last year of production, offers a Trail Teams Ultimate Edition package. This trailworthy package includes 16-inch bead-lock wheels, all-terrain tires, specially-tuned TRD suspension (including remote reservoirs for rear shocks), an upgraded front skid plate for better protection, and a few more goodies.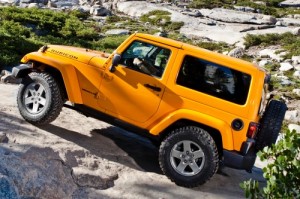 2014 Jeep Wrangler – Wrangler is an unabashed off-road icon that's been dear to the hearts of trailblazing enthusiasts for decades. The 2014 Jeep Wrangler, available in two- and four-door versions, is also unexpectedly fun to cruise around town. This is a Jeep Wrangler, so it has some quirks to get used to: cumbersome-to-remove soft top, choppy ride, noisy cabin, long braking distances. Easy-clean cabin that is more on function than comfort, the Wrangler is never going to be confused with a luxury SUV. It doesn't need to be anything other than what it is: a truly exceptional off-road SUV.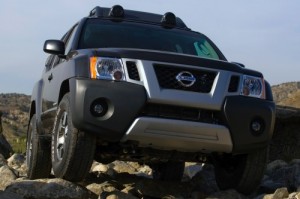 2014 Nissan Xterra – If you regularly off-road, consider the 2014 Nisan Xterra as a contender for outdoor recreation and its ability to ford streams and get out there. Powered by a 261-horsepower 4.0-liter V6 and matched with either a five-speed automatic or six-speed manual transmission, the Nissan Xterra is available in X, S and Pro-4X trims. Many regard the Xterra as a "livable" midsize SUV and it does have innovative cargo features and 65.7 cubic feet of cargo space with rear seats folded. It also has relatively poor fuel economy, compared to other crossovers in this price range.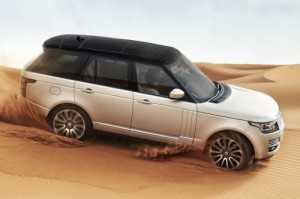 2014 Land Rover Range Rover – Looking for the luxury touch in an off-road SUV? Check out the 2014 Land Rover Range Rover for unmitigated opulence in the cabin, quick acceleration and simply superb off-road capability. The 2014 Range Rover has an all-new supercharged V6 engine that's standard, paired with an eight-speed automatic transmission. A supercharged V8 is optional. The five-passenger Range Rover is very comfortable on pavement, too, remaining composed through turns with minimal body lean. Strong brakes and well-weighted steering are other pluses.
Search used cars for sale and find the best deals near you at iSeeCars.com.
To get a FREE iSeeCars VIN Report for a car, click here.