Approximately 290 million tires are discarded every year in the United States. Considering that it takes between 50 and 80 years for the rubber in tires to break down, the landfills are bulging with millions upon millions of tires. There should be some way to make use of this material other than tossing it on the scrap heap. Fortunately, there are some clever minds and entrepreneurial enterprises today that are finding novel ways to reuse car tires. Here are six ideas that are rather interesting.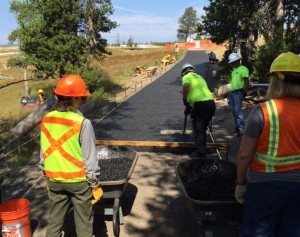 Walkways to Old Faithful in Yellowstone National Park 
The latest unique way to put old tires to good use comes from Michelin – yes, the tire company. Not only has Michelin provided tires for the park service vehicles at Yellowstone National Park in Wyoming for some years, it just recycled a good number of discarded tires from those same buses, cars, emergency and other park vehicles to create paved walkways (boardwalks, they used to be called) around one of Yellowstone's most famous attractions, Old Faithful. Using recycled Michelin tires, along with other materials, creates a porous, clean and flexible surface for the thousands of park visitors. Of critical importance is that the material doesn't leach oil – as some asphalt can – into sensitive ecological areas. Michelin used 900 end-of-life tires (from park vehicles reaching 100,000 miles) to create a 6,400 area in the park.
Asphalt Rubber
Millions of roads in America could benefit from asphalt rubber – constructed from recycled automobile tires. This material lasts longer than concrete, reduces road noise and requires less maintenance to the road than concrete. Yet, according to statistics from the Environmental Protection Agency, only seven states currently use asphalt rubber: Arizona (which has been using it since the 1960s), California, Florida, New Mexico, Nevada, South Carolina and Texas.
Another use for old tires besides roadways is to reinforce embankments on highways and on/off ramps.
A popular use for reusing tires occurs on the nation's playgrounds where tires are finding their way not only in tire swings, tunnels and game areas, but also softer material for the playgrounds themselves. Except for the shredded material used on the ground, the tires look like tires, yet they're painted bright and appealing colors so as to add to the atmosphere of discovery and creativity for the children making use of the playground areas. One such company is NuPlay, creator of NuPlay playground mulch.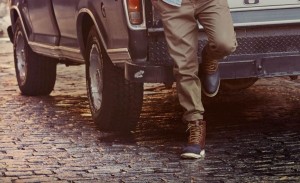 Shoes, Flip-Flops, Belts and Buckles 
Some designs are so creative that you'd never know the material used came from old tires. Whether it's a belt or belt buckle, a casual shoe or flip-flop, these products made from recycled tires show that there's life left in these materials yet – instead of winding up littering landfills and taking up to eight decades to break down. Timberland, long a well-respected name in outdoor boots, is just one of the companies making use of tires to construct well-designed boots. Actually, Timberland partnered with Omni United to create Timberland Tires, the first purposefully-built tires designed to be recycled into outerwear soles. After the tires reach end-of-life status, they can be shredded to make footwear. The first set of Timberland Tires rolled out in April 2015 and the first Timberland boots are expected in the market by the fall of 2016.
Furniture, Including Chairs and Ottomans 
Furniture is another promising use for recycled tires. Popular uses include indoor and outdoor furniture – patio tables and chairs, intriguing works of art made from tires, and indoor furniture that includes chairs, tables and ottomans. One company doing this is The Retyrement Plan. The key is that the products don't look like its recycled – although customers need to be told it is recycled – or upcycled, as the folks from The Retyrement Plan choose to say. This adds value in the eyes of the consumer. Another company is DesignRuiz.
Outdoor Mats 
How about reused car tires to construct a mat you can use at the entrance to your home or garage? It's been done and, just like the tread grips well on snow and ice and mud on the nation's roadways and highways, it works equally well to remove dirt and grime from your shoes so you don't mess up the house.
Search used cars for sale and find the best deals near you at iSeeCars.com.
To get a FREE iSeeCars VIN Report for a car, click here.