Celebrity chefs: We see them every day on cooking shows and reality TV competitions. They're heating things up in the kitchen, but are they doing the same behind the wheel? This iSeeCars.com article takes a look at some of the cars owned by popular celebrity chefs.
Guy Fieri: Perhaps just slightly more famous for his hairstyle than his cars, Fieri's collection is both impressive and bright. Surprisingly, almost all of his vehicles are yellow. Recent cars in his collection include a 2011 Chevrolet Camaro (the first yellow one off the line), 2011Cadillac Escalade ESV, 2009 Smith's Custom Golf Cart, 2007 Chevrolet Corvette, 2006 Chevrolet C4500 Kodiak Pick-up, 1976 Jeep CJ5, 1970 Chevrolet Chevelle SS 454, 1967 Chevrolet C10 Full Custom, and a 1965 Carroll Shelby continuation 427 Cobra. In 2011 Fieri's Lamborghini Gallardo Spyder was stolen by a teenager, but was later recovered.
Gordon Ramsay: You may know this award-winning chef and restaurateur as the fiery host of the reality television show "Hell's Kitchen," but it seems his cars may be as hot as his temper. A Ferrari lover, Ramsay's bought 15, including a F430 and F12 Berlinetta. He's also made two appearances on the British racing show "Top Gear" where he revealed one of his current cars is a Range Rover Sport Supercharged.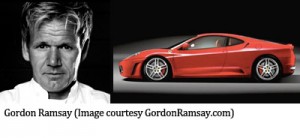 Rachael Ray: Ray's first car was a used Ford pickup, but she's gone green since then. The perky chef says she uses an eco-friendly car service in New York City, where she normally rides in a Toyota Prius.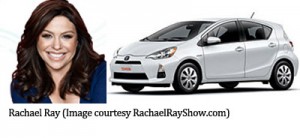 Wolfgang Puck: Austrian-born Puck is a huge fan of Detroit-made cars, especially GM and Cadillacs. His first car in the U.S. was a Cadillac Coupe de Ville in 1974 and today his everyday car is a Cadillac Escalade.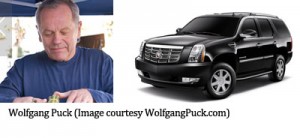 Duff Goldman: Known for his popular show "Ace of Cakes," Goldman calls himself a freakish gearhead. His love for cars stems from being born in Detroit, where his dad worked for GM and socialized with John DeLorean. This celebrity baker can create life-size car cakes, as well as tear down and rebuild real ones. Goldman's everyday rides are a 2010 Ford F-150 and a 2010 Ducati Monster 1100S.

Julia Child: Child paved the way for today's celebrity chefs without even knowing it. In 1989 Child revealed that she had a new Honda sitting in the driveway of her Cambridge, Mass., home. She said that while she could go to a car wash, she preferred to wash it herself.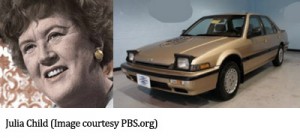 James Martin: The host of BBC1's "Saturday Kitchen" drives a Maserati Gran Turismo. Passionate about cars since childhood, Martin loves racing, and he owns an inspiring collection of classic and Formula One cars.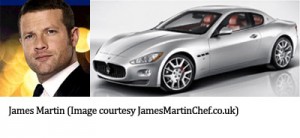 [Note: Not all images represent the exact cars owned by individuals. ]
Search used cars for sale and find the best deals near you at iSeeCars.com.
To get a FREE iSeeCars VIN Report for a car, click here.