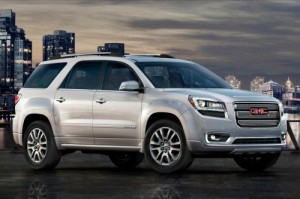 Getting all fired up for fall football and the fun of tailgate parties with family and friends? It might be time to scout around for the right-size vehicle to do this in comfort and style. While there are numerous choices out there, if you don't want to buy new, check out the following list of the ones we consider the nine best used cars for tailgating.
2011-2013 GMC Acadia – One of the three large three-row crossover SUVs from General Motors (the others being the Chevrolet Traverse and Buick Enclave), the 2011-2013 GMC Acadia provides up to eight tailgaters with upscale luxury and 24.1 cubic feet of cargo area behind the third row. Pre- and post-game entertainment is a must, so plug your iPhone up front and tend to your playlist in the back with your assorted crew. Pricing ranges from $16,995 (2011 GMC Acadia SL) to $43,981 (2013 GMC Acadia Denali).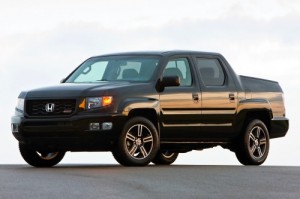 2012-2013 Honda Ridgeline – The five-passenger 2012-2013 Honda Ridgeline might be an ideal tailgating vehicle. Not only does the rear seat back flip down for additional cargo space, the tailgate flips down and opens from the side for easier access to the in-bed lockable trunk that serves as an ice chest for game day. While the bed doesn't have as much cargo capacity as a full-size truck, there's plenty of room for lawn or folding chairs, food and other tailgate necessities. Pricing ranges from $21,987 to $31,000.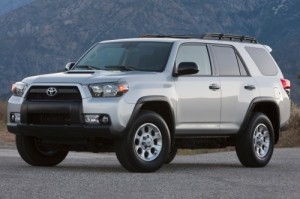 2013 Toyota 4Runner – You might need to travel off-road or down dirt roads to get to your tailgate destination, so the 2013 Toyota 4Runner may prove a good choice. While five-passenger seating is standard, an available third row bumps that to seven (although space is cramped in the third row). Rearview camera, sliding rear cargo floor with a 440-pound capacity and a nifty Party Mode feature that shifts the audio system's output to speakers in the liftgate so all can enjoy the sounds of the game or music. Prices range from around $26,800 to $38,988.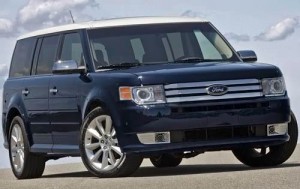 2010-2013 Ford Flex – With its roomy cabin, comfortable driving dynamics and seating for up to seven (captain's chairs that slide and recline reduce this to six), the 2010-2012 Ford Flex large crossover SUV seems designed with tailgate parties in mind. An optional refrigerated second-row console (available in Limited and Titanium trims) keeps beverages cool for thirsty tailgaters. With rear seats lowered, there's a maximum of 83 cubic feet of storage space. Prices range from $14,900 to $30,987.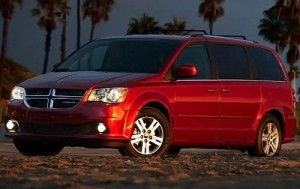 2011-2012 Dodge Grand Caravan – The seven-passenger Dodge Grand Caravan minivan provides roomy, comfortable transportation for tailgaters in a cabin that is well-crafted. Driver-side sliding doors and Stow 'n Go seats make getting in and out easy, and the rear-seat entertainment system features a Blu-Ray player, an HDMI port and two screens. Check out used prices that range from around $15,991 to $25,990.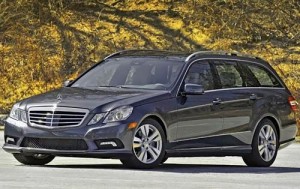 2011 Mercedes-Benz E-Class Wagon – If a wagon is better suited to your all-around needs, including those for the occasional tailgate party, check out the 2011 Mercedes-Benz E-Class wagon. Luxury, lots of space for passengers and cargo and rear-facing seats to get the party started. Power tailgate and rearview camera are standard. Prices are in the mid-$30,000s.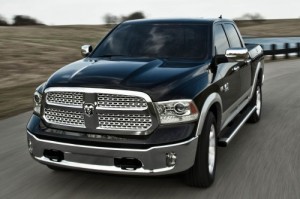 2013 Ram 1500 – As big trucks go, there's an awful lot to like about the 2013 Ram 1500 – for more than just tailgating. Key tailgate features sure to please include a lockable compartment in the truck bed, housed over the rear wheels, and miscellaneous underfloor storage (in Quad and Crew Cab models). The truck bed itself has copious space for seating to watch games or just hang out, plus hauling assorted tailgate party gear (like chairs, grills, coolers and such.) Pricing ranges from around $19,996 to the vicinity of $38,984.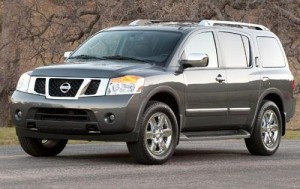 2011-2012 Nissan Armada – An eight-passenger, three-row SUV that won't necessarily win any styling contests (the basic design has been around a while), the 2011-2012 Nissan Armada nevertheless is a well-built, comfortable vehicle that will get you to the game and tailgate party just fine. The 60/40 split-folding third-row bench seat quickly and easily drops into the floor, and there's also an available power-folding option. There are numerous storage bins throughout the cabin. With rear seats folded, there's 97.1 cubic feet of storage space. Prices range from $24,500 to around $33,482.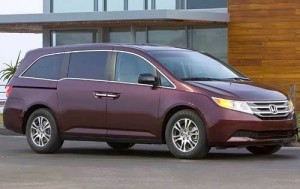 2011-2012 Honda Odyssey – The latest-generation Honda Odyssey minivan debuted for the 2011 model year, making the 2011 and 2012 years good choices for affordable tailgate transportation. Excellent built quality, spacious and comfortable seating areas (for up to eight), available power liftgate, chilled storage box, rearview camera and tons of interior storage space are highlights. Touring Elite adds an upgraded rear-seat entertainment system with widescreen video monitor and 12-speaker premium surround-sound audio. Prices range from $13,991 to about $33,992.
Search used cars for sale and find the best deals near you at iSeeCars.com.
To get a FREE iSeeCars VIN Report for a car, click here.