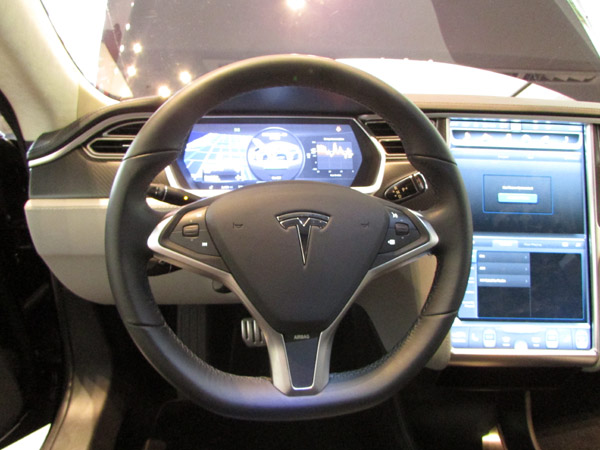 Tesla's sales model has been making headlines lately, so iSeeCars stopped into the Tesla Retail Store on Lincoln Road in Miami to learn more about these stores. The Lincoln Road Tesla is situated on the Lincoln Road Mall, an area that is filled with shops and restaurants – and actually closed to automobile traffic.
The store is clean, sleek and modern. In some ways we couldn't help but compare the design to an Apple store – with a bit more color. The similarities are really no coincidence though. Former Apple Retail exec George Blankenship (who recently departed Tesla) was in the role of vice president of ownership experience for Tesla. In a 2012 Forbes article, Blankenship says:
 "We're not selling you anything. We want you to feel differently when you leave the store. People start talking about Tesla not because we're pounding it into them but because they've experienced it themselves. The goal is to engage you in a way that you've never experienced in any other store."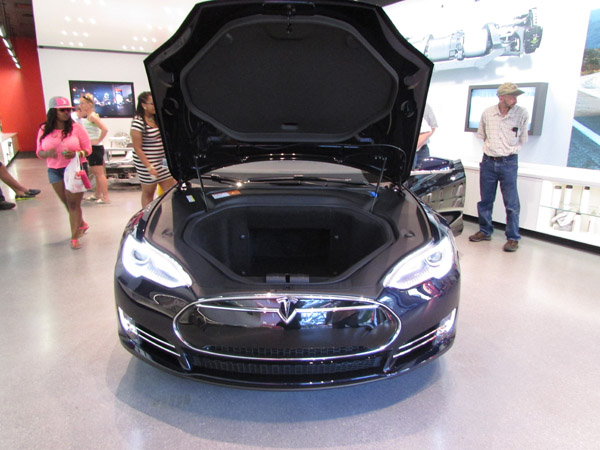 One of the hurdles that Tesla has had to overcome is the public's lack of experience with electric vehicles and making the rare Tesla vehicle a little more familiar. The retail store is designed to educate, inform and give an interactive experience to the consumer.
Upon a visit to the Tesla store on Lincoln Road, you can chat with information specialists and learn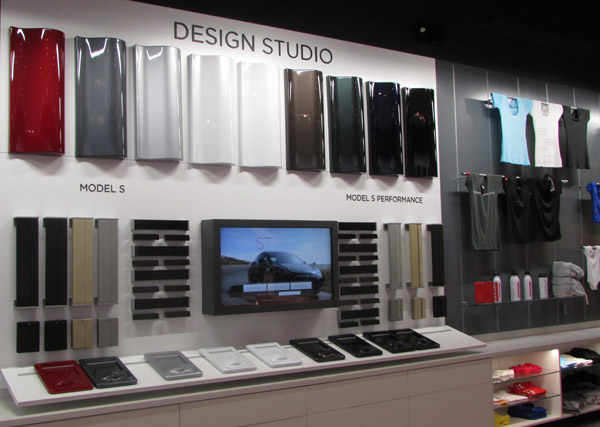 about electric vehicles and how one could fit into your everyday life. You can test drive a Tesla and even order one. There are color samples, trim information, rims and more for consumers to view and customize in the design studio (right). A private area in the back appeared to be reserved for those ready to place an order or with serious inquiries.
These stores are open to the general public and have a Model S on display that visitors can sit in and photograph. The atmosphere is warm, welcoming, and yes, very informative. And, if you're more of a fan and less of a shopper, you can also purchase a piece of Tesla gear.
Below are a few photos from our visit to the Tesla Store in Miami:
Search used cars for sale and find the best deals near you at iSeeCars.com.
To get a FREE iSeeCars VIN Report for a car, click here.