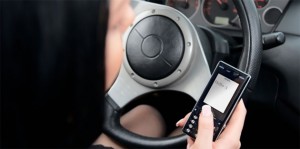 Unless you've been living under a rock, you know that distracted driving is a serious problem in America. We've become a nation addicted to our cellphones and to instantly having to send or view a text. Life simply can't go on without being constantly connected, right?
Well, when you're behind the wheel, it's not safe, period. The toll of lost lives and countless thousands of unnecessary injuries in crashes caused by distracted driving is mounting – along with pressure from safety organizations, the federal government, and now, automakers – specifically General Motors.
The world's largest manufacturer of vehicles (by sales), General Motors is supposedly getting ready to launch the first mass-produced vehicles with technology that can detect where your eyes are directed. In short, this eye- and head-tracking technology knows if you're distracted behind the wheel.
According to reports, Seeing Machines, a London-based Australian group, has signed a deal with Takata (maker of seatbelts and other safety goods) to supply General Motors with up to 500,000 of these gadgets that can be installed in vehicles over the next 3-5 years.
General Motors, for its part, says it won't comment on future product plans, which is pretty standard in the industry.
Automotive pundits and analysts say that carmakers have to get in this game or be run over by tech groups who seek to steal the market for "connected cars." One consultancy group, SBD, estimates that connected cars will represent one-third of all cars shipped by the year 2018.
Fully autonomous vehicles are probably generations off – at least to be commonplace on America's highways. In the meantime, say those in the know, "smart cars" with anti-distraction technology are likely to bridge the gap and improve safety at the same time.
How Does The Technology Work?
The tracking devices start by using sensors to measure the rotation of the driver's head to be able to alert the driver if they're not spending sufficient time viewing the road ahead or checking the rear-view mirror, for example.
The tracking device could one day also give drivers the ability to activate an app by merely looking at a certain point in the car (on the dashboard, perhaps), followed by touching a steering-wheel button. Other potential uses for the technology are protecting against theft by identifying the driver, or to stop a teenager from using Mom or Dad's car after curfew.
Privacy Concerns
Of course, the privacy advocates will be out in force as there are likely to be significant privacy concerns. How will manufacturers (and insurers, for devices that monitor driver behavior in exchange for lower rates) store and handle all that data it gathers?
According to insiders, Seeing Machine technology will not keep or transmit such information – at least, not initially.
What does all this sound like to you, the consumer? Would you buy a car that had a device that could potentially save your life by alerting you that you're driving distractedly? If you'd opt for blind-spot monitoring, lane-departure warning, drowsy driving alert, forward-collision warning and mitigation and other such high-tech safety features, is this such a stretch?
The bottom line is that automakers, General Motors and all the others, need to straddle the delicate line between providing consumers with the connectivity, apps, content-sharing and infotainment options they want – and to allow them to use such technology safely. It's a tricky balance, but one that's necessary to safeguard drivers, passengers and pedestrians.
Search used cars for sale and find the best deals near you at iSeeCars.com.
To get a FREE iSeeCars VIN Report for a car, click here.