Everyone knows that insuring a teenage driver is going to cost money. It is how much money that's going to entail that is often the problem. The facts are that teens are the riskiest drivers and insuring teens, especially those who are newly licensed, is unfortunately higher in some states than others. And male teen drivers are more costly to insure than female teen drivers.
To dive into the specifics of which states are most and least expensive to insure teen drivers, we turn to the just-released 3rd annual teen driver study from InsuranceQuotes.com and spoke with Laura Adams, the company's senior analyst.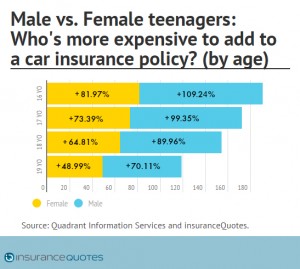 First, some highlights of the report.
Most Expensive States to Insure Teen Drivers
New Hampshire – premium jumps 115%
Premiums more than double in four other states: Wyoming and Illinois (104% each), Maine (103%), and Rhode Island (102%)
States with Lowest Increase to Insure Teen Drivers
Hawaii – it costs only 17% more to insure teen drivers
New York state – an increase of 53%
Michigan – a 57% increase
North Carolina – an increase of 60%
Other tidbits:
16-year olds cause the highest premium spikes (96%)
At age 19, the average impact drops to 60%
Teen male drivers are much more expensive to insure than teen females (92%, 67%, respectively)
Only six states prohibit the use of gender in determining rate calculations: Hawaii, Massachusetts, Michigan, Montana, North Carolina and Pennsylvania.
Q&A With Laura Adams
Why is Hawaii the least expensive state to insure teen drivers?
"Hawaii is the least expensive state to insure a teen driver because it's in the unique position of prohibiting auto insurance companies from using age, number of years of driving experience, or gender as a factor when setting rates," replied Adams. "So the rate increase for adding a teen is equivalent to adding an additional adult to a policy."
What about New York, Michigan and North Carolina?
"North Carolina is a relatively inexpensive state for adding a teenage driver because it prohibits auto insurance companies from using age or gender as a factor when setting rates, said Adams. "Massachusetts, Michigan, Montana, and Pennsylvania allow age as a factor, but not gender. So in these states, the rates for male and female teen drivers are the same."
Why is New Hampshire the most expensive state for insuring teenage drivers? Is it solely the weather or something else?
"Each state regulates insurance differently, which is why there are large swings in the percentage increases for adding a teen driver from state to state," Adams replied. "Data from the InsuranceQuotes study revealed that New Hampshire regulation allows carriers to use age as a major factor when setting auto rates."
Is the teen insurance rate actually down from years past? What are the possible reasons for that? Teens don't drive as much, prefer using Uber, don't have money for gas, etc.?
"This is our 3rd annual Teen Driver Study," Adams said, "so we have several years of trend data about how adding a teenage driver affects auto insurance rates. In 2013 the average rate increase was 84%, 2014 showed 79%, and 2015 showed 80%.
"We do know that the number of teen drivers has decreased over the past 2 decades. My hunch is that this is due to a combination of factors, such as the high cost of owning and insuring a vehicle, social media influences, and the high unemployment rate for teens."
Can we look forward to a continuing downward trend of teen driver insurance costs or is this considered temporary?
"I don't foresee a trend of declining insurance costs for teenage drivers," said Adams.
Tips to Drive Down Costs 
We were also curious what recommendations Adams has for parents of new teen drivers – to help drive down the cost to insure them, to help them gain more experience behind the wheel, etc. Here, Adams offers some practical advice that parents of newly licensed teen drivers may find helpful.
"Parents of teen drivers need to look for every way possible to keep their auto insurance costs as low as possible. Here are several tips:
Use the good student discount. Most auto insurers offer a discount to young drivers in high school or college who maintain a "B" average or better. Parents must submit verification of academic performance at each policy renewal period. The savings could be as high as 20% to 25% with some carriers.
Use the driver education discount. Many auto insurers offer a discount if your teen driver has successfully completed an in-person or online defensive driving course. This could translate into savings of 5% to 10% if the course is sanctioned by your insurer.
Shop and compare rates. Getting multiple insurance quotes is one of the best ways to make sure you're not overpaying for a teen driver. Not all insurers evaluate a young driver the same way, so make sure you do an apples-to-apples policy comparison and find out if there's a better option for your family."
To see the full report, and a graphic showing where all the states rank in terms of average premium increase when adding a teenage driver, click here.
Also remember that parents do have the power. Monitor your teen driver's behavior behind the wheel. Encourage safe driving behavior by modeling it yourself. As your teen gains experience driving safely, you'll feel more comfortable knowing that this is invaluable for lifelong driving. As for the costs of insuring your teen driver, only time and a few other factors will bring that premium down.
Search used cars for sale and find the best deals near you at iSeeCars.com.
To get a FREE iSeeCars VIN Report for a car, click here.