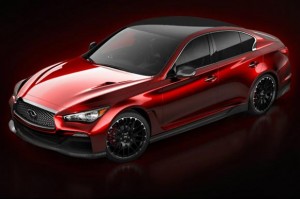 The 2014 North American International Auto Show in Detroit doesn't start until January 13, but Infiniti is out front ahead of other automakers in releasing the first images of its all-new concept, the Q50 Eau Rouge.
As the French name implies, the Eau Rouge is all about red. Actually, the concept was named for a legendary high-speed corner at the Spa-Francorchamps circuit in Belgium. As for the high-performance design concept car, Infiniti says it's aerodynamic design draws inspiration from the automaker's collaboration with four-time Formula One World Champions Red Bull Racing.
The Eau Rouge features extensive changes from a stock Q50 premium sports sedan. These include deeply detailed and aggressive carbon-fiber bodywork: roof, side skirts, front splitter, rear diffuser, and door mirror casings.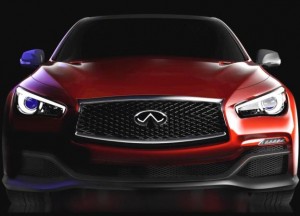 Lower and wider than the standard Q50 sports sedan, other Eau Rouge highlights include 21-inch lightweight forged alloy wheels, and a dual-exit exhaust sports system beneath a large integrated rear spoiler.
The only shared components between the Eau Rouge and the standard Q50 are the roof and door profiles.
Executive Design Director Alfonso Albaisa said this: "The design has a number of distinctive Formula One inspired touches. In particular, the sculpted front wing assembly and the rear aerodynamic packaging take their cues from the RB9 race car.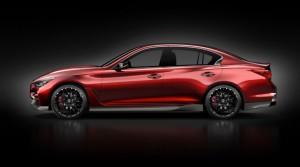 No word yet on what type of handling the Eau Rouge will have, whether it will feature Infiniti's wireless steering touted as a killer app on the standard Q50, or even what engine upgrades may be featured. One look at the huge hood vents, however, hints at something quite powerful underneath the hood.
Note that the standard 2014 Infiniti Q50 is powered by a 328-horsepower 3.7-liter V-6 engine coupled with a seven-speed automatic transmission. The automaker claims 0-60 mph in 5.3 seconds. The Qt0 Hybrid has a combined total output of 360 horsepower from a 3.5-liter V-6 gasoline engine and a 50 kW electric motor, capable of doing a 0-60 mph sprint in 4.9 seconds, according to Infiniti specifications.
Will the Q50 Eau Rouge ever see the light of day? We can only hope that this previews future offerings in the Infiniti Performance Line (IPL) products. After all, as Albaisa said, "From our shared passion for performance with Infiniti Red Bull Racing grew a collective desire to produce a vision of what a high-performance Infiniti Q50 could look like" (emphasis added).
Want more details? Infiniti promises to reveal all during a press conference held at the North American International Auto Show at 9:20 a.m. ET on January 14.
In the meantime, Infiniti is taking to the social networks to empower consumers to help "build" the Q50 Eau Rouge ahead of its official world premiere in Detroit. From today on, online advocates can go to social media channels such as Facebook, Weibo and Twitter (hashtag #F1Q50) to share their views and comments. There they'll build the image of the Q50 Eau Rouge concept in a virtual garage. Each "share," promises Infiniti, will help build individual components of the Q50 and the faster fans share, the quicker the car will be "built."
Search used cars for sale and find the best deals near you at iSeeCars.com.
To get a FREE iSeeCars VIN Report for a car, click here.