If you're looking for a mid-size luxury sedan, you'll be very interested in this matchup. The Audi A6 and the BMW 5 Series are two of the best-equipped mid-size luxury sedans on the market,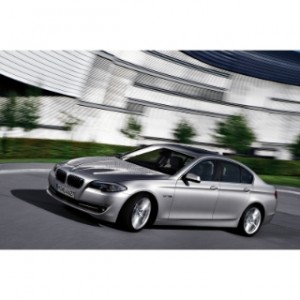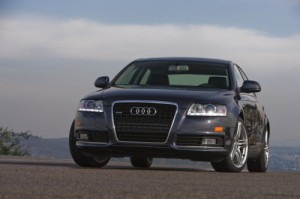 and we've researched all the best archives at Car and Driver, Consumer Reports, Edmunds, and Motor Trend, to find the best value of the new 2010-2011 models. European manufacturers are known for their styling and performance, and both of these models only exemplify those characteristics. Let's take a look at the breakdown and see who comes out as the best overall value.
Powertrain: Engine choices for both of these luxury dynamos are plentiful. The 3.0L V6 option on both models comes with the option for a turbocharged version that is nearly identical in torque and horsepower. The same can be said as you move up in engine choices. The 4.2L V8 of the Audi is just as quick as Audi's V10-powered S6. It also delivers a very reasonable fuel efficiency for an 8-cylinder engine at 18/26 mpg (city/highway). Contrarily, the 4.8L V8 of the BMW is more powerful in both torque and horsepower. It completed the sprint to 60 mph in a very quick 5.8 seconds and offers nearly the same fuel economy as the Audi at 18/27 mpg. All-Wheel Drive is available on either model as is the choice of manual and automatic transmissions.
Winner: BMW 5 Series, by reason of a slightly more powerful V8
Braking/Safety/Handling: Both models come standard with antilock disc brakes, stability control, and an array of airbags. Braking on the Audi is average, coming to a stop from 60 mph in 121 feet. It did manage a safety rating of Good from the IIHS in crash testing though. That's much better than the three stars earned by the BMW for frontal crash driver protection. However, the 5 Series does come with an array of gadgets to prevent a head-on collision to begin with. A lane departure warning system alerts drivers via steering wheel vibration should the vehicle begin to drift from its lane. Hill start assist and descent control are also standard on all AWD models for the Beamer. Handling on the BMW appears to be much better as it is very comfortable on winding roads. The A6 is satisfactory but doesn't offer much handling benefit when on rough terrain.
Winner: BMW 5 Series
Cargo/Hauling: The Audi appears to be the roomier version in terms of cargo space in both the sedan and wagon models. The A6 sedan has a trunk capacity of 16 cubic feet while the wagon offers 34 cubes which can expand to 59 cubic feet with the rear seats folded down. The Beamer can hold 14 cubic feet of equipment in the sedan model and has a max capacity of 58 cubes in the wagon. Close, but not quite up to the Audi's range.
Winner: Audi A6
Comfort/Interior: Interior comfort is a staple of the luxury field and both of these models bring that luxury right to life. The A6 offers one of the most spacious, comfortable cabins available. On the other hand, the BMW matches that comfort step for step. "Comfort" front seats are an available option on the 5 Series and well worth it, capable of putting passengers to sleep in no time. Finish and materials quality on either animal is well above standards.
Winner: Tie
Amenities/Options: The list of options for just about any luxury vehicle is ample, let alone these two gems. You name it, these two probably have it. Audi combats BMW's "Comfort" package with a "Cold Weather" package that includes heated front and rear seats and a heated steering wheel. This one comes down to the navigation/drive systems. Audi's MMI (Multi-Media Interface) is actually better on lower trim models as BMW's iDrive system can be rather fussy if not coupled with the navigation system.
Winner: Audi A6
Value for the $: The MSRP for the Audi starts at $45,200 and climbs to $53,310 for the Avant Wagon. The BMW starts only slightly higher at $45,950 but can climb up to $55,950 for the 5 Series Wagon.
Winner: This is another one of those really close calls. Normally this would come down to which offers a better warranty, but those match up as well with both vehicles offering 4 year/50,000 miles bumper-to-bumper. The BMW is slightly higher in price but it also comes with four years of free maintenance where the Audi offers only one year. This could actually make up the difference in price. If you're shopping for a luxury sedan that offers the best of power, overall ride, and gadgetry, you're probably very safe with either choice. Despite their separate manufacturers, these two could be sisters.
Search used cars for sale and find the best deals near you at iSeeCars.com.
To get a FREE iSeeCars VIN Report for a car, click here.