Sometimes there's a car story you hear about in passing but don't have the time to read it all at once. Maybe you'd like a quick recap of some of the top or most interesting or unusual auto stories on a regular basis – without having to get on an email list. That's the reason we're starting a biweekly section we'll call "Auto News Roundup." This is the first edition.
Want A Free Tesla Model X? Current Tesla Owners Who Refer 10 Friends Who Buy Can Get One Free 
Who doesn't love the idea of getting something for free – especially when it's a super-elegant vehicle that costs in the vicinity of $100,000? In this case, it's the Tesla Model X, but the catch is that you have to first own a Tesla Model S and then recommend Tesla Model S to 10 friends who each wind up buying one of their own. But there's still an incentive for one person you talk up a Tesla who buys: You each get $1,000. This word-of-mouth offer is good through October 31 and is offered straight from Tesla honcho Elon Musk. Not bad, right? Now, the only problem most of us have is that we can't afford a Tesla in the first place. Maybe Tesla could figure out a way we could take part in this unique offering? Just saying.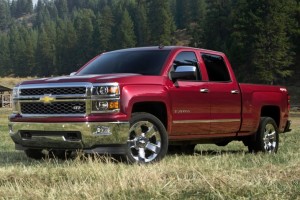 All Six Major Automakers Report Record July Sales—Spurred By Demand For Trucks, SUVs 
A strengthening economy, low prices on gasoline and pent-up consumer demand combined to deliver a strong month of July sales tally for all six major automakers. Collectively, they sold nearly 1.2 million cars, trucks and SUVs. An uptick in personal income is also mentioned by analysts as part of the reason for the sales surge – which exceeded expectations in a report by Kelley Blue Book. Chevrolet, in fact, saw a 24 percent increase in sales of its pickup trucks, vans and SUVS and marked its best July sales since 2007. Separately, Kelley Blue Book said the average transaction price in July for light vehicles inched upward to $33,453 – which is a gain of 2.6 percent year over year.
Bad News on Teen Drivers: 88 Percent Say They Use Apps While Driving 
It's not a joke, but it is enough to give parents something else to worry about. A new survey from Students Against Destructive Decisions and Liberty Mutual Insurance found that 88 percent of teens who consider themselves "safe" drivers admit to using apps when behind the wheel. What apps are they so keen on using? Among survey respondents, 38 percent use Snapchat, 20 percent Instagram, 17 percent Twitter, 12 percent Facebook and 12 percent YouTube. Parents should talk to their teens to discourage this unsafe distracted driving behavior.
Lexus To Pilot "No Haggle" Policy With 12 Dealers In Early 2016  
Announced during the annual automotive industry event in Traverse City, Michigan, Japanese automaker Lexus says it's going to pilot a "no haggle" policy with a dozen hand-picked dealers in the first quarter of 2016. Lexus indicated that it may expand the policy in 2017, but that it wouldn't be a set policy for Lexus. The brand also announced separately that it is giving "serious" consideration to adding a second flagship model to its lineup, with the new entrant selling alongside the LS sedan, the current top-end model.
Several years ago no one thought much about hacking cars. If anything, hacks were more likely with computers. That's all changed today with the cybersecurity landscape now posing threats to cars from would-be hackers. First it was a Toyota Prius, followed by a 2015 Jeep Cherokee that two security/privacy sleuths were determined to hack to point up the vulnerabilities inherent in the UConnect infotainment system. Then it was the GM OnStar mobile app and then a Tesla Model S that was deliberately hacked. The upshot is a whole lot more attention being paid to the vulnerabilities inherent in automotive systems – the whole car, not just infotainment systems and keyless access. There's even a bill pending in the U.S. Senate that would create the first-ever cybersecurity standards. One thing is certain: This issue isn't going away anytime soon. We'll keep you posted.
Best Cars For Back to School
It's about that time again; time to get serious about finding some wheels for students going back to school. That is, if you're a parent who's trying to liberate yourself from shuttle duty and/or your teen son or daughter is old enough and mature enough to responsibly handle driving privileges and all that goes with it. Finding an affordable, safe, practical vehicle to buy for your teen is always a challenge, balanced of course by what your teen considers to be a fun-to-drive or cool vehicle to be seen in. Kelley Blue Book just came out with their list of the back to school cars for 2015 that's worth a look – and we took it in this piece. The good news is that each of the cars on the list not only has a lot going for it that parents will like, they also carry a high degree of appeal for the teen driver in your household. That being said, there's only one good way to get started on this potentially nerve-wracking car shopping experience: Just do it. Hopefully these 10 picks will be enough to get you started.
Search used cars for sale and find the best deals near you at iSeeCars.com.
To get a FREE iSeeCars VIN Report for a car, click here.