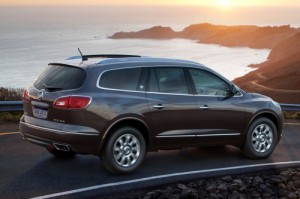 Hauling a brood of growing kids to and from sports practice or games can prove a challenge in many family sedans. There might be room for two kids and a couple of hockey sticks or basketball gear, but any more than that and you're in trouble. Factor in chauffeuring your children's teammates and gear and you really could use a more versatile, often larger, vehicle.
After perusing the features and specifications of a number of family-friendly used vehicles, we've arrived at this list of the best 10 for families with athletic children.
2012-2014 Buick Enclave – Versatility, comfort, space and convenience in a more luxurious interior are what distinguish the 2012-2014 Buick Enclave as a go-to crossover for families requiring room enough for athletic kids and their gear. The Enclave offers spacious comfort for the driver and seven growing sports players. The Smartslide seats and power lift gate proved easy access to stored sports equipment and the third row seats fold down for even more gear storage space. Pricing ranges from $22,998 to $50,925.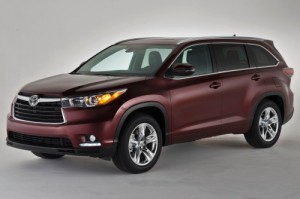 2014 Toyota Highlander – The completely redesigned 2014 Toyota Highlander is a little bit longer than its predecessor. That makes it much more family-friendly for hauling athletic kids and their gear. The large, three-row crossover SUV may not be the most user-friendly in the third row, but the first two rows are spacious, comfortable and there are many nifty features and available options to please everyone. Prices range from $30,991 to $43,995.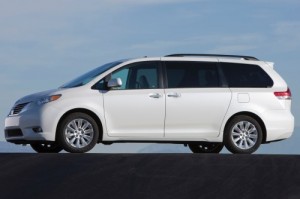 2011-2014 Toyota Sequoia – The full-size, three-row 2011-2014 Toyota Sequoia crossover SUV is for large families or those requiring seating for seven or eight. The third-row seat folds flat into the floor and with second and third rows folded, there's a total of 120 cubic feet of cargo room. With passengers in place, there are still many storage options. Off-road and boat towing capability further enhance the Sequoia's appeal for families with athletic kids. Prices range from $27,970 to $63,900.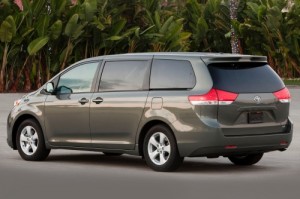 2011-2014 Toyota Sienna – Roomy, comfortable seating for up to eight, ample cargo space, smooth and powerful V6 engine, available all-wheel drive and features and options galore make the 2011-2014 Toyota Sienna minivan a must-see choice for a family vehicle capable of transportation duties with athletic children. Look for prices from $16,981 to $48,300.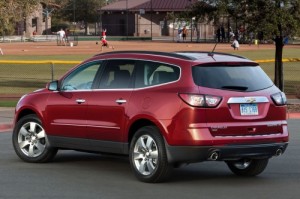 2012-2014 Chevrolet Traverse – Want to haul the kids and a good number of the hockey team plus gear, or several of your brood and various and sundry sports equipment en route to practice or game? The 2012-2014 Chevrolet Traverse deserves a good look. Not only does it seat eight passengers, it's roomy, highly maneuverable, comfortable and versatile. The split-folding third row is easily accessed and roomy enough for adults (or tall children). Pricing ranges from $17,495 to $44,995.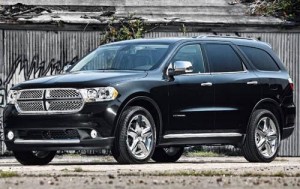 2011-2014 Dodge Durango – Dodge brought back the Durango crossover in 2011 after being absent for one year. That's good news for families looking for a roomy vehicle that can seat up to seven and also easily carry appropriate sports or athletic equipment. Easy to maneuver, with high-quality materials and a very comfortable cabin, the 2011-2014 Dodge Durango might just be the perfect family hauler. Prices range from $15,498 to $46,200.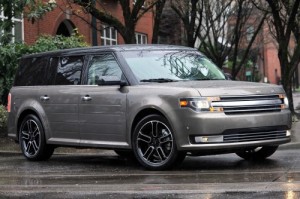 2012-2014 Ford Flex – A truly unique wagon/crossover with seating for seven, the Ford Flex may just be the solution for hauling multiple kids and sports equipment to and from games and practice. The Flex has three spacious rows and the third row can even accommodate kids (and adults) taller than 6 feet. Low ride height and tumble-forward seats make for easy in and out with gear. Look for prices ranging from $15,997 to $50,750.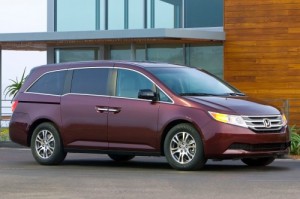 2011-2014 Honda Odyssey – What list of large family vehicles would be complete without the longtime champ Honda Odyssey minivan? The Odyssey can seem like a living room on wheels, it's that spacious and comfortable, and its versatility is quite unequaled, especially among minivans. With seating for up to eight in three rows, the second row has a neat configuration where outboard seats tilt and slide forward to allow adjustable second-row width. Options (or standard equipment, depending on trim) include a cooling box, rear entertainment system, blind spot monitoring system and more. Pricing ranges from $17,210 to around $40,990.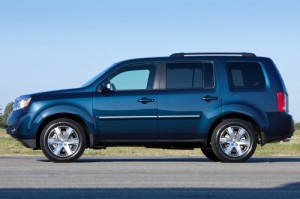 2011-2014 Honda Pilot – For a large crossover SUV, the 2011-2014 Honda Pilot acquits itself nicely as a family vehicle to tote a passel of kids and their sports equipment. Seven or eight-passenger seating, plenty of nooks and crannies to stow things, and comfort and versatility abound. Pricing ranges from $16,888 to $42,250.
2013 Nissan Pathfinder – The completely redesigned 2013 Nissan Pathfinder is a roomy and versatile three-row crossover SUV that's equally at home doing daily chauffeuring duties with kids going to sports practice or weekend recreational activities. The second row has a tilt-and-slide feature and the third row is roomy enough for 6-foot passengers. High-quality materials and a very nice cabin seal the deal. Check out prices ranging from $19,994 to $41,070.
Search used cars for sale and find the best deals near you at iSeeCars.com.
To get a FREE iSeeCars VIN Report for a car, click here.