There are several advantages to being tall: being able to reach things the average mortal cannot; better-than-average basketball skills; and, a much cooler ride when the sunroof is open. There are, however, some drawbacks to having a height advantage. The largest of those drawbacks is finding an automobile where ducking in order to drive is not necessary. If you're one of the lucky few who can see just a little bit further down the road than the rest of us, here are the best 2012 cars for tall people, as researched at Consumer Reports, Edmunds, Motor Trend, Car and Driver, and J.D. Power & Associates.
1. 2012 Toyota Avalon        New Model MSRP: $33,195
With large front bucket seats, the Avalon provides ample head and legroom in the front, but the stretch-out space in the rear is the real reason the Avalon tops this list. "The Avalon's aft quarters with a standard 60/40-spllt reclining rear seatback and superb leg/head room, they're simply the best in class." Even with all that extra interior space, the Avalon still manages to possess a trunk that seems cavernous compared to its listing of 14.4 cubic feet. Suspension, handling, and performance are all comfort-oriented.
2. 2012 Buick LaCrosse        New Model MSRP: $30,170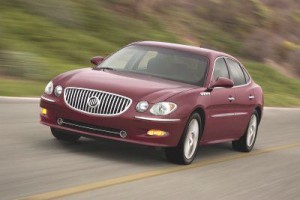 With additions like eAssist, an updated driver's seat, and additional interior technology, the Buick LaCrosse is a treat for anyone looking for a large luxury vehicle without the large luxury price tag. Not only is the room ample for taller drivers and passengers, but it's the little features that make the LaCrosse a unique buy. An available heated steering wheel, heated front seats, and an ice-blue ambient light from the dashboard are all the little things that make the LaCrosse worthwhile.
3. 2012 Hyundai Equus        New Model MSRP: $59,000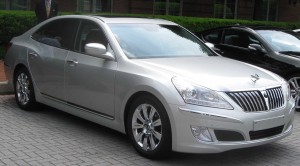 The Equus carries with it a huge price tag, nearly as big as its interior space. In all reality, the price tag really isn't that large when you're speaking of a luxury automobile. Especially considering that options don't increase the overall price nearly as much as competitors. "No matter which Equus trim you choose, you'll find a car with sufficient headroom and legroom for everyone and an interior laced with rich, warm wood and fine leathers." Amidst all that interior comfort you'll also find a vehicle that is as quiet as it is luxurious.
4. 2012 Dodge Charger        New Model MSRP: $25,495
Tall people aren't always looking for luxury sedans and SUVs. Sometimes you just need a little muscle under the pedal. "The 2012 Dodge Charger fares well as a large sedan, but when it comes to affordable performance, the Charger has no peer." When it comes to tall people, however, it's probably best to stay in the front seat. The rear is ample for adults under six-feet tall, but headroom can get to be slim if you cross that mark. The reduced power of the V6 is still respectable, but true driving enthusiasts will want the V8. True Charger fans will spend the big bucks and get the Hemi that comes with the Charger SRT8.
5. 2012 Volkswagen Passat        New Model MSRP: $19,995
While many may not have expected to see the Volkswagen brand on a list of cars for taller folks, the Passat can more than hold its own. Even with some cost-cutting taking place in interior material quality, this VW has an ample amount of head- and legroom. "The redesigned 2012 Passat combines the driving dynamics and interior quality that VW fans expect with the roominess, comfort and value that the wider public demands."
Search used cars for sale and find the best deals near you at iSeeCars.com.
To get a FREE iSeeCars VIN Report for a car, click here.