Families with the need to transport up to seven passengers may well consider a three-row SUV for its larger passenger and cargo-carrying capacities as well as overall styling, comfort, features, safety and fuel economy.
But three-row SUVs also cost more than their five-passenger versions, as a general rule. Combing through the list of what's currently available, here are the best 2013 3 row SUVs under $30,000. Note that with destination charges, some will exceed the $30,000 thresh hold, but by taking advantage of available incentives, you should be able to get what you want for right around the target price (excluding any additional options, taxes and other charges).
2013 Dodge Journey – The affordable 2013 Dodge Journey midsize crossover SUV offers seating for up to seven, an interior that's high-quality and feature-laden, and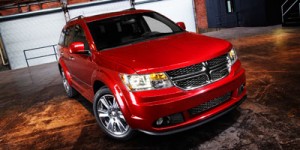 pricing and fuel economy figures on par with smaller SUVs. The Journey American Value Package (AVP) starts at $19,590, SE at $21,590, SXT and Crew at $22,995 and $27,995, respectively, for front-wheel drive (FWD). Figure about $2,000 more for all-wheel drive (AWD). Consumer Guide comments: "Journey is among the lowest-priced midsize entries in the midsize-SUV segment. It's also one of the only vehicles of any stripe to offer built-in child booster seats."
2013 Mitsubishi Outlander – The only compact SUV for 2013 to offer three rows of seating – although the third row is tight quarters – is the 2013 Mitsubishi Outlander. Except for the base trim, which seats only five, all other versions of the Outlander seat seven. Pluses include sporty and nimble handling, good warranty and attractive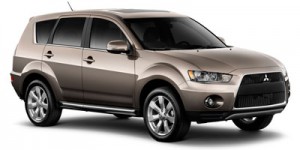 pricing. Pricing for the Outlander SE begins at $23,995, while the GT starts at $26,595.
2013 Kia Sorento – Looking for a midsize SUV with three rows that's less than $30,000? The 2013 Kia Sorento, a Top Safety Pick from the Insurance Institute for Highway Safety (IIHS), starts at under $24,000 for Sorento LX and around $27,000 for EX. Kelley Blue Book says that the Sorento is "well-mannered, easy to maneuver and relatively comfortable," and calls it a "capable, family-friendly crossover SUV that won't break the bank yet still has plenty of features."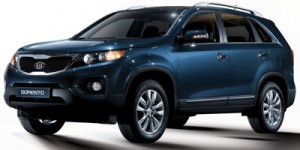 2013 Nissan Pathfinder – The all-new 2031 Nissan Pathfinder offers consumers in need of a roomy, three-row, seven-passenger SUV more than just sleek styling. Even with seven passengers, the EZ Flex seating system makes getting in and out of the Pathfinder effortless. With all three rows occupied, there's still room for up to 16 cubic feet of cargo. Fold down the third row, and there's 37 cubic feet.  With the second- and third-rows folded down, the Pathfinder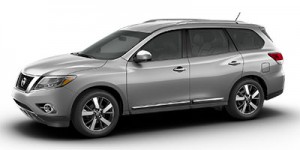 offers 79.8 cubic feet of cargo space. Powered by a 260 horsepower 3.5-liter V6 engine, the Pathfinder achieves an EPA-estimated 20 mpg city/26 mpg highway/22 mpg combined. Pricing starts at $28,850 for the Pathfinder S.
2013 Dodge Durango – How compelling is the 2013 Dodge Durango midsize SUV? Kelley Blue Book spells it out: "If you require a vehicle that can carry seven people, tow up to 7,400 pounds and still fit easily into your garage, the 2013 Dodge Durango tops a very short list." Durango SXT pricing begins at $29,495.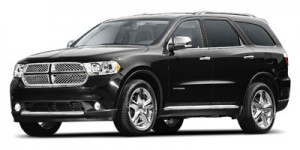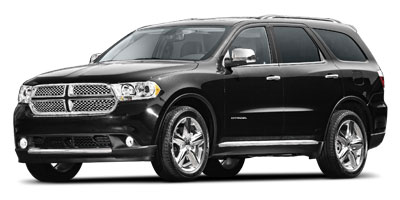 2013 Honda Pilot – The least-expensive 2013 Honda Pilot eight-passenger SUV is the LX trim in front-wheel drive, with prices starting at $29,520. Seats in the first and second rows are comfortable and spacious, while reviews on the third row are mixed with some saying it is adult-friendly while others think it's only suitable for kids. Still, the Pilot is a practical family hauler that Consumer Guide says "delivers a rewarding combination of performance, utility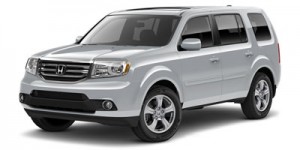 and passenger accommodations…a well-executed crossover and one that's very much worthy of a top spot on any family's shopping list."
2013 Mazda CX-9 – The 2013 Mazda CX-9 large, seven-passenger crossover SUV in front-wheel drive configuration is priced from $29,785 for the base Sport model. Exterior styling and interior changes mark the CX-9's most significant freshening to date. Edmunds notes: "We expect a lot from large SUVs nowadays. Besides the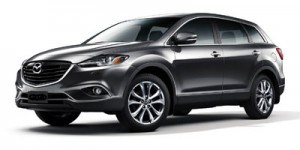 obligatory amount of passenger and cargo space, we also have become accustomed to a decent amount of luxury and features aplenty. What we don't expect from these behemoths is decent cornering prowess, but that's exactly what you'll get with the 2013 Mazda CX-9."
To see other quiet cars, see the Top 3 Quietest Cars
Search used cars for sale and find the best deals near you at iSeeCars.com.
To get a FREE iSeeCars VIN Report for a car, click here.