If you're looking for the best 2013 3 row SUVs with good gas mileage, be prepared for some trade-offs. First, the most fuel-efficient SUVs capable of transporting seven passengers will either be hybrids or will likely have smaller, four-cylinder engines – but not always. In addition, they're usually front-wheel drive (four-wheel and all-wheel drive fuel economy numbers are slightly less).
For three-row SUVs that really demonstrate their worth on the road by eking out every last drop of fuel, you're likely not going to be getting into some of the super-large family haulers such as the Chevrolet Suburban (which doesn't come as a hybrid). Still, there are a number of choices that should prove sufficient to meet individual family needs.
Here are six of the most fuel-efficient of the current crop of 2013 SUVs. To qualify, the estimated fuel economy rating from the EPA has to be at least 21 mpg. Fortunately, there are several that exceed that, two that meet it, and a whole lot more that are close.
2013 Toyota Highlander Hybrid – The EPA rates the estimated fuel economy of the seven-passenger Highlander Hybrid at 28 mpg city/28 mpg highway/28 mpg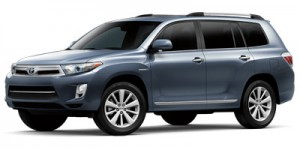 combined. That's a simple number to remember. It's also the highest-rated SUV with three row seating in terms of gas mileage. The Highlander Hybrid is powered by a 3.5-liter six-cylinder engine mated with automatic transmission. Prices range from $39,970 to $46,170. Curious about the regular Highlander? In two-wheel drive configuration, the four-cylinder Highlander gets 20/25/22 mpg while the V6 version gets 18/24/20 mpg.
2013 Kia Sorento – The EPA rates the 2013 Kia Sorento in EX trim at 21/30/24 mpg in front-wheel drive and 21/27/23 in all-wheel drive. In the EX, powered by an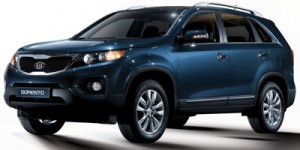 advanced 2.4-liter four-cylinder engine with direct injection and six-speed automatic transmission, third-row seats are an extra-cost option. The Sorento LX and SX have standard third-row seats, and are powered by a non-advanced four-cylinder engine that gets 21/30/24 mpg and 3.5-liter V6 engine, getting 20/26/22 mpg, respectively, in front-wheel drive. Starting price for the 2013 Kia Sorento EX is $26,950.
2013 Ford Explorer – One of the most recognized SUVs, the 2013 Ford Explorer offers several powertrains among its many trims, but only one that nets the best gas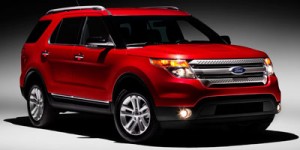 mileage – if that's what you're looking for. The new turbocharged, direct-injected 240-horsepower 2.0-liter EcoBoost four-cylinder engine in the Explorer, which is only available in front-drive configuration, attains an EPA-estimated 20/28/23 mpg fuel economy. Towing suffers a bit, only up to 2000 pounds, not the 5000 pounds in V6-equipped Explorers. Pricing on the 2013 Ford Explorer starts at $29,100.
2013 Nissan Pathfinder – Fully redesigned, the 2013 Nissan Pathfinder is now more car-based and comfortable for a family of seven, offering three usable rows of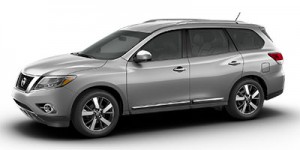 passenger space. A continuously variable transmission and front-wheel drive are standard, and the Pathfinder is powered by a 3.5-liter V6 engine that gets 260 horsepower. More importantly, for families looking for a midsize SUV with good fuel economy, the Pathfinder delivers an EPA-estimated 20 mpg city/26 mpg highway and 22 mpg combined. With four-wheel drive, the numbers are 19/25/21 mpg. Pricing starts at $28,650.
2013 Cadillac Escalade Hybrid – The largest and most luxurious of the three-row SUVs in this list, the eight-passenger 2013 Cadillac Escalade Hybrid is rated by the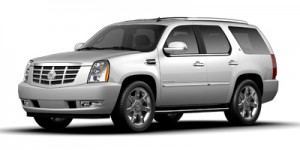 EPA at 20/23/21 mpg in two- and four-wheel drive configurations. The same fuel economy ratings hold true for the Escalade's corporate siblings, the 2013 Chevrolet Tahoe Hybrid and GMC Yukon Hybrid. Starting price for the 2013 Cadillac Escalade Hybrid is $73,850.
2013 Hyundai Santa Fe – Powered by a 3.3-liter V6 engine matched with a six-speed automatic, the seven-passenger, three-row 2013 Hyundai Santa Fe crossover SUV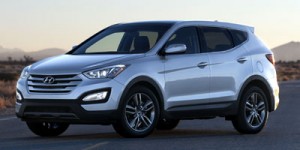 achieves an estimated 18/25/21 mpg fuel economy – and can still tow up to 5000 pounds. The Hyundai Santa Fe, which is the larger version of the five-passenger Santa Fe Sport and replaces the outgoing Hyundai Veracruz, goes on sale soon. Pricing has not yet been announced.
Four of these SUVs are also Top Safety Picks by the Insurance Institute for Highway Safety (IIHS): the 2013 Toyota Highlander Hybrid, Ford Explorer, Kia Sorento and Hyundai Santa Fe.
Search used cars for sale and find the best deals near you at iSeeCars.com.
To get a FREE iSeeCars VIN Report for a car, click here.