If you are a tall driver or passenger riding in an SUV, you don't want your head grazing the head liner nor have your legs scrunched so that you have to bring your knees too far up. Seat comfort and travel, along with adjustability, forward outward visibility, accessibility of controls – all are critically important factors for comfortable and safe driving and riding.
Choosing the best 2013 SUVs for tall people, then, is dependent upon the best ergonomics inside the cabin, as well as standard or optional features designed with tall people in mind. The following eight 2013 SUVs may very well fit the bill:
2013 Nissan Pathfinder – The completely redesigned 2013 Nissan Pathfinder three-row, seven-passenger midsize SUV boasts more than ample 42.2 inches of front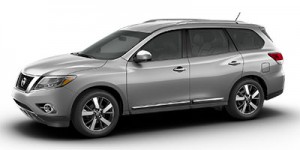 headroom and 42.3 inches of legroom. In the second row, passengers have 39.4 inches of headroom and 41.7 inches of legroom. Third-row passengers have 30.7 inches of legroom. Road & Track says of the larger Pathfinder, "Nissan has put the added inches to good use in the roomy interior, whose middle row seats adjust fore and aft by as much as 5.5 inches, with third-row seat access that doesn't require contortions."
2013 Ford Flex – As Edmunds observes, "…the 2013 Ford Flex is the rare crossover [SUV] that allows 6-footers to comfortably fit in (and reach) all three rows." Headroom and legroom for the front row is 41.8 and 40.8 inches, respectively. In the second row, passengers have 40.5 inches of headroom and an extremely generous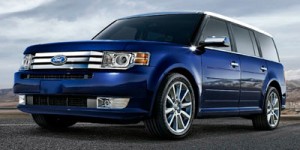 44.3 inches of legroom. The third row of the seven-passenger Flex has 33.3 inches of legroom.
2013 Subaru Forester – For a compact crossover SUV, the five-passenger 2013 Subaru Forester provides more room inside for the tall driver and passengers than might be expected. Front seats, although flat and short, are at a convenient height. The driver and front passenger seats are roomy and height adjustable and three adults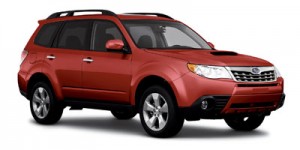 can comfortably sit in the rear seats. Headroom in the front and rear is 41.6/40.4 inches, respectively. Front/rear legroom is 43.1/38.0 inches.
2013 Chevrolet Equinox – The compact 2013 Chevrolet Equinox (and its corporate sibling, the GMC Terrain), with its comfortable and spacious interior, affords generous headroom and legroom for front seat passengers, with 40.9 inches of headroom and 41.2 inches of legroom. In the rear, the numbers are 39.2 and 39.9 inches,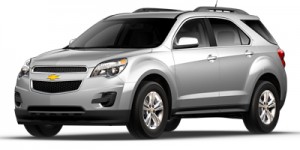 headroom and legroom, respectively. Kelley Blue Book notes that the Equinox has an "edge in passenger comfort, especially in the rear, where the bench seat can move several inches fore and aft to create more legroom."
2013 Dodge Journey – The midsize 2013 Dodge Journey crossover SUV has, in the words of Consumer Guide, has a second row that "provides more than adequate legroom for six-footers, though headroom is limited for anyone much taller. The 3rd row seat is sized for kids only, though the sliding 2nd-row seat can increase legroom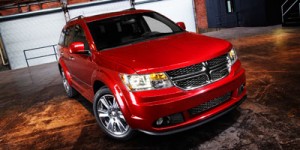 somewhat. The available [built-in] booster seats are a boon for families with children who have outgrown their car seats…" Front/middle/rear seat headroom is 40.8/39.2/32.7 inches, while legroom is 40.8/36.1/23.4 inches, respectively.
2013 Buick Enclave – The eight-passenger 2013 Buick Enclave (and its siblings, the Chevrolet Traverse and GMC Acadia), have ample front headroom and legroom of 40.4 and 41.3 inches respectively. In the second row, passengers have 39.4 and 36.8 inches of headroom and legroom, respectively, while the third row provides 33.2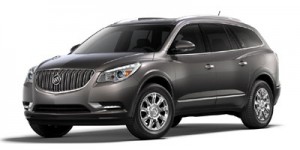 inches of legroom. Kelley Blue Book comments: "The 2013 Buick Enclave SUV features slide-and-fold second-row seats that can be operated with one hand, clearing a wide path to the third-row seat."
2013 Lincoln MKT – Consumers in the market for a luxury midsize SUV that can easily accommodate tall people should check out the 2013 Lincoln MKT. Headroom is 40.1 inches in the front row and 39.0 inches in the second row. Legroom is 41.3 and 41.8 inches (front and second rows, respectively), while third-row legroom is 33.0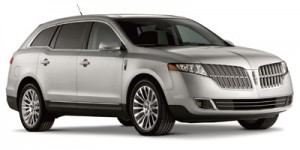 inches.
2013 Kia Sorento – The editors at Kelley Blue Book make no bones about it, hailing the midsize 2013 Kia Sorento as an excellent people-hauler: "one of the best examples of a 'right-sized' SUV – big enough to fit seven passengers in three rows of seats, yet small enough to maneuver through traffic and tight spaces." Headroom in the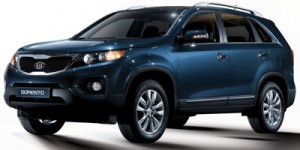 front/middle/rear is 39.2/39.2/36.6 inches. Legroom in the respective rows is 41.3/37.6/31.3 inches.
To read about other SUVs for tall people, go to Best 2012 SUVs for Tall People and Best SUVs for Tall People
Search used cars for sale and find the best deals near you at iSeeCars.com.
To get a FREE iSeeCars VIN Report for a car, click here.