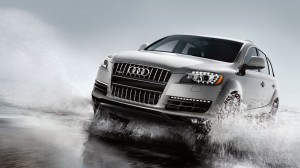 There aren't many diesel SUVs that come with three-row seating, but the few that are available are luxuriously appointed people-haulers that do more than just go from point A to point B.
Who says you can't be comfortable, ride in style, tow a boat or small trailer, and do something good for the environment – all the while saving on fuel? Of course, such versatility comes with a price. Diesel-powered SUVs with 3rd row don't come cheap. Here are the best of the 2014s.
2014 Audi Q7 TDI – It's definitely not the least-expensive diesel SUV in the market today, but it is the more affordable choice among those diesel SUVs with three-row seating. With starting prices from $53,795, the 2014 Audi Q7 TDI is German luxury that's fuel-efficient as well. The 240-horsepower 3.0-liter V6 diesel engine puts out 406 pound-feet of torque and fuel economy is impressive at 19 mpg city/28 mpg highway and 22 mpg combined. The third row, however, feels somewhat cramped and cargo capacity is similarly limited. Still, with its high-tech interior and sophisticated driving character, the 2014 Audi Q7 TDI may just be the three-row diesel SUV that's right for you.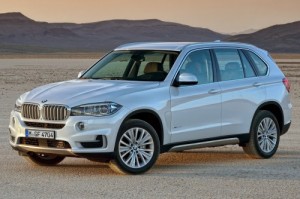 2014 BMW X5 xDrive35d – Redesigned for 2014, the BMW X5 xDrive35d is a luxury diesel-powered SUV with more than just fuel-efficiency. With its comfortable, roomy and luxurious interior, the X5 xDrive35d can seat up to seven, although the third row is best only for children. The 255-horsepower advanced diesel engine mated with eight-speed automatic transmission delivers an EPA-estimated 31 mpg on the highway. BMW, always known for delivering sporty handling, doesn't disappoint with the 2014 X5 xDrive35d. Standard equipment includes 18-inch wheels, adaptive xenon headlights, panoramic sunroof, 10-way power front seats, heated front seats, navigation system, nine-speaker sound system and more. Prices start at $56,500.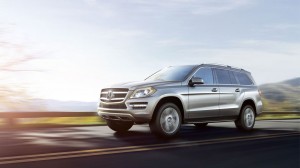 2014 Mercedes-Benz GL350 BlueTEC – With its sleek exterior design (most recently redesigned for 2013), luxuriously-crafted and quiet cabin, roomy and comfortable seating for seven and powerful and fuel-efficient 240-horsepower 3.0-liter turbodiesel V6 engine that gets 19 mpg city/26 mpg highway fuel economy, the 2014 Mercedes-Benz GL350 BlueTEC is one full-size luxury diesel SUV worth considering. Stopping power is assured with the GL350 BlueTEC's strong brakes. Standard and optional luxury and convenience features are enough to delight even the most discerning customers. Maximum cargo capacity with second- and third-rows folded is 93.8 cubic feet, while towing capacity is 7,500 pounds. Prices start at $63,000.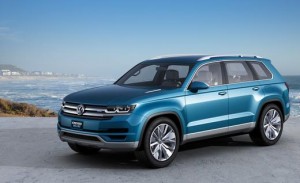 On the horizon, the long-rumored three-row crossover from Volkswagen has been confirmed for the 2016 model year. Unnamed as yet, the midsize crossover is likely going to look a great deal like the Volkswagen CrossBlue Concept revealed at the 2013 Detroit Auto Show. As if to whet the appetite of three-row consumers, Volkswagen officials confirmed the production plans for its first three-row luxury crossover at a dinner before the 2014 Detroit Auto Show. As for powerplant choices and whether a diesel is among the options, stay tuned.
For now, if you're in the market for a new diesel SUV with 3rd row, check out the three models profiled here.
Search used cars for sale and find the best deals near you at iSeeCars.com.
To get a FREE iSeeCars VIN Report for a car, click here.